A 38-year-old Washington state man and a local police department had a humorous exchange on Facebook after the man commented on his own "wanted" post, telling them to "calm down."
Police in Richmond asked the public on Facebook for information about Anthony Akers' whereabouts. Reports said he has a history of illegally possessing prescription drugs, resisting arrest, and violating protection orders.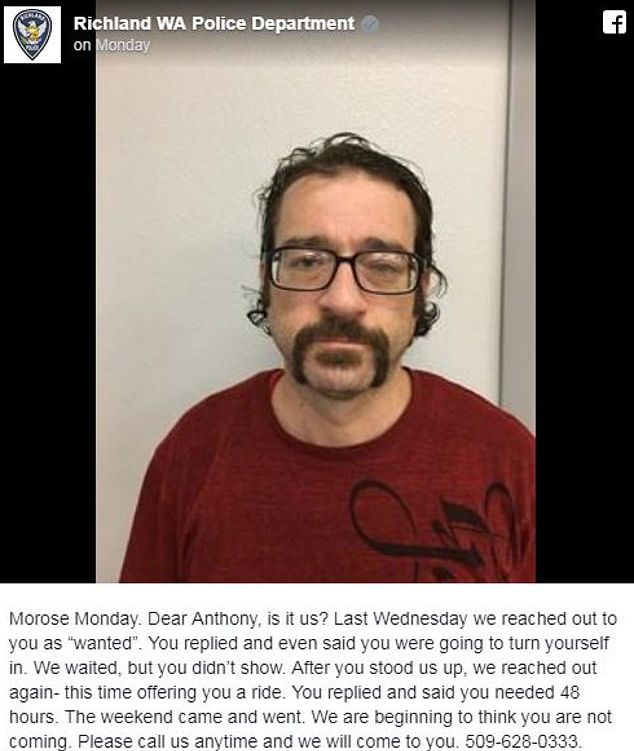 Akers made comment on the post, assuring them that he would cooperate and turn himself in the near future.
"Wanted Wednesday! Anthony Akers (38) is wanted by the Department of Corrections for Failure to Comply. If you have any information please call 509-628-0333," wrote Richmond Police on the social media website. He replied in the comments, "Calm down, I'm going to turn myself in," according to the Tri-City Herald.
Police then responded that they would even offer him a free ride to the station.
"Hey Anthony! We haven't seen you yet. Our business hours are 8:00 am—5:00 pm Monday through Friday. Of course if you need a ride you can call non-emergency (509-628-0333) and we will pick you up," police said in a response.
"Thank you, tying up a couple loose ends since I will probably be in there [for] a month. Should be there in the next 48 hours," Akers then told them.
After several days, people wanted to know if Akers had actually turned himself into the police.
On Dec. 3, police then offered a comical response.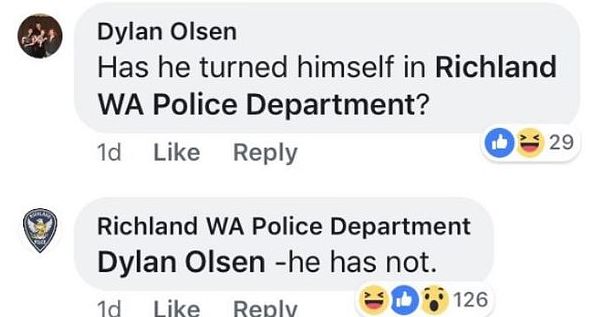 "Dear Anthony, is it us? Last Wednesday we reached out to you as 'wanted'. You replied and even said you were going to turn yourself in. We waited, but you didn't show. After you stood us up, we reached out again- this time offering you a ride," police said.
"You replied and said you needed 48 hours. The weekend came and went. We are beginning to think you are not coming," officials said.
"Please call us anytime and we will come to you. 509-628-0333."
Akers then issued an absurd explanation and apology.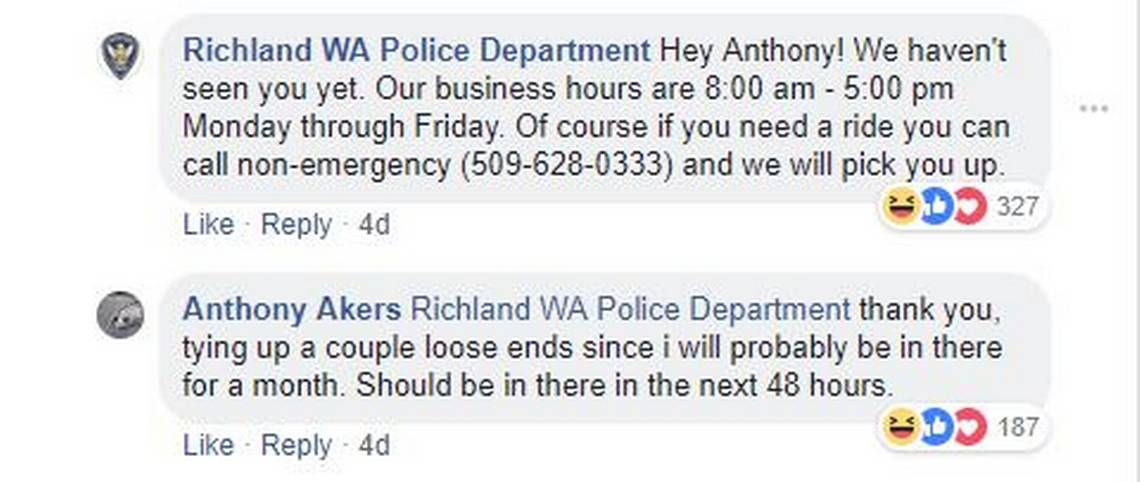 "Dear RPD, its not you, its me. I obviously have commitment issues. I apologize for standing you up, but let me make it up to you. I will be there no later then lunchtime tomorrow, I know you have no reason to believe me after what I did to you, but I promise that if I don't make it on my own by lunchtime tomorrow I will call for a ride to assist me with my commitment issues," he said.
"Thank you in advance to your response if you are patiently giving me another chance with us, I know I don't deserve it," he wrote.
"P.S. You're beautiful," Akers said, adding an emoji.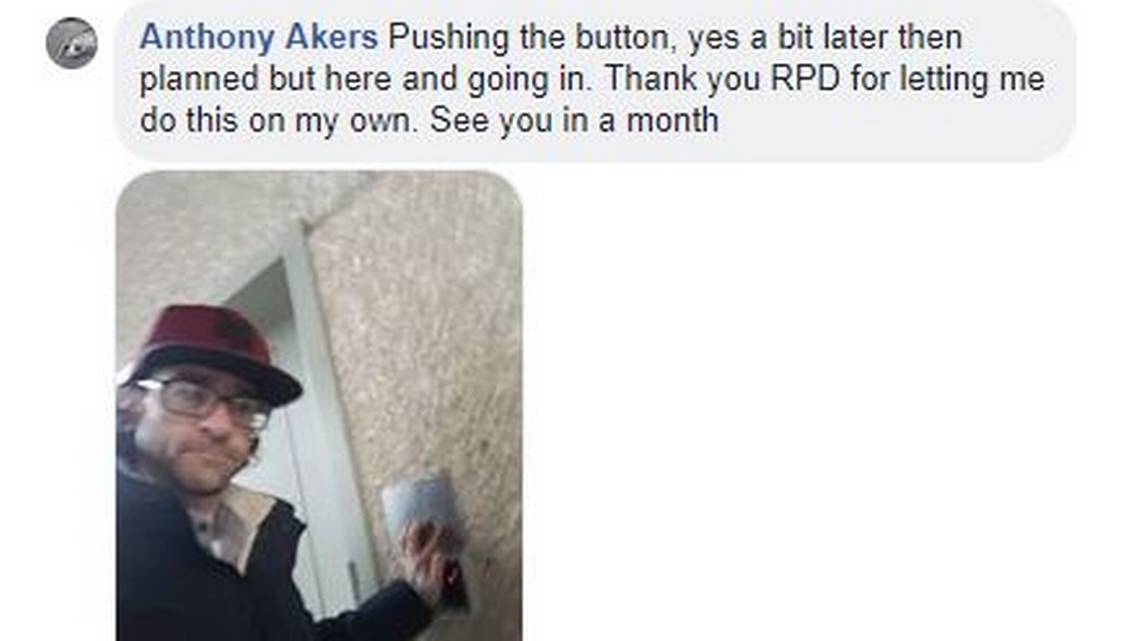 Later, he took a selfie before entering the station.
"Here for our date sweetheart," he captioned.
Safest Cities in Washington
According to KOMO News, citing the National Council for Home Safety and Security, the city of Sammamish was ranked as the No. 1 safest city in Washington state.
It's followed by Lynden, West Richland, Camas, Maple Valley, Bainbridge Island, Kenmore, Washougal, Oak Harbor, and Snoqualmie, according to the report.
Meanwhile, Tacoma had the highest violent crime rate in the state at 9.5 per 1,000 residents. Tukwila had the highest property crime rate.
Tacoma was ranked 77th safest out of 80 cities, and Seattle, the largest city, was ranked 69th. Nearby Everett was ranked No. 60.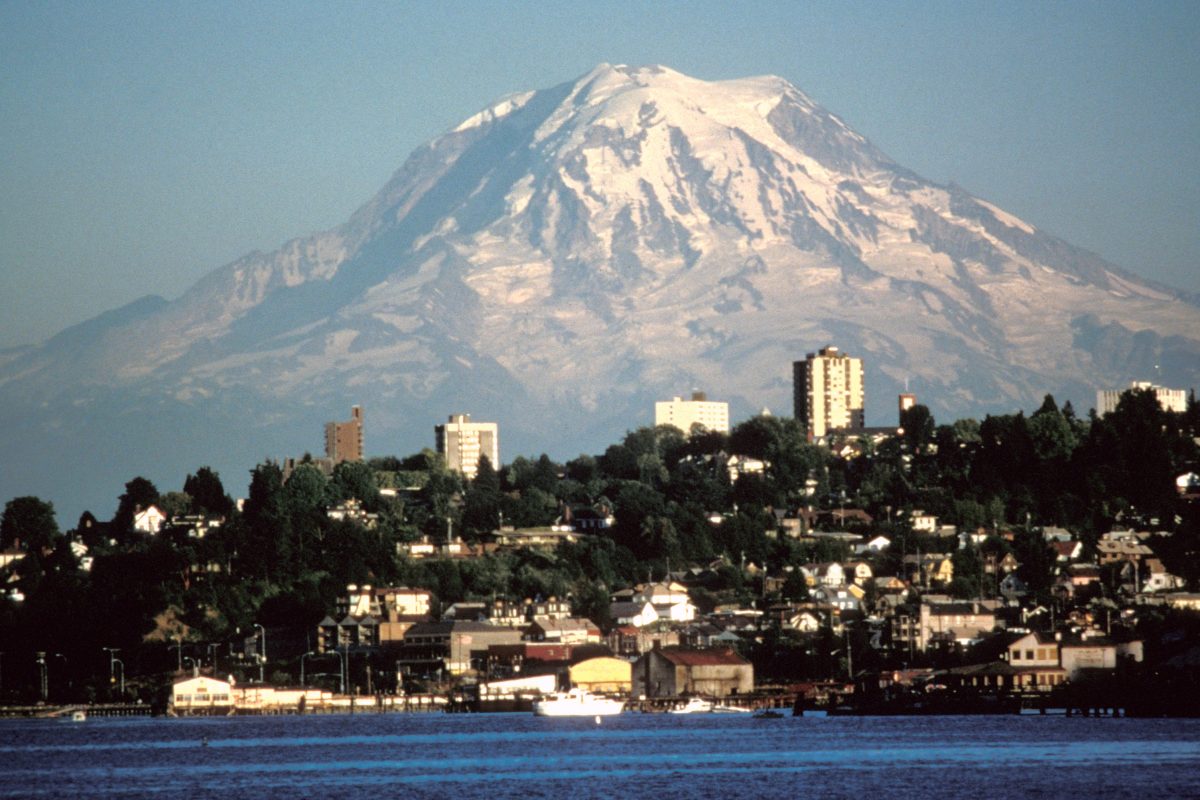 According to 24Wallst, Tacoma, with a population of 211,000, has a 16.3 percent poverty rate and as a low household income compared with other cities in the state.
"The median household income in Tacoma, Washington, is far lower than the statewide median. The typical Tacoma household earns $55,996 a year, while the median income across Washington is $67,106. The lower incomes may be due in part to a weak job market. Tacoma's annual unemployment rate stands at 6.6%, well above the 5.4% state unemployment rate," it says. "Tacoma is also the most dangerous city in Washington. There were 947 violent crimes for every 100,000 people in the state in 2016, more than triple the 302 per 100,000 violent crime rate across Washington as a whole."
Violent Crime Down in 2017
In September 2018, the FBI said Americans committed fewer violent and property crimes in 2017, according to statistics. The violent crime rate—including offenses such as murder, robbery, and aggravated assault—dropped by almost one percent and is still about 4 percent above the 2014 rate. The murder rate dropped by 0.7 percent.
"After historic increases in violent crime in 2015 and 2016, we are beginning to see encouraging signs," Attorney General Jeff Sessions said in a statement at the time. "But our work is not done. While we have made progress, violent crime and drug trafficking continue to plague our communities and destroy the lives of innocent, law-abiding Americans."
Of the estimated 17,284 murders in 2017, more than half occurred in larger cities—with populations of more than 100,000.
There are fewer than 300 such cities in the United States, and while they account for less than 30 percent of the country's population, many of them contribute far beyond their share to national crime rates and have done so for years, even decades.
While the national murder rate inched down to 5.3 per 100,000 residents, it spiked by 15 percent in Philadelphia, to a rate of more than 20 per 100,000 residents. Columbus, Ohio, saw a massive 54 percent murder rate increase, reaching nearly 16.3 per 100,000 residents.
Reuters contributed to this report