Washington state's King County, where 31 COVID-19 coronavirus cases and 10 deaths have been reported, urged its more than 2 million residents to work from home to try and reduce the number of infections.
"Workplaces should enact measures that allow people who can work from home to do so. Taking these measures can help reduce the number of workers who come into contact with COVID-19 and help minimize absenteeism due to illness," said King County officials in a statement on Wednesday night.
What's more, people over 60, pregnant women, or individuals with underlying health problems should stay at home as much as possible as they are people who are most at risk of succumbing to the virus, according to the county. County officials also said that it discourages large gatherings or groups of people.
People who are sick also shouldn't leave their homes often, officials said, adding that locals should avoid visiting hospitals, long-term care facilities, or nursing homes, as much as possible.
"If you need to go," the statement read, "limit your time there and keep six feet away from patients."

Over the weekend, amid a spike in new cases and the first U.S. death from COVID-19, Washington Gov. Jay Inslee declared a state of emergency. Days later, King County declared an emergency of its own after it was determined there was a likely outbreak at the Life Care Center nursing home in Kirkland, which has been linked to most of the cases and deaths.
As of Wednesday evening, 39 confirmed cases and 10 deaths had been confirmed in Washington state, according to the Department of Health. Most of the cases and deaths have been centered in King County, while nearby Snohomish County has one death and several cases.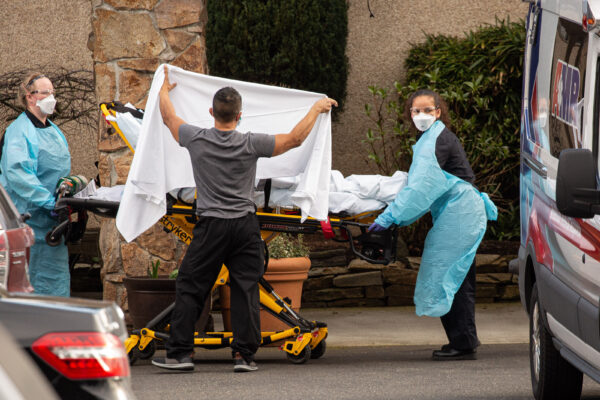 King County Executive Dow Constantine announced Monday that his county would buy a motel and use 14 modular units, which were originally intended for housing homeless people, to hold infected people. One part of that plan reportedly materialized on Wednesday after King County purchased an Econo Lodge in Kent, although it wasn't confirmed by King County officials.
"We do understand we all share a role in keeping the county safe and the region safe," Kent Mayor Dana Ralph told KIRO7. "But we are concerned about the choice of the location, the lack of communication, and the lack of what we've been able to determine is a plan for making sure this facility is safe," she said.
Vice President Mike Pence, who was appointed by President Donald Trump to lead the U.S. coronavirus response, will travel to the state capitol Olympia to meet with Inslee. It came after Pence told a news conference that "any American can be tested" for COVID-19.