Was Ahmed Godane Behind the Nairobi Westgate Mall Attack?
September 25, 2013 11:33 pm Last Updated: September 26, 2013 1:37 am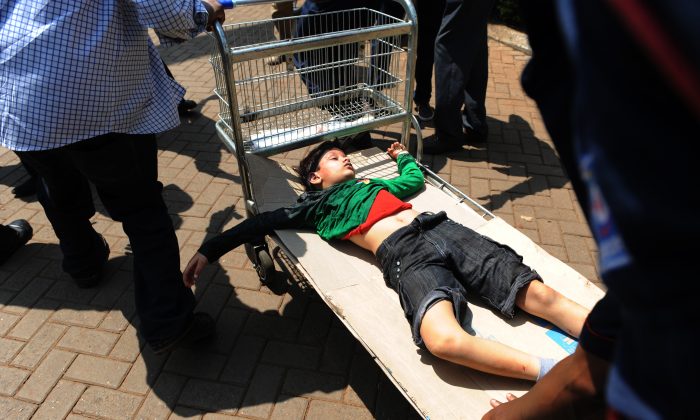 Ahmed Godane–also known as Ahmed Abdi Aw-Mohamed–could be behind the attack on Nairobi's Westgate mall that, after it finally ended, left at least 72 dead and at least 168 others wounded.
But is he?
From the evidence so far, and from analysis, it appears that he is.
Godane is often cited as the leader of al-Shabab–the terrorist organization based out of Somalia that has taken credit for the attack–and he has claimed personal responsibility for the attack, but sharp division within the organization over the last several years makes that claim hard to validate.
Godane said in a message posted online on the al-Shabab website: "Take your troops out or prepare for a long-lasting war, blood, destruction and evacuation."
The message was directed to the Kenyan government, which has sent troops to Somalia–where al-Shabab is based–to try help the Somalia government get rid of the organization. Other troops, such as Ethiopian and from the African Union Mission in Somalia, have assisted.
Is Godane in Charge of al-Shabab?
Godane heads the main Shura council, a committee of key al-Shabab leaders that ranges from eight to roughly forty members, according to the organization's website. He took over in 2008 after Adan Hashi Ayro was killed by a U.S. missile.
Godane remains committed "to pursuing an al-Qa'ida allied global jihadist agenda," according to the Homeland Security Policy Institute.
Other top leaders, however–such as senior commanders Muktar Robow and Hassan Dahir Aweys–support a more nationalistic approach, "marked by a wariness of al-Qa'ida's foreign influence in Somalia."
Disputes within the leadership have centered around tactics. Two senior leaders published open letters in April 2013 asking an al-Qa'ida leader to intervene in al-Shabab because of disputes stemming from Godane's tyrannical rule, and that Godane has neglected the teachings of Islam and mistreated foreign fighters, among other alleged wrongdoings.
Moreover, Godane faced a challenge from American Omar Hammami, who said that Godane was executing people who posed a threat to his authority, according to the Institute, which is based at George Washington University in Washington, D.C.
Hammami was later reportedly executed.
Godane has solidified his power now, which appeared to potentially be totally gone in 2010, reported AFP. However, the UN Monitoring Group on Somalia said that he stayed in power by forming an internal secret service in al-Shebab, which is "structured along the lines of a clandestine organisation within the organisation with the intention of surviving any kind of dissolution" of the group.
Godane's power was in part solidified in June, when rival factions battled in Somalia, reported the Guardian. After Godane took control, "it was clear he must demonstrate his power if his control of al-Shabaab was to endure, analysts suggested. He needed a big operation to make his mark. Thus it was that the June shootout, boosting Godane's power and paranoia, led directly to the Westgate attack in Nairobi, for which al-Shabab has admitted responsibility."
Godane is in Power Now–So He Did Direct the Attack?
Al-Shabab has taken responsibility for the attack.
And an aide to Godane told AFP that "Shebab is not divided into several factions but is one body ruled by Ahmed Godane."
Most experts believe that Godane, who has pledged allegience to al-Qaida, is behind the attack.
Sajjan Gohel, security director at analyst group the Asia Pacific Foundation in London told Voice of America that in al-Shabab, "core leadership has now aligned themselves ideologically with al-Qaida central, now led by Ayman al-Zawahiri."
"And it's that element that has carried out this particular attack, or that is what is believed to be the case," he said.
Adjoa Anyimadu, research associate at the Chatham House thinktank's Africa program, told the Guardian it was all but certain that Godane was behind the attack.
"Godane has been consistently at the top of al-Shabaab and he has been consolidating his position since June. But I never cease to be surprised at their internal wrangling. These people are not shy about killing each other. So Godane's ascendancy may not last," she said.
Former U.S. ambassador to Ethiopia, David Shinn, told Voice of America that al-Shabab may be shifting focus to neighboring countries for more impact, consistent with what Godane wants. 
"Al-Shabab is not able to go toe-to-toe with professional military organizations like the Kenyan or African Union forces. So it engages in suicide bombings, occasional guerrilla attacks – but that doesn't get it big headlines," he said. "The only way it can get a big headline is to pull off a big event like this in Kenya–attacking unarmed civilians in a soft target."
One of the sole dissenting voices is a translation by Dalsan Radio of a Voice of America report, which doesn't appear available in English.
A "trusted source" told Voice of America's Somali branch, according to Dalsan, that the attackers were from a group opposed to Godane. "Foreigners that scrape Godane and other Somali Diaspora performed this attack because Ahmed Godane usually he don't like to go the jihad operation across the country."
Who Else is There?
Apart from challengers inside of al-Shabab, there aren't many other potential candidates for people in charge of the attack.
Officials said on Wednesday that a British man was arrested at the airport with suspicious bruises on his face.
Additionally, there are reportedly several Americans involved in the attack, though their identities haven't yet been revealed.
None of these would likely have a leadership position.
Then, there's Samantha Lewthwaite, or the "White Widow." A British woman was among the killed attackers, Kenya's foreign minister said earlier in the week. It is believed to have been Lewthwaite.
It is possible that Lewthwaite was the on-ground commander, while Godane–who doesn't prefer to lead his troops on-the-ground, instead opting for audio and written messages–planned the attack and communicated with the attackers from afar.