Sen. Elizabeth Warren (D-Mass.) and South Bend Mayor Pete Buttigieg clashed during the Thursday night debate over a recent Buttigieg fundraiser—a continuation of a weekslong back-and-forth between two of the leading Democratic presidential contenders.
Warren told the audience in Los Angeles that Buttigieg recently held a fundraiser in a "wine cave."
"The mayor just recently held a fundraiser that was held in a wine cave that was full of crystals and served $900-a-bottle wine. Think about who comes to that. He had promised that every fundraiser he would do would be open door, but this one was closed door," she said.
"We made the decision many years ago that rich people in smoke-filled rooms would not pick the next president of the United States. Billionaires in wine caves should not pick the next president of the United States."
Buttigieg replied that the other six candidates on the stage were richer than he was, accusing Warren of trying to create "purity tests."
"You know, according to Forbes magazine, I am literally the only person on this stage who is not a millionaire or a billionaire. This is the problem with issuing purity tests that you yourself cannot pass," he said, drawing a reaction from the audience as Warren stared forward.
"If I pledge never to be in the company of a progressive Democratic donor, I couldn't be up here. Senator, your net worth is 100 times mine."
Buttigieg said that if Warren went home and donated the maximum allowable amount to his campaign, it wouldn't "pollute" his campaign.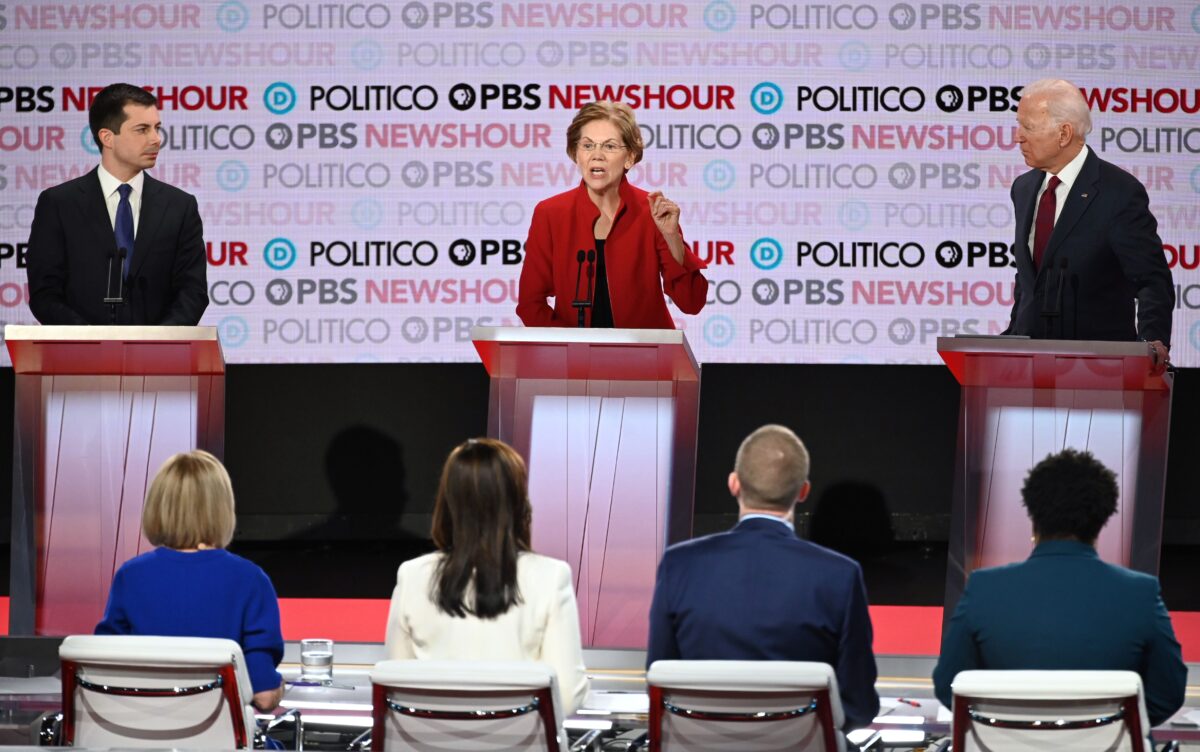 "I would be glad to have that support. We need to have the support from everybody who is committed to defeating Donald Trump."
"I do not sell access to my time. I don't do call time with millionaires and billionaires," Warren responded, earning a "hold on a second, as of when Senator?" remark from Buttigieg.
"I don't meet behind closed doors with big-dollar donors," she continued before urging rivals to take a step she has taken, telling donors that donating to her doesn't earn them a position in her administration if she's elected.
"Don't come around later expecting to be named ambassador, because that's what goes on during these high-dollar fundraisers," she said.
Buttigieg pushed back, telling Warren: "Senator, your presidential campaign right now, as we speak, is funded in part by money that you transferred, having raised it at those exact same big-ticket fundraisers you now denounce."
Moderators ended the parries, turning to another candidate.
"I did not come here to listen to this argument. I came here to make a case for progress. And I have never even been to a wine cave. I've been to the wind cave in South Dakota, which I suggest you go to," Sen. Amy Klobuchar (D-Minn.) joked.
Warren and Buttigieg, two of the top four candidates, have gone back-and-forth on their professional histories, with Buttigieg hitting at Warren over money she received while working as a lawyer and Warren criticizing Buttigieg for his work for McKinsey.