Warner Bros. Discovery and a top literary agent have condemned the threats made against Harry Potter author J.K. Rowling after the stabbing attack of author Salman Rushdie at a public lecture in New York last Friday.
The company, which produced the Harry Potter films, said on Sunday that it "strongly condemns" the threats made against Rowling.
"We stand with her and all the authors, storytellers, and creators who bravely express their creativity and opinions. WBD believes in freedom of expression, peaceful discourse, and supporting those who offer their views in the public arena," the company said in a statement obtained by The Hollywood Reporter.
"Our thoughts are with Sir Salman Rushdie and his family following the senseless act of violence in New York. The company strongly condemns any form of threat, violence, or intimidation when opinions, beliefs, and thoughts might differ."
Rushdie, whose 1988 book "The Satanic Versus" led to death threats from Iran's regime for content deemed blasphemous to Islam, was stabbed onstage at a lecture in New York on Aug. 12. Police said the alleged attacker rushed the stage.
After hearing about Rushdie's attack, Rowling said she felt "very sick right now" and hoped Rushdie would "be ok."
A Twitter user replied, "Don't worry you are next."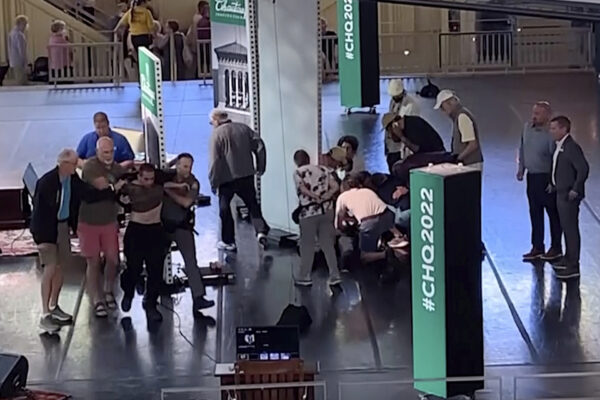 'No Violations of Twitter Rules'
Rowling reached out to Twitter directly about the threat, saying, "any chance of some support?"
Twitter's apparent response to Rowling's complaint was that the tech giant determined that the threat did not violate Twitter's rules.
"After reviewing the available information, we determined that there were no violations of the Twitter rules in the content you reported," read Twitter's response, according to a screenshot shared by Rowling.
In a follow-up post, the British author cited Twitter's guidelines on threats of violence, which states that users "may not threaten violence against an individual or a group of people" nor glorify violence or promote terrorism. 
Rowling thanked the people "sending supportive messages" and said the matter is with Scottish police who she said were "already involved on other threats."
'Freedom of Speech'
Rowling's literary agent Neil Blair also condemned the threat against Rowling and Rushdie's attack, saying he believes in "freedom of speech."
"Any threat or act of violence against authors, writers, and storytellers is abhorrent and unconscionable. I believe in freedom of speech and stand in firm solidarity with [Rowling] and all writers against any threat of violence. My thoughts are with Sir Salman Rushdie and his family at this time," Blair said in a statement.
Rowling, a feminist, has been the target of attacks by trans activists for her staunch support of the rights of biological women, which she argues is being undermined by the trans rights movement.
The Harry Potter author is often accused of making and supporting "anti-trans" comments and stances, but Rowling herself has said that her position is more one of protecting the rights of biological women.
Rowling, who self-identifies as being "on the left" of the political spectrum, has referred to the "gender identity movement" as "naked misogyny" that threatens "the rights of women and girls."
"I believe women are susceptible to certain harms and have specific needs and that feminism is necessary to secure and protect our rights," Rowling said during an online back-and-forth discussing a documentary produced by The Daily Wire titled "What Is a Woman?"