Reports from around the United States say that people are trying to scam others using fake checks that are purportedly from Walmart. The scam says that the recipient has been accepted into the "Quality Control Program."
Have u seen one of these? Spot the Walmart check scam – example http://t.co/iMMXbmDn2Z pic.twitter.com/fho8m6nCFV

— Terry Ambrose (@suspense_writer) May 24, 2015
The scammers are trying to reach out to people with the letter, which claims to be from "WALMART INC" and looks official. The check also looks surprisingly authentic. There's also a signature from the Senior VP of Finance and Treasurer and a sizeable sum of money.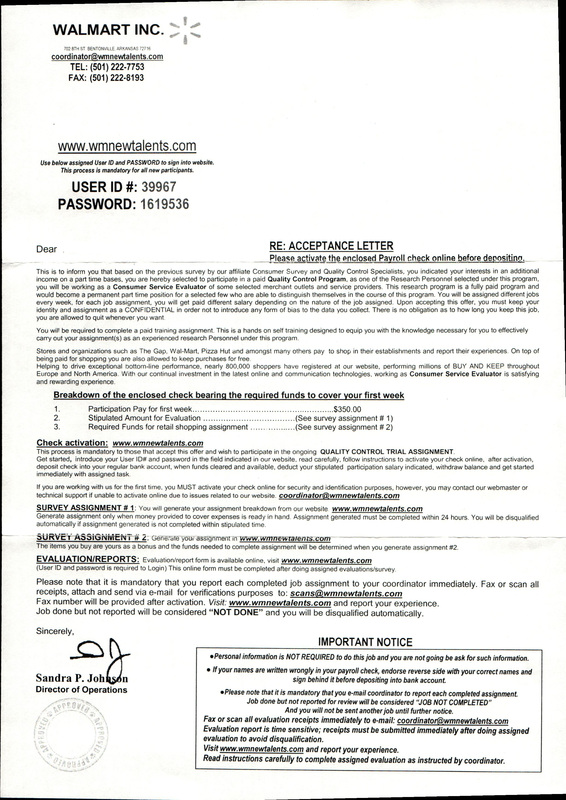 The letter says that the recipient needs to activate the check with a supplied user ID and password. After the check is activated, it says you should deposit the money into your bank account so you can take part in the program. However, if you deposit the check, the scammers can gain access to your bank account, as the reports have noted.
In short, if you see the letter and check, you should just throw it away or destroy it.
According to IJReview, a reporter tried to log into the feedback site printed on the letter. The website does look legitimate, but it's still fake.
Walmart, however, doesn't use third-party secret shoppers. The firm's corporate website says:
"Mystery shopping, sometimes referred to as secret shopping, is where an individual is hired to 'act' like a customer, and evaluate services at a business. The individual is essentially paid to shop, and then report on the experience. Walmart does NOT utilize these services.
"This mystery shopper scam uses fraudulent offers, fake checks and wire transfers to persuade unsuspecting consumers into sending money to fraudsters who are often located outside the U.S."
The check is being run through a company called "Walmart New Talents." The last Walmart check scam looked identical and the company name at the time was "Walmart Web Control."