A high-level Wall Street executive was killed by a shark while she was diving in Costa Rica, officials said.
A shark attacked 49-year-old Rohina Bhandari near Cocos Island, which is a national park about 300 miles from Costa Rica but is a territory, the environment ministry told Fox.
She was a senior director at WL Ross & Co. LL, a firm founded by Commerce Secretary Wilbur Ross. She lived in New York's Upper East Side.
Many expressed shock over her death.
Wall Street fund manager, Rohina Bhandari, killed by shark while diving in Costa Rica https://t.co/QPvUgtyEBc pic.twitter.com/WxWr9TACOB

— konniemoments1 (@KonnieMoments1) December 3, 2017
"Unbelievably sad and heartbreaking news that Rohina has died," wrote a friend of her's. "She was such a wonderful person who loved life. I will always remember her kindness, friendship and our adventures together."
"Rohina you were the brightest of lights that went out much too soon," another wrote on her Facebook page. "My life was richer for having known you."
Both her legs were severely injured in the tiger shark attack, the ministry said, according to the New York Daily News.
A dive master also suffered a bite, but his injuries were not life-threatening.
Tourist mauled to death by tiger shark while diving off the coast of Costa Rica – The Sun https://t.co/9gBhDisCig pic.twitter.com/Gstrlo2fou

— Salman Wazir? (@DrSalmanWazir) December 3, 2017
Swimmers barely noticed this massive tiger shark lurking nearby ? pic.twitter.com/DrRIwmWlZO

— NowThis (@nowthisnews) December 1, 2017
Other tourists and a boater tried to scare the shark away.
"Upon reaching the surface, the attack on the tourist was already serious," the environment ministry said.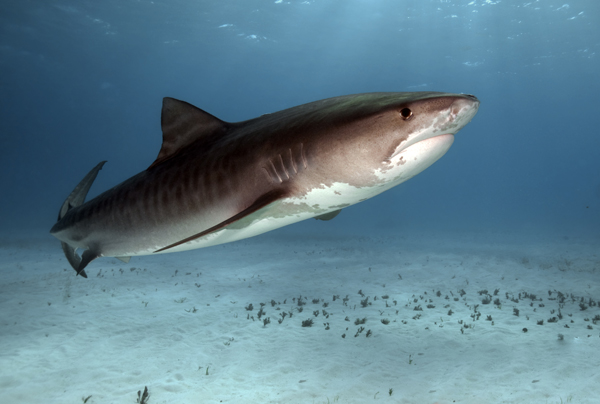 Tiger sharks can reach around 15 feet in length and weigh up to 2,000 pounds. They are among the most dangerous shark species—second only to great white sharks in recorded attacks on humans.
Last month, a swimmer was attacked and killed by a shark just around 10 feet from the shore in Cuba, The Sun reported.
And while you're here…
Dear reader, we work hard to deliver important articles every day, but can't do it without people reading them. Please support independent journalism by sharing this article with your friends and family. It takes less than a minute. Thank you.