The Beyond Meat stock is struggling to withstand the invasion of short-sellers.
Short interest climbed to about 36 percent of Beyond Meat's free float, making it the most shorted business in the Russell 1000 index. This is up from 26 percent at the beginning of October 2021, and short interest is rising at an alarming rate for the producer of plant-based meat.
This might be a justified strategy for the short bets, considering Beyond Meat's disappointing stock performance, abysmal financials, and lackluster overall outlook in recent months. Its shares have plummeted by 52 percent over the past 12 months, falling below $67. A flurry of good news has supported the stock to kick off 2022, with a year-to-date gain of roughly 2 percent.
Several brokerages have slashed their price targets on the stock. Based on 14 Wall Street analysts providing 12-month price targets in the past three months, Beyond Meat has a median target of $72. Many market analysts project that the vegan burger maker will continue to endure a slowdown.
"We view the results as further evidence that Beyond's business is reaching market saturation faster than expected and that the company has deeper problems that won't be easy to fix," Credit Suisse analyst Robert Moskow wrote in a note. "Consumer interest in Beyond is simply reaching a peak."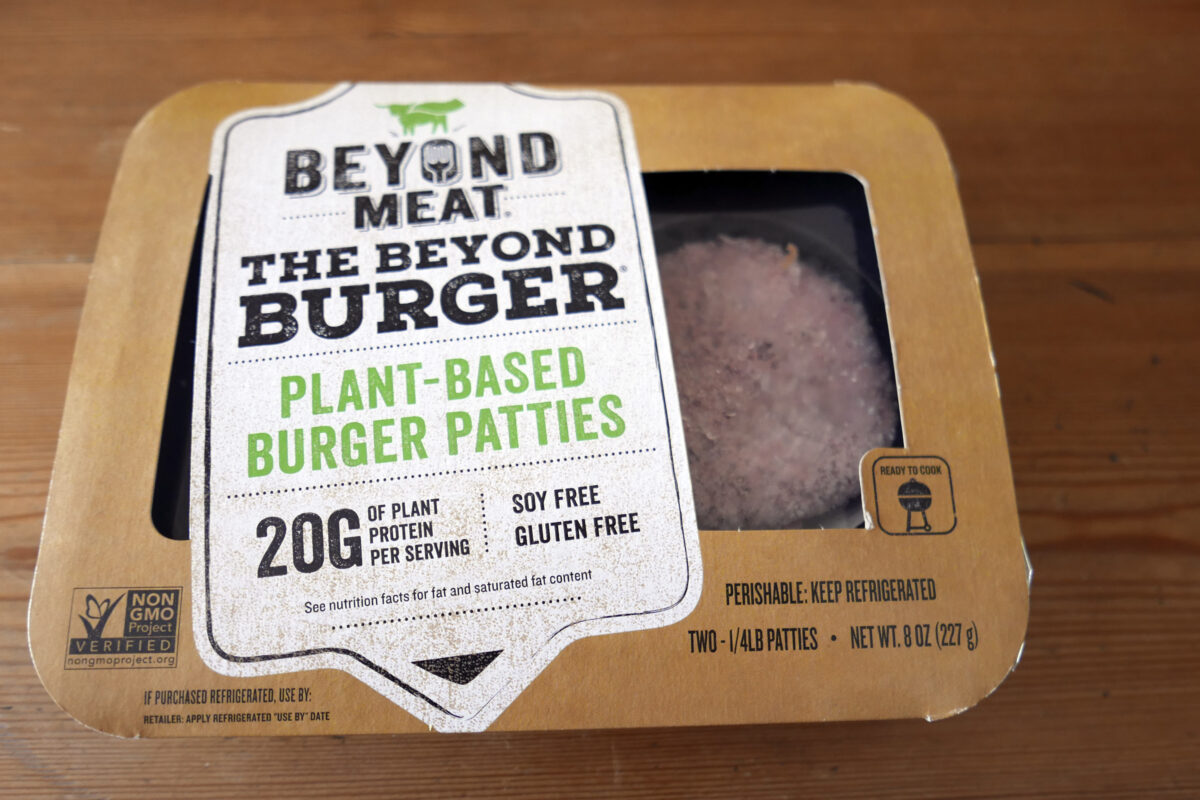 The company appears to agree, according to forecasts.
The maker of plant-based substitutes, including ground beef and chicken, is anticipating $85 million to $110 million in revenues during the fiscal fourth quarter. If accurate, it would be down from the $101.9 million in revenues reported in the previous fiscal year.
The California-based firm attributed the revision to pandemic-related uncertainty, moderating sales growth, weather conditions, and labor shortages.
In the third quarter, net sales for the company advanced by 12.7 percent to $106.4 million, falling short of the market estimate of more than $109 million. Compared to the same period in the previous fiscal year, its U.S. revenues tumbled by 13.9 percent, driven by weaker supermarket demand. The net loss totaled $54.8 million, or 87 cents per share—worse than the $19.3 million, or 31 cents per share, loss in the previous fiscal year.
In addition to slumping demand, the business has experienced swelling transportation and warehousing costs as well as rising inventory write-offs that have eaten into its profits.
Still, Beyond Meat leaders are confident about the company's future.
"Near-term market and operating conditions notwithstanding, we remain committed to our long-term strategy," Chief Executive Ethan Brown said in a quarterly conference call with analysts.
Beyond Meat has entered into partnerships with Tim Hortons in Canada, Subway, A&W, Denny's, and many others in recent years.
For a limited time, Kentucky Fried Chicken is selling Beyond Fried Chicken nuggets, a plant-based alternative to its original fried chicken.
"It's packed with delicious flavor and the juicy satisfaction that you'd expect from KFC's iconic fried chicken but in a plant-based option that's still finger lickin' good," Yum! Brands said in a statement.
The company stated that the offerings wouldn't be prepared in a vegetarian or vegan way because they would likely be cooked in the same fryers where the meat-based fried chicken is made.
Last week, Pizza Hut restaurants in Canada added Beyond Meat vegan sausage to their menus at more than 450 locations nationwide. A specialty pizza, an alfredo flatbread, and a creamy alfredo pasta will include the pea protein substitute.
"With the combined strength of our brands, we are continuing to increase the accessibility of plant-based protein for Canadians everywhere," Deanna Jurgens, chief growth officer at Beyond Meat, said in a statement.
"At Beyond Meat, we believe that small changes like choosing plant-based protein on your favourite pizza, can make a positive impact on human health and the health of our planet."
A U.S. launch hasn't been confirmed, although Pizza Hut tested plant-based pepperoni in five cities this past summer.
Hungry for Vegan?
Despite the forecast for the global vegan market to grow by nearly 10 percent by 2027, plant-based meat sales have slumped in the United States.
Numbers from U.S. retail data group SPINS, published by the Good Food Institute (GFI) and the Plant Based Foods Association, there has been a notable deceleration in plant-based protein sales growth. In the four weeks ending Oct. 3, 2021, retail sales slipped by 1.8 percent compared to the same time the previous year.
But there's plenty of room for growth, according to GFI research analyst Kyle Gaan.
"2020 was a breakout year for plant-based foods across the store," Gaan said. "The incredible growth we saw in plant-based foods overall, particularly plant-based meat, surpassed our expectations and is a clear sign of where consumer appetites are heading. Almost 40 percent of households now have plant-based milk in their fridge, and at this rate, it won't be long until we see just as many households purchasing plant-based meat."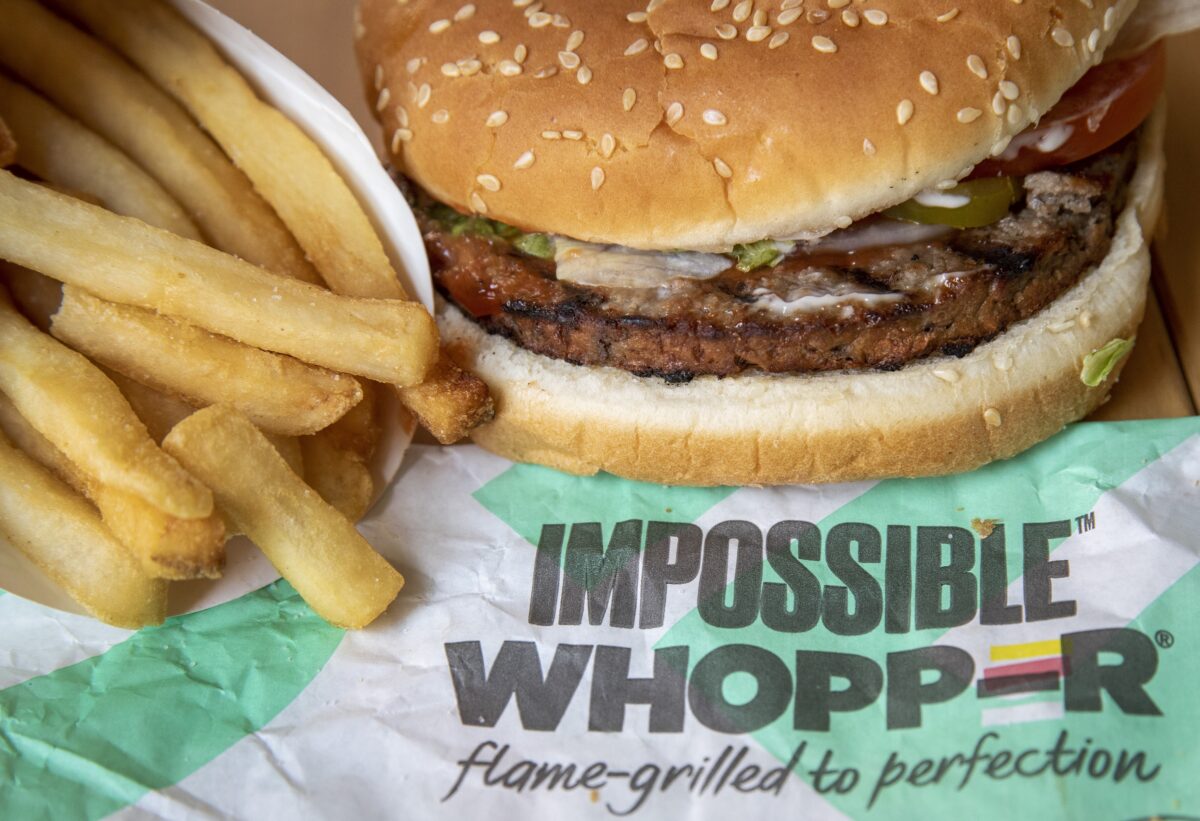 Despite rosy projections and upbeat expectations, experts warn there are still many problems to resolve.
Bahige El-Rayes at the consultancy Bain told Financial Times that simulated meat products are still as much as 40 percent more expensive than authentic meat because of a paucity of output capacity that could help cut costs. El-Rayes said improvements in taste and texture and additional research and development investments are required.
Competition has also become a chief hurdle for Beyond Meat to overcome, something Brown noted in November.
"With increased competition over the past two years, we're seeing, as expected, some impact on our market share," he told analysts.
In supermarkets, various brands have filled refrigerator shelves, including Gardein, Yves, Daiya, Amy's Kitchen, and stores' generic brand labels. In addition, companies have started serving customers the Impossible Burger at many fast-food chains and restaurants or produced their own in-house vegan or vegetarian options.
The vegan market has been steadily growing in the United States and worldwide. More plant-based products are being created, such as almond milk, oat coffee creamer, and mung bean-based eggs, and sold at grocery stores and restaurants. These are ingredients for "a lot of enthusiasm and excitement" in this market, according to Steven Cahillane, chief executive of Kellogg, which owns the MorningStar Farms brand.