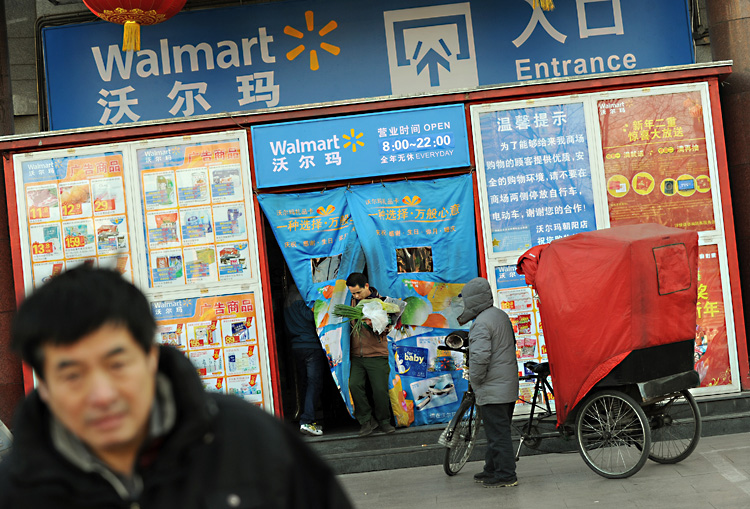 Wal-Mart has been busy telling the world about its sustainability program, which started in leaps and bounds about seven years ago. This program requires eventual full energy efficiency everywhere Wal-Mart operates, according to its 2011 Global Responsibility Report.
Environmentalists have been on board with Wal-Mart's environmental program from the beginning, and they have no doubt that Wal-Mart has been a successful influence on all direct and indirect suppliers, customers, and workers.
"Almost seven years into the program, many environmentalists remain convinced that Wal-Mart is serious about sustainability—and that its actions can have a major impact on the world economy because of the gravitational pull of its vast network of suppliers, customers, and employees," according to a lengthy April article by Andy Kroll on the Mother Jones website. Mother Jones is a nonprofit organization that is in involved in political and social issue reporting.
The program has three goals in mind: 100 percent renewable energy, no waste, and stocking only merchandise that is environmentally efficient.
"The performance against these three goals has improved, relative to the baseline years. Year-to-year improvement has been steady," said Wal-Mart in its 2011 report.
In an effort to maintain its sustainability program, Wal-Mart suggests that 100,000 suppliers, 2 million associates, and millions of its customers have become heavily involved in the program, resulting in a transformation of Wal-Mart's business environment.
"Our SVNs [Sustainable Value Networks] have unleashed a wealth of innovation and insight, resulting in numerous positive changes to our business operations and on the environment. We have become more energy efficient, reduced waste and increased the introduction of environmentally preferred products," according to Wal-Mart's 2011 report.
Worldwide Sustainability Program Glitches
When talking about the Far East, Wal-Mart seems to downplay its lack of progress, suggesting that "lack of complete transparency to production practices has hindered our ability to implement meaningful change at the factory level through our development programs. Additionally, egregious working hours, manipulation of records and undisclosed subcontracting remain prevalent throughout the Far East Region."
A problem with Wal-Mart's sustainability promise lies in the fact that Wal-Mart has no control over its supply chain because it is littered with shadow or behind-the-scenes factories—factories that have no direct connection to Wal-Mart, and which Wal-Mart has never heard of.
There are tens of thousands of shadow factories in China and almost four-fifths of the companies that are acceptable Wal-Mart supply chain firms source more than 50 percent of their products from these factories.
A shadow factory might be a small home-based firm with only a couple of employees or a division hidden away on the property of a large company. Besides, a producer for a large Wal-Mart supplier may be a forced labor camp in China.
Forced labor camps are in violation of international laws, and world leaders should demand their closure. For example, Canada's Prime Minister Stephen Harper, should have—but didn't—demand the closure of the Chinese regime's labor camps during his 2012 trip to China, according to a March article by David Matas and David Kilgour on The Métropolitain website.
"Wal-Mart concedes that the use of murky subcontractors is widespread in China, Africa, the Middle East, and Bangladesh. Wal-Mart also won't provide details about how it achieved its goal … whether any suppliers lost orders or were fired for unsatisfactory responses. My repeated attempts to get Wal-Mart to answer specific questions yielded little in the way of hard data but plenty of PR speak," Kroll said.
When asked about the success of its sustainability program in third world countries, including China, Wal-Mart provided a lot of doublespeak and no clear response. According to Kroll, anyone who was willing to speak up asked that an alias be used, otherwise they would be ostracized not only by Wal-Mart, but also other firms.
Wal-Mart did hire auditors to audit suppliers by following international norms and Wal-Mart sustainability requirements. But there are too few auditors to oversee the 357 Chinese stores and about 30,000 Chinese manufacturers responsible for more than two-thirds of all the products Wal-Mart sells.
"Burnout [of auditors] is common. Factories often cook their books, keeping two sets of records—the real ones, and a clean version for the auditors. Managers coach employees to lie. And a passel of companies help suppliers fudge their numbers and pass compliance audits. Sometimes the auditors themselves are corrupt," Kroll said.
Sustainability Program Failing
"I really do think they're [Wal-Mart] very distracted by the weakening economy, and they don't want to spend any money on anything right now," said Terry Foecke, a former Wal-Mart consultant in charge of its China factory energy efficiency program, according to Kroll's article.
Wal-Mart U.S. sales have been declining steadily since 2010, according to its Jan. 31 annual report, published March 27. At fiscal year end (FYE) 2012, Wal-Mart U.S. represented 59.5 percent of Wal-Mart's total worldwide net sales, while at FYE 2011, U.S. net sales were 62.1 percent, and at FYE 2010, U.S. net sales were 64.2 percent.
From FYE 2010 to FYE 2012, Wal-Mart U.S. experienced declining sales, suggesting that it was due to economic upheaval, increasing unemployment, and increasing gasoline prices.
Wal-Mart apparently thinks it is still in the pilot stage of the program, while Foecke thinks that Wal-Mart has not been willing to expand the program beyond a few tries here and there. "Until they're willing to do that, it's not quite greenwashing, but it's very close," he said.
Another energy efficiency consultant and interviewee for Kroll's article said that Wal-Mart had made great strides in China, but when one listens to those involved in the program, another fact comes to light, "Wal-Mart sets a new target, everybody gets all excited, runs around for six months, and then everything kind of slows down and the wheels fall off."
For a time, Linda Greer, director of the public health program at the Natural Resources Defense Council, was hopeful that Wal-Mart would make good on its promise of bringing sustainability to the world, and especially to China.
Greer said, "I would say we, the environmental community, have been enormously patient. … At this point, we don't see that they're trying."
When Wal-Mart failed to live up to expectations, she said, "I thought, 'There they go again.' It breeds cynicism. Is this just a PR effort, or is this something they're serious about?"
It's All in the Public Relations Rhetoric
In a series of articles published on the grist website, Stacy Mitchell, a senior researcher with the Institute for Local Self-Reliance, takes Wal-Mart to task over its sustainability program and other activities, suggesting that the media superficially reported what Wal-Mart fed them, instead of looking at the numbers and doing some research.
"[I] was shocked by just how much of a public relations boost the media have given the company and how little public accountability they have demanded in return," said Mitchell in the grist website articles.
One other issue has become quite prominent: Wal-Mart has been handing over donations to political candidates who are fighting environmentally beneficial programs.
"Whatever the company may say about the importance of legislative action on climate change or other environmental issues, its money is signaling the opposite," the grist website articles stated.