Waitress Jess Jones said she was angered to see what was written on a check after a family of eight was done dining.
Jones, of New Jersey, expected at least a 15 percent tip on the $112.03 bill, but instead found the tip section on the receipt marked with the acronym, "LOL."
It took "1 hour for food," the note said.
If she had received 15 percent, Jones would have taken home at least $17.
Jones posted the receipt on Facebook with the family's identifying information blurred out, according to the Asbury Park Press.
She said she thought she served the family well, informing them the kitchen was busier than usual.
She thought that the family was aware of the situation, adding that their drinks were refilled in a timely manner.
"Last night, I was stunned by this receipt that was left for me by a party of eight people," Jones wrote on Facebook.
"I would have preferred a $0 tip than a 'LOL' tip, but as a waitress, bad tips and harsh notes are all part of the job. Even though they did wait an hour to eat, they remained satisfied with filled drinks and proper notice that the kitchen was a bit busier than normal. I've worked in the service industry for five years and I take pride in providing great service to my customers."
Jones noted that she only makes $2.50 an hour plus tips, and she and other waiters need tips to survive, adding that she was attending school at Rutgers University.
"Most of my paychecks are less than pocket change because I have to pay taxes on the tips I make," she wrote. "I need tips to pay my bills. All waiters do. We spend an hour or more of our time befriending you, making you laugh, getting to know you, and making your dining experience the best it can be. We work hard, and we really do care."
The mayor of Belmar, where the restaurant D'Jais Bar & Grill is located, said that visitors should respect workers.
'If you visit Belmar please treat the hardworking men and women in our service industry with the same respect you would expect at your job. This is ridiculous," Mayor Matt Doherty said.
"My experience with this table was cruel and unnecessary but sadly it's not uncommon," Jones said. "With that said: Please be good to your waiters. I know it's annoying when things aren't right. I know how aggravating it is to receive a hefty bill when all night you've been wondering why the table that came in after you was served before you. But waiters are mere messengers most of the time, and it's wrong to shoot them, however bad the news."
After her story went viral, people from around the United States offered her money.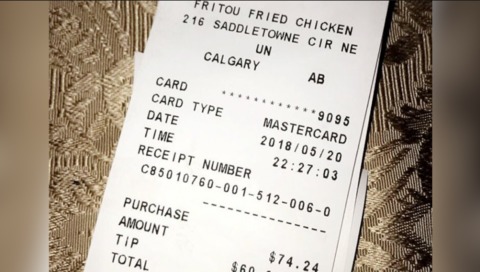 "I eat out about six days per week and come into contact with many servers," wrote Jack Bass of Colorado. "I find that almost all of them are working their — off to earn enough money to either pay their rent or go to school. People who blame the messenger are just nasty patrons that she is better off without. My kids go to college and have had server jobs. I know how something like this would really get them down. I'm sure she had quite a time handling that group and to stiff her is really low-class. … The bill was $112.03, let's make that her tip."
"I'd like the address where I can send a tip to the young lady who was 'stiffed,'" added Ryan P. White of Tennessee. "I humbly waited tables in college, and it helped shape me. … Sincerely, a Tennessean who is thankful for humble times that have led to more success than he deserves."
But not all the feedback was positive.
"This 'woe is me' type story always gets attention," one anonymous email writer said to local news website MyCentralJersey. "The problem is the photo isn't of the bill, only the receipt. Ask to see the actual bill and see if she actually did receive a gratuity. If so, you can do a great article on the growing trend of shaming customers hoping to gain some sympathetic tips."
How Much to Tip?
Most people know that the standard tipping fare is 15 to 20 percent of the pre-tax bill at a restaurant, but what about other places?
"Tipping is important. There are so many services where people aren't even paid minimum wage," says Debby Mayne, etiquette guide, according to AARP's website. "The pizza delivery guy is out there braving the elements. There's a reason why you didn't go get that pizza yourself."
Valet parking personnel
When your car is returned to you, it's appropriate to tip the valet $2 to $5.
Hairstylist/barber
Stylists and barbers should be tipped a minimum of 15 to 20 percent of the service, and that tip can be split among others who assisted (for example, the shampoo person and colorist). Apply the same value to manicures, pedicures, massages and the like. Think the owner of the salon shouldn't be tipped? Turns out that's an old tradition. Owners today appreciate and will accept 15 to 20 percent.
Contractors
If you work with a regular contractor who cuts you a break from time to time, you may be compelled to offer a tip. Most of the time it isn't necessary to tip an electrician or plumber, Mayne says. "However, if they do anything extra or spend more time than expected, a tip is always appreciated, with the minimum being $20."
Movers
For a local move (with no broken dishes), Mayne says $20 per mover is fair. If it's long distance, consider offering more.
Maid
At a hotel, you're expected to leave a little something for maid service, based on how many days you stayed. But what about at home? Tipping a house cleaner who's employed not by you but by a cleaning service is optional. If you feel so inclined, 10 to 15 percent is acceptable. At holiday time, or if you're particularly impressed by a job (the gunk was cleaned from all your liquid soap dispensers), increase it, but by no more than $20.