Western Australia (WA) has announced a final six-day sprint of lighter restrictions in its Perth and Peel regions after parts of the state plunged into total lockdown following two cases of the CCP virus.
WA Premier Mark McGowan delivered the plan to return the state to pre-pandemic life in confidence, saying that the weaker restrictions would avoid the further proliferation of the virus.
"As a result of everyone's efforts, we are able to take the next step on our safe and sensible pathway out of lockdown," McGowan said in a media release.
"While restrictions will significantly ease from tomorrow, some transitional restrictions will apply for the next six days so health authorities can be sure that we have crushed the virus in our community."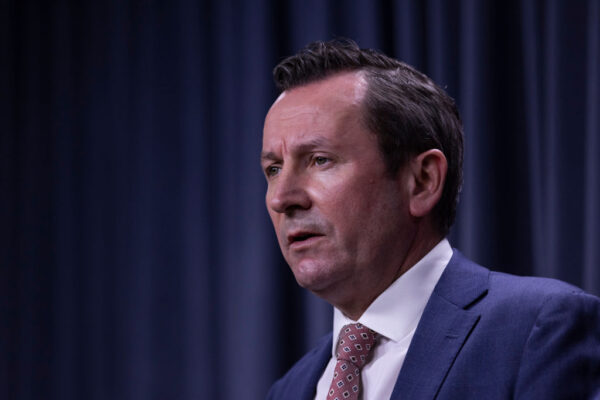 The new restrictions will last from July 6 to July 12, with masks now only mandatory indoors and where social distancing isn't possible.
Hospitality and other public venues will see capacity requirements ease from four square metres and a 20 patron limit to two square metres and a 150 patron limit. Large-scale venues, such as the Optus Stadium and the RAC Arena, will also be able to continue operating at a 50 percent capacity.
WA immediately imposed restrictions on June 27 after it recorded its first case of a highly transmissible delta variant of the CCP (Chinese Communist Party) virus, commonly known as the novel coronavirus, which was linked to an outbreak in Sydney.
The state then rushed into lockdown on June 29 after it recorded a second case of the delta variant, linked to the first, with lockdown measures later replaced with strict restrictions on July 2.
The eased restrictions and plan to transition to normality follow the success in stunting the state's spread of the CCP virus, with McGowan defending the control measures as the sole pathway to avoiding an outbreak similar to Sydney's, which has currently reached over 300 infected.
"The devastating situation unfolding on the east coast is a reminder to us all about doing the right thing," McGowan said.
However, the McGowan Government had previously received criticism over triggering restrictions despite recording very few cases—with current measures tallying the state's total lockdowns to three since the beginning of the year—causing severe damage to businesses.
The Chamber of Commerce and Industry WA (CCIWA) has estimated that, based on survey data, the lockdowns cost the economy $245 million.
"For WA's small businesses, lockdowns mean losing the income their families rely on," CCIWA Chief Economist Aaron Morey said.
Australia's peak industry body, Australian Industry Group (Ai Group), had also previously warned that states' "kneejerk lockdown contest" would pummel businesses without providing an effective long-term solution to managing the pandemic.
"We need to avoid panicked responses, and governments need to weigh health and broader advice including on mitigating the harsh economic impacts of tough restrictions and lockdowns," Ai Group Chief Executive Innes Willox said.