A survey conducted by the Australian Broadcasting Cooperation (ABC) has shown that Australian parents believe that they get better outcomes for their children with private schools than public schools.
The Australia Talks National Survey 2021 collected data from 60,000 Australian parents from the public and private sectors, with the private sector being broken down into schools with and without religious affiliations.
The findings show that parents at non-denominational private schools are most satisfied with their child's education at 92 percent, followed by non-Catholic religious schools (91 percent) and Catholic sector schools (85 percent).
The survey also spots a similar pattern when estimating parents satisfaction with teachers: 94 percent were satisfied at non-denominational private schools, 93 percent at non-Catholic religious schools, 87 percent in the Catholic sector and 82 percent in the public sector.
The findings were mirrored by data from the Australian Bureau of Statistics, which found independent schools are growing in popularity in Australia.
The number of people who prefer to send their kids to private or Catholic schools has also doubled over the last 30 years, with now 35 percent of Australian parents choosing the private option.
"Independent school offers a much more bespoke education," Sharon Leifer, whose three children have attended private school, told The Guardian, "They can be accelerated, they can get extra help, it's not done on norms, it's done on each individual child. And they have high expectations of and for the kids. I wish everybody had that choice."
"We found that at public school if you're in the middle, the quiet kid at the back, if you're not doing anything [disruptive], you can pretty much go unnoticed," she said.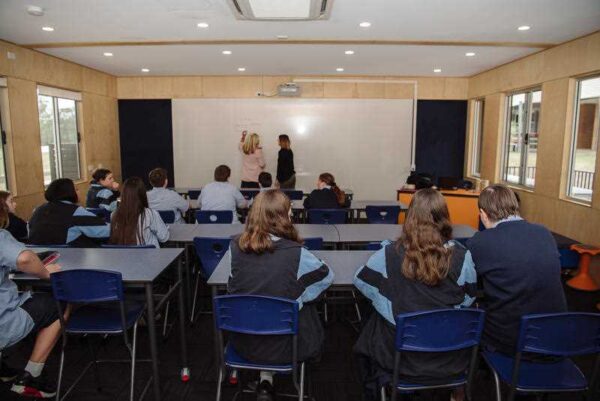 Glenn Fahey, research fellow in Education Policy at the Centre for Independent Studies (CIS), told The Epoch Times in some years the independent sector has tended to have a stronger enrolment growth.
"By at large, there is definitely a movement toward non-government schools, and that's probably driven by two things. One is the affordability of many non-government schools. But also there does seem to be disproportionately a dissatisfaction with the government school sector," he said.
"And that's particularly built around bureaucratic overreach, and the influence of education unions that are far more experienced in the government sector than they are in the non-government sector."
Although studies suggest that the academic performance between private and public schools is not noticeable, the education expert said independent schools are becoming increasingly popular among parents as they offer more extracurricular activities that are believed to help students be more well rounded. He also noted that Catholic schools are also seen as having a better learning environment and discipline.
There is a "crisis of confidence in schooling," Fahey said, which are felt most in the government school sector, and parents are "voting with their feet."
"Parents are less confident in how funds are used in government schools than private schools."
A 2019 research from CIS found parents mostly look for schools to invest in the facilities and in the educational offerings of schools. But in many cases, Fahey said, public schools tend to be more focused on reducing class sizes and increasing teachers pay.
"It's hard to make a generalisation across all the government sector, but it should be alarming that government schools are recording such a high level of dissatisfaction, given that they do serve the majority… and that does signal a wider problem."
Choosing schools is a decision that can affect the child for a lifetime, so it's important that parents have different options to choose what they think is best for their kids, the education expert said.
The research from CIS listed top factors influencing parent's decision in choosing schools as location, facilities, academic quality, cost and discipline.
It also found that parents with children in Catholic schools are most likely to say they would make the same school choice again, followed by parents with children in Independent schools, and then parents with children in government schools.
"Despite the promise of choice, many of the decisions about schools are made centrally and enforced on individual schools and school sectors," the research said, "In addition, too many policy decisions in education are made to appease or satisfy the demands of vested interests—denying the interests of parents, and made at the expense of children's learning."