Success in a game like football, is measured in inches.
In the automotive arena, measurements are more precise, smaller—often millimetres make a difference. In a world where precision and engineering can make or break how a vehicle sits, how it handles, how it performs, being accurate and precise is crucial. The devil is in the details!
Such is the case of a tale of two cars with similar looks and nomenclature from the exact same manufacturer. The Volvo V90 and the V90 Cross Country. One of the major differences between both vehicles is 60 millimeters—60 millimetres. That's 2.3622 inches, less than the width of most popular smartphones.
As a manufacturer of innovative, well-designed and engineered modes of transport, that measurement is positively huge. The 60 millimetres is the difference in height (ground clearance) between the V90 and the V90 Cross Country—in favour of the Cross Country, arguably the rugged sibling to the overall charm and appeal of the award-winning V90, a wagon—a stepping stone, a gateway if you will to the magnificent Volvo XC90 mid-size luxury SUV—sharing similar DNA and platform.
Recently we had the good fortune to drive each of the two V90s for an extended period and here are our thoughts.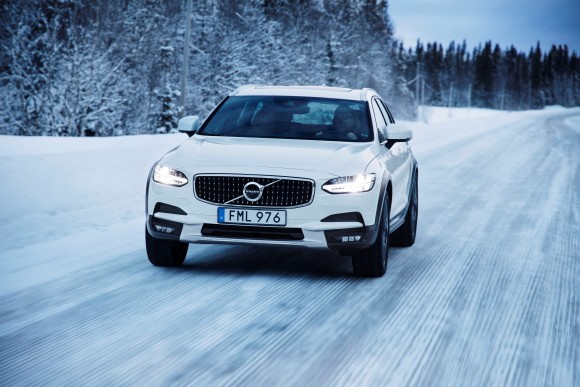 Many years ago, the late actor, Dudley Moore starred in a 1990 movie called "Crazy People". Paraphrasing, as a form of therapy, Moore's character enlists the unwitting help of mentally unstable patients in an institution to come up with advertising campaigns. One such effort was the Volvo tag line—"Buy Volvo. They're boxy but they're good." That was then. Now, 27 years later one thing still resonates from that movie: Volvos are still good and highly-rated by the Insurance Institute for Highway Safety (IIHS)—but they are far from boxy. Today, the lines of the latest iterations of available vehicles have sweeping, attractive and elegant lines with excellent innovative technology and some of the finer engines in the business under their hoods.
It's definitely a new day for Volvo and both versions of the V90 speak to that.
Volvo V90 Cross Country
"The V90 Cross Country takes the elegance of the V90 and transforms it into an all-road car that delivers safety, comfort, and performance in a capable and adventurous package," says Håkan Samuelsson, president and CEO, Volvo Car Group. To be 100 percent clear, Volvo is a company that in recent years has shaken off the old, reserved "boxy-but-good" reputation. The V90 Cross Country is one of the best SUV alternatives away from the mainstream market. It's a gateway from sedan to SUV—in between. While it may have a slightly harsh ride, its appearance and general build quality, seductive styling, great infotainment unit, and impressive suite of safety technologies make this an interesting contender in the general family utility-type vehicle category. The Volvo V90 Cross Country, is a premium five-passenger V90 wagon with a bit of extra ground clearance—remember those 60 millimetres we spoke of before? Powered by the exact same power plant as the V90, a more than capable 2.0 L turbocharged and supercharged I-4 engine, producing 316 hp and 295 lb.-ft. of torque, mated to an eight-speed Geartronic automatic transmission.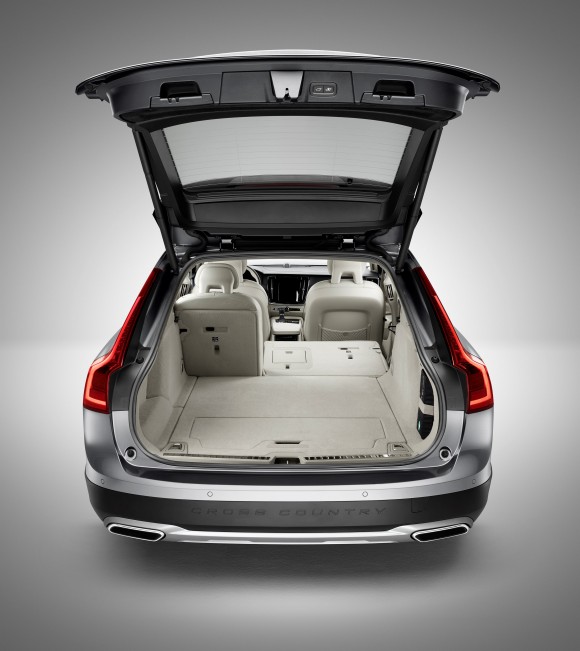 The V90 Cross Country is perhaps a little better suited to a more rugged terrain. While all-wheel drive is standard, you will not be climbing the Niagara Escarpment like a mountain goat, but for access roads to a cottage or unassumed country roads, the added height allows for easier entry and exit out of the vehicle, and also makes loading heavy cargo into the trunk less of a bending exercise. The front and rear bumpers have been redesigned from the standard V90 to accommodate rugged terrain, and body cladding is found around the wheel arches and lower body. The front grill also gets a slight revision with chrome studs flanked by vertical black bars. There are also model-specific 19-inch wheels, larger side mirrors, and a rear skid plate.
All in all, a well-equipped very capable family hauler for weekend adventures and commutes to work. In summary, this auto is, like its more refined sister, the V90, in this writer's opinion, one of the best looking wagons on the market, comparing favourably with the Audi A4 Allroad, Subaru Outback, Mercedes-Benz E-Class Wagon, and Volkswagen Golf Alltrack.
Volvo V90
While there are many similarities between the V90 wagon-style automobiles, the V90 makes many statements just based upon its curb-side appearance alone! While the V90 rides on the same platform as the S90 sports sedan and sports the exact same wheelbase and width, the V90 is, however 33.02 millimetres taller than the sedan yet is 27.94 millimetres shorter in overall length. The V90 is a roomy, comfortable, practical, enjoyable wagon. To be clear, it's pretty much Volvo doing what Volvo has long done best, just more stylishly and luxuriously so. And that is a very good thing for the car buying public.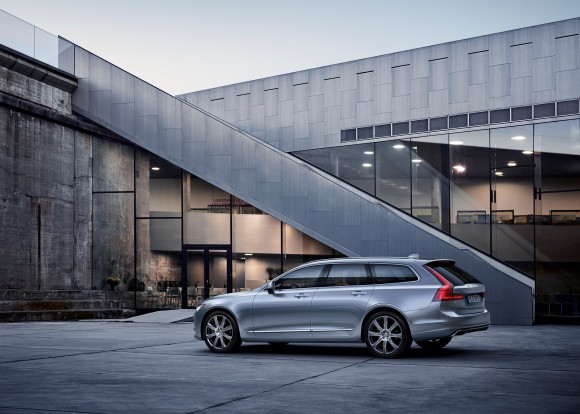 This Volvo projects a confident stance with a dash of sporty playfulness. The interior is simply spectacular, especially in the loaded "Inscription" trim. Like the XC90 and the S90, the cabin is well-designed, well-conceived with enough high-tech gauges and precision craftsmanship combined with soft-touch materials and a choice of wood or aluminum trim to make the driver and passengers feel quite welcome—and above all, safe. Expect a clean, clutter-free, vertical dashboard layout with a tablet-style centre touchscreen and physical (something more OEMs need to pay attention) buttons and knobs for all the important controls. The screen is very responsive to inputs as well, and the menus are organized in an intuitive fashion with swiping available in all directions: if you can use a tablet, then this will be second nature.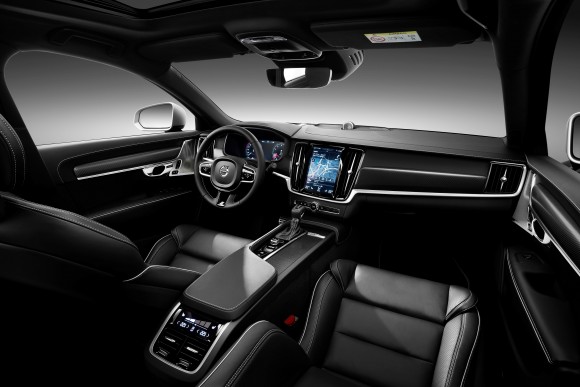 The V90 also packs Volvo's semi-autonomous Pilot Assist technology from the factory. The new second-generation system allows the V90 to accelerate, steer, and brake all on its own at speeds of up to 128 km/h—provided that road markings are visible. You may also expect this Chinese-owned Swedish automaker's impressive roster of active and passive driver-assistance features, too, including parking assist, 360-degree cameras, active high-beams, collision mitigation, large-animal detection, and more.
The V90 is definitely the looker. It has everything you might want except for a third row, available in the XC90. If you don't need the size of the XC90 SUV and want a vehicle with just as much storage capability, loaded with go-anywhere street cred, and with a sleeker profile than the mid-size XC60, then the V90 Cross Country and its lower price point just might be for you.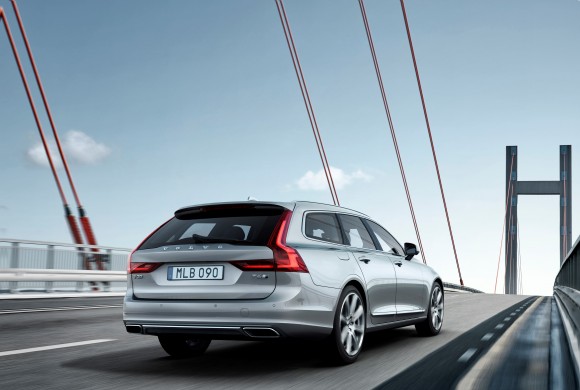 There likely is not a bad choice to make. Here are non-sedan, non-SUV-type vehicles that can provide terrific utility and look pretty good at the same time. At the end of the day, which Volvo is for you? That's your choice, and you may do well to test drive each model—and by each, I mean the V90 Cross Country, the V90, and the XC90. 
2017 Volvo V90 AWD Cross Country and 2017 Volvo V90 AWD Inscription trim
Body Style: Both–All-wheel drive (AWD) luxury wagon.
Engine: Both–2.0 L I-4, turbocharged and supercharged, 216 hp and 295 lb.-ft. of torque with eight-speed automatic transmission.
Cargo Capacity: Either V90–seats up – 851 litres. Seats folded – 1,953 litres. Just for interest, the XC90 – 1,185 and 2,427 litres.
Fuel Economy (stated): V90 Cross Country–10.7 L/100 km city/7.9 L/100 km highway, 9.4 L/100 km combined. V90–10.8 L/100 km city/7.6 L/100 km highway, 9.4 L/100 km combined. Premium fuel (91 octane or higher) recommended.
Price: V90 Cross Country $67,875*. V90 $79.323*
*Excludes freight and PDI. HST and other taxes extra.
 David Taylor is an independent automotive lifestyle writer, producer, and editor based in Barrie, Ontario who is fascinated by innovation and technology which enhance the overall driving experience. He's also a member of the Automobile Journalists Association of Canada (AJAC) and a Director of the Canadian Car of the Year. Follow him on Twitter @Omemeeozzie or on Instagram @hugoscaroftheweek.