When I first drove the 2017 Volvo S90 T6 home and parked it in the driveway, my wife, used to seeing a different vehicle most weeks, looked out the front door and stated, "That looks nice: how does it drive?"
Later that evening after walking our dog, she spent a few minutes walking around the car and would peer inside, step back and generally, familiarize herself with the car's exterior: especially the colour—an unusual tone, Mussel Blue it was called, but it grew on both of us over seven days.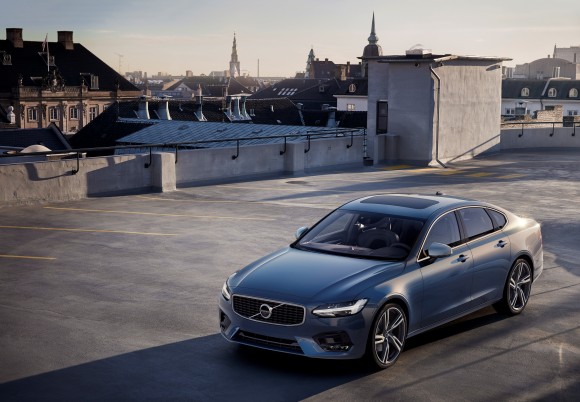 When she first glided into (note, not onto) the passenger seat, she sat down, fastened her seatbelt and proceeded to customize the seat for her particular needs. Volvo, in the upper end of their premium luxury vehicles are well known for the comfort and support available. In fact, stepping out of some Volvos, including this one, after a 3 hour or so drive and you will likely feel … surprisingly good—not at all fatigued. There is not automatic need to stretch and "walk off" the drive.
"I love this seat!" she proclaimed. Sheryl is above average height with longish legs and appreciates a longer seat cushion. In this vehicle, she could adjust that well upholstered cushion length to suit her physique. Not quite the same as the 2017 Lincoln Continental which provides the ability to independently adjust the left or right side of the cushion, but that was forgiven. She loved the seats.
Would she appreciate the car overall?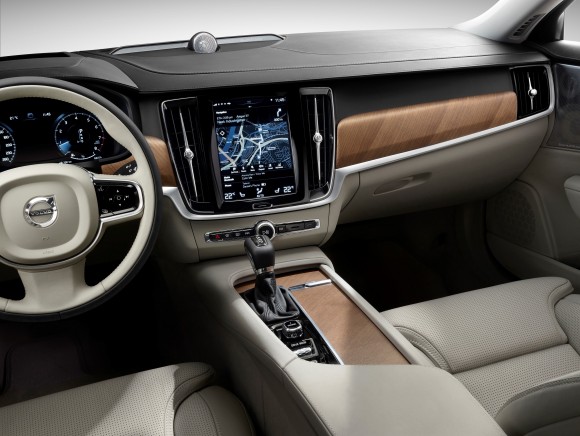 We would soon find out.
Any opportunity she could muster to run an errand or just take a drive was vigourously seized upon. She loved everything about the car. Its dynamics. Its level of comfort. The large tablet-like touchscreen. How it cornered. Accelerated. Braked. This Volvo was one of her favourite cars that has been in our driveway this year!
The S90 is About More Than the Seats!
It was hard to argue. I had driven the vehicle only once before during a road test a few months beforehand, even taken it on the Driver Development Track (DDT) at Canadian Tire Motorsport Park (CTMP). Here, this solidly built 316 horsepower turbocharged and supercharged inline four-cylinder, all-wheel drive luxury sedan even (pleasantly) surprised professional driver instructors. Although long and heavy, the S90 acquitted itself amazingly well—especially when pushed hard.
This week was going to demonstrate if the earlier promise in the fall was not a momentary lapse in judgement.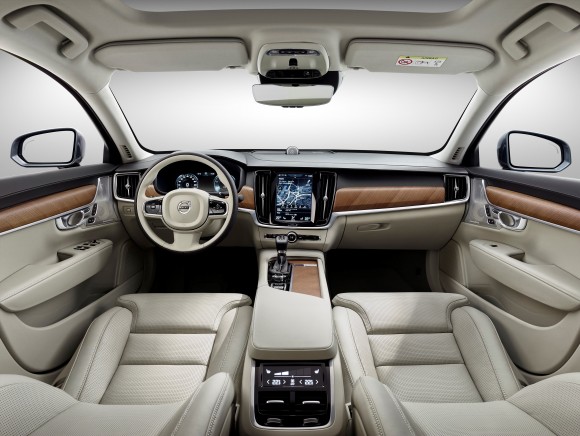 The answer was a resounding affirmative. The Volvo S90 accomplished everything on demand with poise and yes, elegance—regardless of what I asked it to do.
The S90 is exceptionally quiet inside, even at highway speed. To be sure, Swedish engineers have ensured that the tight body structure and smart noise insulation techniques are part of it, other credit goes to Volvo's incorporation of active noise cancellation, which counters any engine roar and road coarseness (and even supplements engine noise when driving in the available Dynamic mode).
Semi-Autonomous Driving Via Volvo's Pilot Assist
Equipped with the second generation of Volvo's Pilot Assist, a semi-autonomous feature, in the S90 and now considered a standard feature across the model line and now functions up to 130 km/h!  This feature when set, allows the vehicle to drive, well by itself—autonomously. Pilot Assist is the first semi-autonomous technology to be standard equipment in a production automobile. Pilot Assist detects lane markings and keeps the S90 within their boundaries. It also maintains a pre-set speed and following distance from the car in front of you—all while steering itself. However, major caveat alert: no driver assistance systems are a substitute for your complete attention while behind the wheel. The S90 also has a segment-leading animal detection system to help identify deer and other animals that may be in the roadway—helping to reduce or even avoid a collision.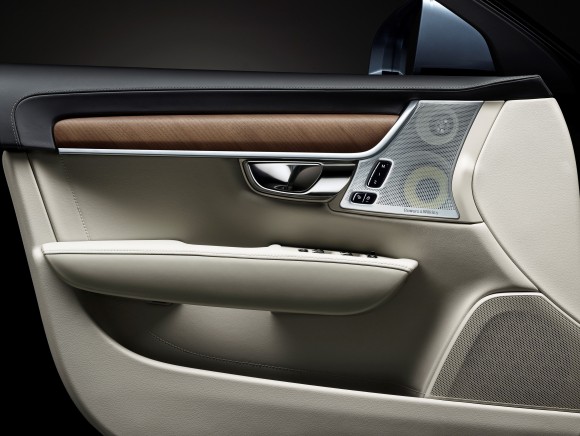 What continues to surprise "those-in-the-know" is the fact that since its introduction beyond the mid-way point of 2016, sales were bafflingly low—101 for 2016. For all intent and purpose the S90 is built upon the same chassis as the very popular (for a premium luxury vehicle), the XC90—a magnificent utility vehicle revered by many. Immediate competition would be the Mercedes-Benz E-Class, the Audi A6, and the BMW 5 Series—all excellent choices, the decision will likely, in most cases be determined by personal preference. After all, in the luxury and performance category for sedans, there are few major differentiators to distinguish one model from another. Owners will soon learn, however there is one major difference—fuel economy. With Volvo's commitment to the inline four-cylinder engine, expect at least 30 percent improved fuel economy than the three aforementioned German imports. In fact, should you cross-shop the E-Class, A6, or even the redesigned 5 Series you owe it to yourself to locate a Volvo dealership. The S90 checks off all of the "class" fundamentals including all-wheel drive, a load-levelling adjustable suspension system, a 224-watt 10-speaker Bowers and Wilkins audio system, and more electronic safety measures too long to list. Further, the S90 has one of the best appointed interiors. Period. Order the top-of-the line Inscription Trim with pretty much all conceivable bells and whistles and save thousands over the German competition. 
But Wait… There Will Soon be More!
Interestingly enough, the manufacturer is suggesting that for model year 2018, a T8 variation will be in the S90 lineup. Very similar sedan—except, like the XC90 T8, it will be a PHEV, plug-in hybrid electric vehicle with almost 100 more available horsepower!
2017 Volvo S90 T6, Inscription Trim
Body Style: All-wheel drive (AWD) luxury sedan.
Engine: 2.0 L inline four-cylinder engine (I-4) with turbocharger and supercharger—316 horsepower, 295 lb.-ft. of torque.
Cargo Capacity: 500 litres.
Fuel Economy: 10.8 L/100 km city/7.6 L/100 km highway/9.4 L/100 km combined.
Price: $75,320*.
*Includes freight and PDI. HST and other taxes extra.
David Taylor is an independent automotive lifestyle writer, producer, and editor based in Barrie, Ontario who is fascinated by innovation and technology which enhance the overall driving experience. He's also a member of the Automobile Journalists Association of Canada (AJAC). Follow him on Twitter @Omemeeozzie or on Instagram @hugoscaroftheweek.