CHICO, Calif.—Homeless survivors of the most destructive wildfire in California history are regrouping and trying to pull their lives together, while volunteers are doing what they can to help.
Tents, cars, signs, animals, tables, and chairs are scattered in the parking lot of a Walmart off Highway 99 in Chico, 15 miles west of Paradise. The town was largely destroyed by the Camp Fire. At the southeast corner of the lot, a food-service station has been operating around the clock.
"We have been here since one day after the fire started [on Nov. 8]," volunteer James Wheeler said on Nov. 18.
Wheeler, along with other volunteers, is putting in an average of 16 to 18 hours each day. After Wheeler and his sister, Kristina, brought their food truck to the parking lot, other people brought tents, tables, and chairs. When volunteers showed up, the Wheelers assigned work depending on the volunteers' abilities, and helped them handle their jobs. A temporary food service was in operation, and hasn't stopped since.
The truck is one of the Wheelers' fleet of three Bao trucks, a mobile business that serves Asian-fusion tacos. The family, which is from the Sacramento area, about an hour and a half drive away, has been in the restaurant business for 15 years.
"We get about two hours of sleep [each day]," said Kristina Wheeler. "We aren't complaining. We're happy to be here and just keep going as long as we can."
When asked about what brought them, she said: "I have been asking myself that question. I don't know the answer myself, but we just don't want to leave. We just know we need to be here."
Kristina Wheeler said the stories they heard from the victims convinced them they needed to help.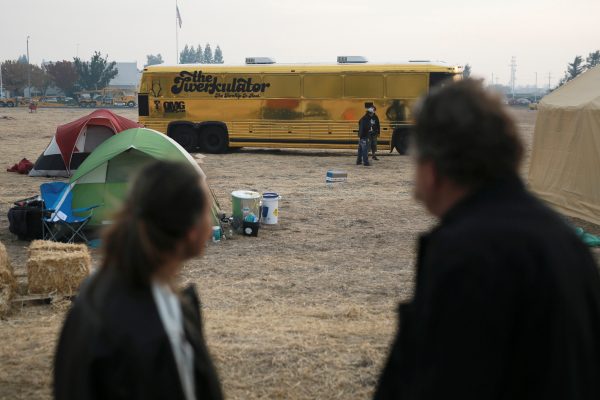 Keep Going
Teresa Tang and Seti Cham, both from Orange County, drove seven hours before they joined the Wheelers' team of volunteers. They are both first-generation Americans: Tang's parents are from Vietnam, and Cham's parents are from Cambodia. Tang works in commercial real estate, and Cham in finance.
"We heard the story, and we just came," said Tang. "We didn't think about it. I didn't even bring my clothes."
The Wheelers said that many volunteers were sleeping in their cars or tents, under the same conditions as the fire's victims.
The Wheelers said they started the emergency food service by providing their own food. Later, many organizations and local residents joined the effort by contributing food and drinks. The donations and volunteers have kept the service going.

Explosions
One of the survivors living in the Walmart lot is Mike Mason, a construction contractor and a mechanic. The resident of Paradise said that he was woken up on the morning of Nov. 8 by the sound of explosions.
"It sounded like Mother Earth was just really mad," Mason said. When he looked out his front door, he saw smoke and flames, and deer and foxes running. He knew he only had time to get his 14-year-old dog Rusty into the car before he needed to drive away.
When Mason got to the nearest major road, there was fire on both sides of the roadway. He said at least 20 cars behind never got out.
"I was going as fast as I could," he said. "The back of the car behind me got melted pretty badly."
"This is an unreal situation here," Doug Anderson, another survivor, said. "We've had many fires before, but the county firefighters did whatever was needed to keep the fires away."
Anderson, a 39-year resident of Paradise, was awakened by his roommate that morning. After sensing something unusual, he flipped on his TV, to learn about the evacuation. He had about a half-hour to put his electronics and his "camping stuff" into his car before making his escape. On his way out, Anderson saw burning trucks and structures. The "Town of Paradise" sign was on fire, as well.
When he spoke to The Epoch Times, Anderson was still shaken by his experience.
Through one of his friends, who had access to live satellite pictures, he knew the house he lived in was still there, at least for now.
"I am giving 80 percent chance on it," he said.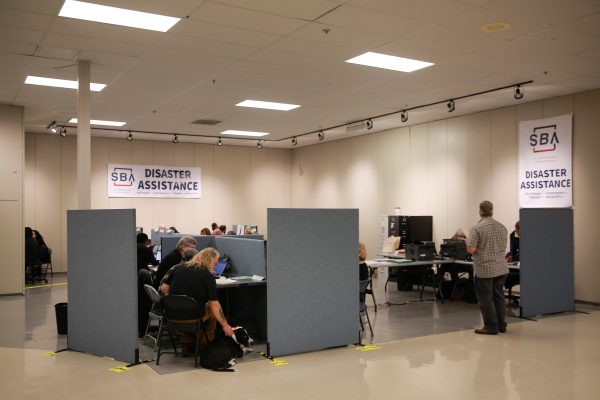 New Words Needed
"I don't have a word to describe what this place looked like," Jim MacKensen, a public information officer, said while standing next to a few melted vehicles surrounded by burned-out houses, and trying to relate what he saw when he got to Paradise on Nov. 19.
Just a few feet away from where MacKensen stood, lay shiny, snake-shaped rivulets of aluminum that had hours earlier had been automobile wheels. Broken glass from car windows melted and turned to crystal-like pebbles. MacKensen said he had no idea where the residents, who once lived in those houses, could be now. But he said there were more than 600 people going from house-to-house and car-to-car searching for remains.
MacKensen assumed no survivors if "no contacts have been made by now."
A number of destroyed houses and cars were less than 100 feet away from structures that survived the fire.
"I am speechless," said MacKensen, adding that Paradise was the worst disaster he witnessed in his 45 years as a firefighter. "We have to come up with some new words to describe this."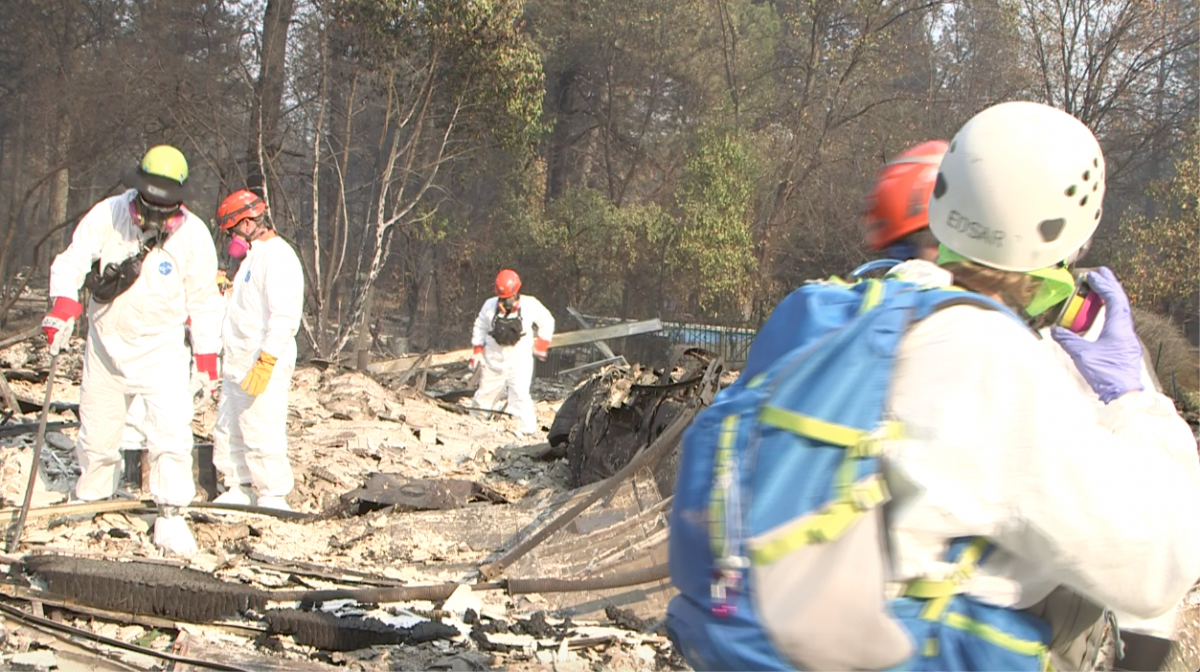 Providing Supplies
On the evening of Nov. 18, no hotel rooms were available in the areas around Chico. Many hotels, motels, and shelter buildings were full, forcing some of the victims with to live in tents at the Walmart parking lot.
Clothes, food, and many other living necessities have poured into the area, while a utility truck provides free internet.
Lisa Grover and Jenifer Lamott were unloading a carload of clothes, shoes, groceries, books, and diapers from their sport utility vehicle in the victims' camp area; some pairs of boots were brand new, with the price tags still attached.
"I don't have much to give, but I tried to have our dollars stretch as far as I could," said Grover, with her husband and their three children standing by her side. She works for the state Department of Corrections; her husband, Bob Grover, also works for the state government; their children are 16, 11, and 6.
"My wife initiated this effort," said Grover. "If you are lucky enough, you can get your family out, and you can still have your loved ones. But if you lost your home, I wouldn't know how to deal with that."
The Grovers and their friend Lamott have a mutual friend who lost a home in the fire.
At 8 p.m., the Grover family and Lamott were still working in the dark to finish unloading the goods they had brought. As with others before them and since then, they just came to try to help.