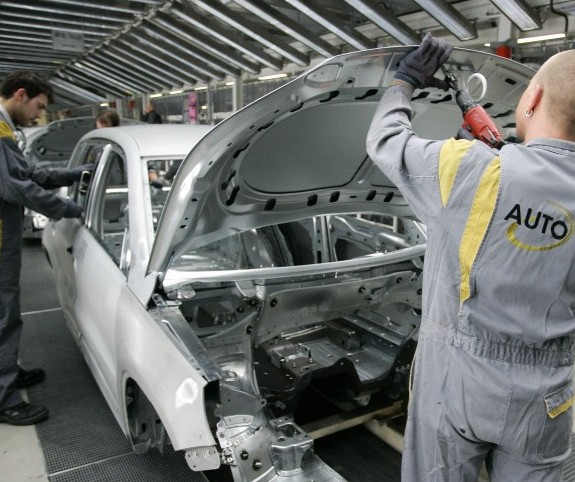 MUNICH—To fight the burnout syndrome at work, German automobile company Volkswagen AG has taken a bold move to limit email functionality of some company smartphones after work hours.
Every day after 6:30 p.m., employees' Blackberry smartphones will not be able to receive any company emails until 7:30 a.m. the following day.
Many VW workers have complained in the past about long work days and 24-hour availability demands through their Blackberry smartphones. Due to the 24-hour nature of these email devices, many managers expect their subordinates to answer their emails even late at night.
In an effort to improve work-life balance, VW's Workers' Council took the initiative to push through this effort of stopping company emailing in nonwork hours.
"The new possibilities of communication are also concealing dangers," said Heinz-Joachim Thust, the spokesman for the company's workers' council.
This change will affect 1,100 of VW's nonmanagement employees. Although it's a small number, it is a significant leap forward for the German work culture. VW, the biggest German auto producer, is definitely a major trendsetter for the industry. Seeing such action, other German companies could likely adopt similar measures.
According to a recent Dutch study in the publication Psychological Reports, no less than 40 percent of experienced high-level businessmen suffer from burnout syndrome. One of the surest signs of burnout is prolonged working days, partly enabled by a company smartphone.
German Working Conditions
Germans are a lot more sensitive about their working conditions unlike most other countries including the United States. However, German work laws are quite restrictive, allowing employees many perks that people could only dream of in other nations.
For example, every German worker is entitled to 30 days of paid vacation a year. The German workweek is a maximum of 40 hours, and most of the time it is between 35 and 37.5 hours. Every hour of overtime could be taken as extra vacation or compensation later.
German employees cannot get fired from a job, unless they commit mistakes or the company goes bankrupt. Even when a company decides to fire someone, they usually get a three-month notice so that they could have time to look for a new job.
In Germany, it is illegal to work two full-time jobs at the same time, and if a full-time employee wants to have a part-time job, he needs to get permission from his workers' council and manager. It is common that managers in German companies are often confronted and sued by workers' council if they make their employees work overtime.
In Germany, when a female employee gets pregnant, she is not allowed to work the eight weeks before the expected birth and during this time she will get her full salary. Up until one year after the birth, a woman will receive 66 percent of her salary, if she decides to stay at home. If a woman has a permanent job contract and decides to stay home for three years after the birth of her child, the company is required to keep her job place secure. However, after the first year, she will no longer receive 66 percent of her salary, but will only get 184 euros in Kindergeld (child allowance) per month until the child is 18 years old.
To make matters more equal in Germany and to encourage fathers to take care of children, the same rules apply to fathers. Many couples interchange their roles, as women take the first six months off, and then as a baby gets older, the father will take the remaining six months off and stay at home.
If, after pregnancy a woman decides to work part time, a company cannot deny her request and by law will provide her convenient working time ranging anywhere from 5 hours to 40 hours per week.
Although it seems that Germans wouldn't produce much with such restrictive working laws, the opposite seems to be true. Germans take pride in delivering high-quality goods.
Even though Germans work fewer hours and have more vacations than most other countries worldwide, the German economy is the most stable in the European Union, and it is considered a powerhouse capable of carrying the whole EU with its massive productiveness.
In an interesting article written by Alex Jung on salon.com titled "Were You Born on the Wrong Continent?" he criticizes the misguided culture of overwork in the United States. The author argues that many Americans work longer hours in fear that they would get laid off.
"If I work an extra 10 minutes over the person in the cubicle next to me, then I'm less likely to get laid off," is the typical answer to the survey conducted on American workforce.
According to research, an average American full-time employee works 1,804 hours per year, while an average German works 1,436 hours. This equals to Americans working an extra 9 hours every week.