A volcano on the Spanish island of La Palma erupted on Sept. 19, the island's government confirmed, coming days after hundreds of earthquakes were recorded in the area.
A large column of smoke rose up after the eruption at 3:15 p.m. local time inside Cumbre Vieja National Park, according to the Canary Islands government and the Canary Islands Volcanology Institute. Authorities had evacuated around 40 people and farm animals surrounding the volcano.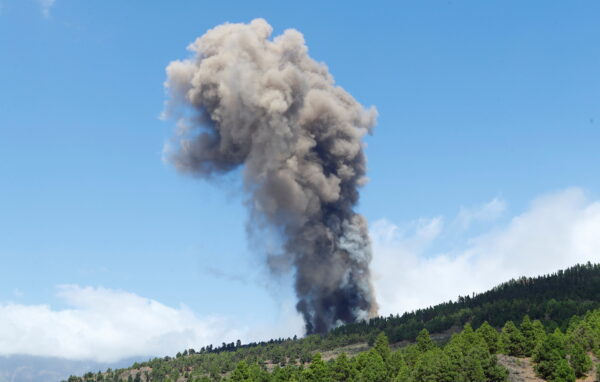 A 3.2-magnitude earthquake was reported by the U.S. Geological Survey (USGS) in the area on Sept. 18. Several more tremors were detected on the morning of Sept. 19.
The Scientific Committee of the Volcano Risk Prevention Plan noted to media outlets that stronger earthquakes "are likely to be felt and may cause damage to buildings."
El volcán de La Palma enseñando la patita https://t.co/gsL1ixOpUR

— Amaral Stan Account (@Roma_manola) September 19, 2021
Video footage of the eruption shows the volcano sending lava high into the air. Other pictures and videos show that a fissure emerged in the volcano, with flowing lava overtaking forests and farmland.
Authorities issued a mandatory evacuation order for four villages, including El Paso and Los Llanos de Aridane. Soldiers were deployed to help, and residents were asked to keep mobile phone use to a minimum.
Spain's Civil Guard wrote in a tweet that it would take part in the evacuation of between 5,000 to 10,000 people from villages near the volcano, including El Paso and Los Llanos de Ariadne.
According to Volcano Discovery, the eruption was the first on the island since 1971. The earliest recorded volcanic eruption on La Palma occurred in the 15th century, officials said.
More than 22,000 tremors were reported by officials in the area, Reuters reported.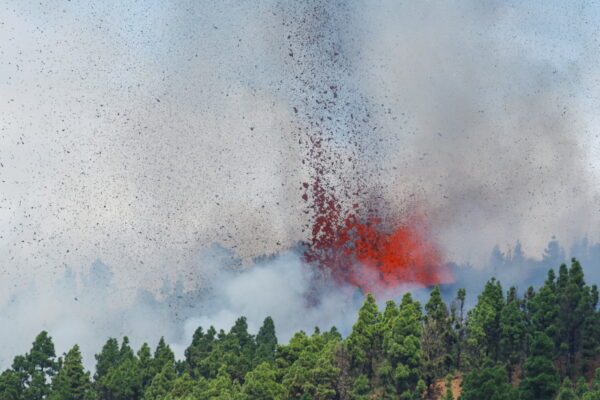 "What's most likely is that the magma has found a way toward the surface and it is very likely that it will end up reaching it," Luca D'Auria, the head of the Volcano Monitoring Department at the Canary Islands Volcano Institute, told Deutsche Welle.
La Palma has approximately 83,000 residents and draws some tourists every year. It's also one of eight islands in the Canary Islands archipelago. At their nearest point to Africa, the islands are 60 miles from Morocco.
About a decade ago, several earthquakes hit the nearby island of El Hierro. An underwater volcanic eruption was also recorded.
The Associated Press and Reuters contributed to this report.