Russian President Vladimir Putin has been run through the online rumor mill, with some social media users claiming he longtime Russian leader is dead, had a stroke, merely ill, or is trying to battle a power struggle.
Putin hasn't been seen in public for more than a week, although on Friday, the Kremlin published somewhat-dubious photos of the Russian leader meeting with the President of the Supreme Court, Vyacheslav Lebedev. As ABC and other media outlets have noted, there is no way to "independently verify [if] the meeting occurred today" or when the photos were published.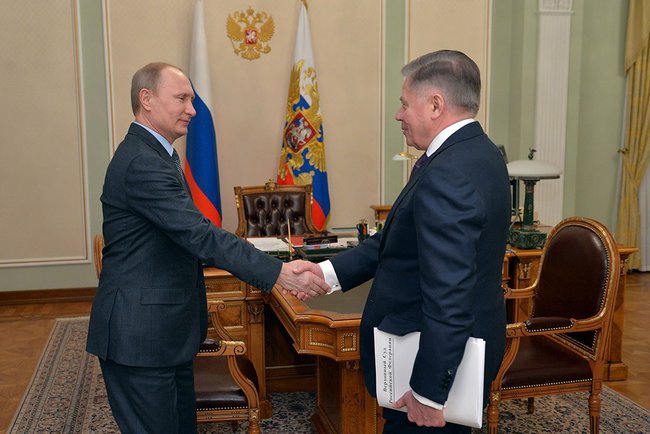 "The main subject on the agenda will be continued steps to develop bilateral cooperation, particularly trade and investment ties, cultural and humanitarian contacts, and relations in the energy sector. The two presidents will also have a detailed exchange of views on cooperation in connection with Kyrgyzstan's accession to the Eurasian Economic Union," the Kremlin said of the meeting.
It's been well over 72 hours so according to Russian law we can file a missing persons report #WhereIsPutin

— Simon Ostrovsky (@SimonOstrovsky) March 13, 2015
Putin, in the past eight days, has canceled meetings with the leaders of Belarus and Kazakhstan. But the Kremlin said Putin will meet with the leader of Kyrgyzstan next week on Monday.
On Thursday, a longtime spokesperson for Putin, Dmitry Peskov, told Ekho Moskvy that Putin is fine and if he wanted to, his handshake could "break your hand."
Peskov also said that Putin would not be appearing at a meeting with the Federal Security Service on Thursday, which he often attends.
"Yes, he's usually there," Peskov said. "But this year he was not planning to be."
A Kremlin announcement Wednesday that Putin would postpone an upcoming trip to Kazakhstan set off a flurry of rumors online, with some suggesting that Putin could be seriously ill and others positing that he could be planning for the ouster of a major government figure.
There has been widespread speculation and rumors on Russian forums, along with Twitter and Facebook, about what happened to Putin. The hashtags #WhereIsPutin and #PutinIsDead appeared on Thursday and are going strong on Friday.
His last appearance was was a meeting with Italian Prime Minister Matteo Renzi on March 5.
The Associated Press contributed to this report.