Visiting Chinese Officials Sued by Falun Gong in Taiwan
September 29, 2010 12:14 am Last Updated: October 1, 2015 6:55 pm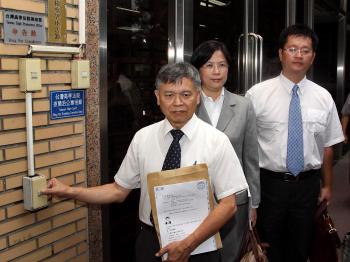 HONG KONG—Practitioners of the Falun Gong spiritual practice filed lawsuits against three high ranking Chinese communist cadres on official state visits to Taiwan. The officials are accused of participating in the persecution of Falun Gong in mainland China. Several Hong Kong lawmakers and human rights activists voiced their support.
The three mainland officials being indicted are Guangdong provincial governor Huang Huahua, acting Shaanxi provincial governor Zhao Yongzheng, and director of State Administration for Religious Affairs Wang Zuoan.
Hong Kong lawmaker Yiu-chung Leung, said the cases are "big strikes" against Beijing's dictatorial rule. "It [the Chinese regime] needs to understand: other governments are concerned! The persecution of dissenters and religious groups should be stopped," he said.
After being served letters of indictment during their Taiwan trips earlier this month, both Zhao and Wang cut their visits short and made low-profile exits.
Leung said he hoped these cases in Taiwan would set examples for other nations to follow suit, to carry out the international human rights obligations they are signatory to.
"It will have a big impact on those Chinese communist cadres, as they may then not be able to leave China," Leung said.
Another Hong Kong lawmaker and rights activist, Kwok-hung Leung, said that such cases are also tests for Taiwan's democratic system "to see whether they will uphold justice and protect Taiwanese people's basic rights according to law."
Yuk-kai Law, director of Hong Kong Human Rights Monitor, said they were paying close attention to the cases, even though it is difficult to determine the exact relevance they have for Hong Kong. Under the "one country, two systems" political arrangement, it is not clearly stipulated whether Hong Kong has judicial authority over crimes of torture committed inside mainland China.
"However, the international community gives great importance to the crime of torture; so there is a need for the Convention Against Torture and cross-border jurisdiction," Law said.
On Aug. 16, 2010, as soon as his plane landed in Taiwan, Falun Gong practitioners filed a lawsuit against Huang Huahua, governor of Guangdong Province, for crimes of genocide and violating civil rights conventions.
Representative of the Taiwan Falun Dafa Association Professor Chang Ching-hsi, and attorney Theresa Chu met with a prosecutor at the Taiwan High Prosecutor's office, briefing him on Huang's role in the persecution of Falun Gong.
Chu said that according to reliable sources in China, Huang, as Party secretary of Guangzhou City, was in charge of cracking down on Falun Gong and helped set up the 610 Office at all governmental levels. The 610 Office is an extralegal task force with sweeping powers, created to brainwash or eliminate Falun Gong practitioners in China.
As provincial party secretary and governor, he sanctioned the police in Guangdong to torture Falun Gong practitioners, who were subjected to beatings, imprisonment, brainwashing, force-feeding with feces and boiling water, electric shock torture, and group rape, according to Chu, who refers to evidence accumulated over the past decade.
Falun Gong practitioners have filed at least 50 lawsuits against more than 30 Chinese officials in as many countries. Most of these lawsuits, including both civil and criminal cases, are against former leader Jiang Zemin, who initiated the persecution of Falun Gong in July 1999.