A shooting in Virginia last week was sparked by a "Chevy or Ford" superiority dispute that spiraled out of control, according to reports.
WSET reported that following an alcohol-fueled argument over motor vehicle brand dominance on April 23 in Bedford County, three people suffered nonlife-threatening gunshot wounds.
The suspected gunman, 56-year-old Mark Turner, was taken into custody after a standoff with police.
Turner faces charges of a felony with malicious wounding, use of a firearm in the commission of a felony, and possession of a firearm by a felon, according to WTKR.
The accused made a court appearance on April 29 at the Bedford General District Court, the News &Adance reported, where a prosecutor said there was a "significant opportunity for additional charges."
Turner was denied bail.
He is scheduled to appear in court for a preliminary hearing on July 5, according to the News & Advance.
What Happened?
Dispatchers received a 911 call around 11:30 p.m. on April 23 reporting gunshots.
Responding officers found two women and a man lying on the ground, "stating that they had been shot by Mark Turner," according to an affidavit cited by WSET.
#BREAKING – Officers are investigating a shooting on Shepherd Lane in Bedford. Right now, access to that road is blocked at Mob Creek Road and Moneta Road. Working to get info. pic.twitter.com/QSuyegPfru

— Valencia E. Jones (@vjreports3) April 23, 2019
Bedford County Commonwealth's Attorney Wes Nance was cited in the report as saying that Turner, his girlfriend, her son, and her son's girlfriend were having dinner when an argument ensued.
"The allegation is that there was alcohol involved and a dispute began against Logan Bailey, the son of the girlfriend, and Mr. Turner about what type of vehicle is best. Chevy vs. Ford," Nance said.
The dispute between Turner and his girlfriend's son turned violent when Turner pulled out a knife, according to Nance.
Bailey's mother—Turner's girlfriend—tried to step in and was stabbed once in the back.
Turner then allegedly went into the house and returned with a handgun.
"It's then alleged that Mr. Turner came back out and approached Mr. Bailey," Nance said, WSET reported. "Once again, his mother tried to intervene between the two of them. During that time, she was shot a total of five times—all of those injuries occurring to her legs."
Turner then reportedly fired the gun at his girlfriend's son, hitting him in the arm.
It is alleged Turner fired two more shots, which ricocheted and struck the son's girlfriend in the back and face.
After the shooting, Turner went back into the house and barricaded himself inside, according to WSET.
The News & Advance reported that police negotiated with Turner while he was seen inside the house, brandishing a gun while showing signs of being "heavily intoxicated."
Fox reported police eventually shot Turner with a bean bag round and took him into custody.
Search warrants cited in the WSET report say investigators found items at the home that include a baseball bat, pistol, drug paraphernalia, and three green plants.
Crime in the United States
Violent crime in the United States has fallen sharply over the past 25 years, according to both the FBI's Uniform Crime Reports (UCR) and the Bureau of Justice Statistics (BJS) National Crime Victimization Survey (NCVS) (pdf).
The rate of violent crimes fell by 49 percent between 1993 and 2017, according to the FBI's UCR, which only reflects crimes reported to the police.
The violent crime rate dropped by 74 percent between 1993 and 2017, according to the BSJ's NCVS, which takes into account both crimes that have been reported to the police and those that have not.
"From 1993 to 2017, the rate of violent victimization declined 74 percent, from 79.8 to 20.6 victimizations per 1,000 persons age 12 or older," the U.S. Department of Justices stated (pdf).
Both studies are based on data up to and including 2017, the most recent year for which complete figures are available.
The FBI recently released preliminary data for 2018. According to the Preliminary Semiannual Uniform Crime Report, from January to June 2018, violent crime rates in the United States dropped by 4.3 percent compared to the same six-month period in 2017.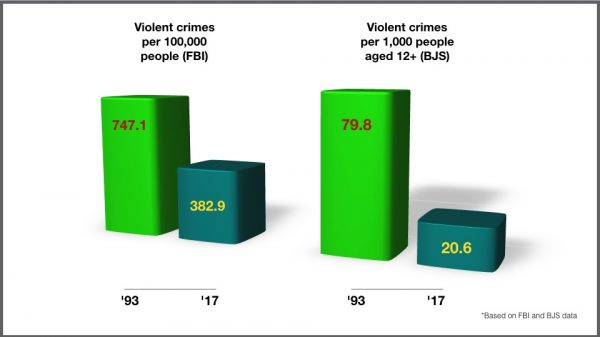 While the overall rate of violent crime has seen a steady downward drop since its peak in the 1990s, there have been several upticks that bucked the trend.
Between 2014 and 2016, the murder rate increased by more than 20 percent, to 5.4 per 100,000 residents, from 4.4, according to an analysis of FBI data. The last two-year period that the rate soared so quickly was between 1966 and 1968.
Property Crime
The property crime rate fell by 50 percent between 1993 and 2017, according to the FBI, and by 69 percent according to BJS.
According to the FBI's preliminary figures for the first half of 2018, property crime rates in the United States dropped by 7.2 percent compared to the same six-month period in 2017.
As with violent crime, the FBI survey only takes into account crime reported to the police, while the BJS figures include reported and nonreported crime.
Public Perception About Crime
Despite falling long-term trends in both violent crime and property crime, opinion surveys repeatedly show Americans believe that crime is up.
The vast majority of Gallup polls taken since 1993 show that over 60 percent of Americans believe there is more crime in the United States on a national scale compared to the previous year.
Pew Research surveys show similar findings. A survey in late 2016 revealed that 57 percent of registered voters said crime in the nation as a whole increased since 2008, despite both FBI and BJS data showing double-digit drops in violent and property crimes.
Perceptions differed on a national versus local level.
Surveys of perceptions of crime levels on a local scale showed that fewer than 50 percent of respondents in every single Gallup survey done since 1996 relieved that crime in their area had risen compared to the previous year.