Virgin Galactic SpaceShipTwo Makes First Rocket-Powered Flight (+Video)
April 30, 2013 4:04 pm Last Updated: July 18, 2015 5:20 pm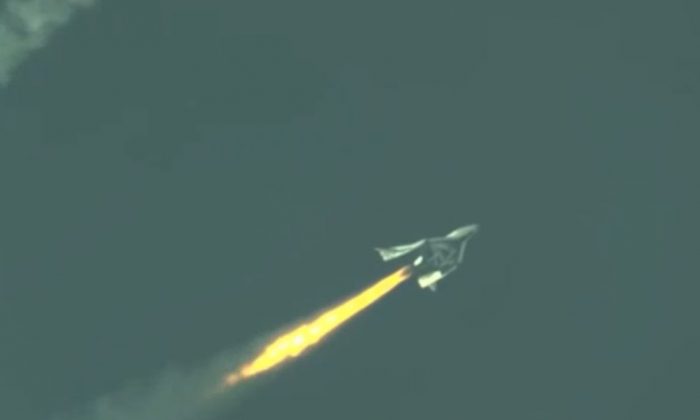 The Virgin Galactic SpaceShipTwo made its first flight over the Mojave Desert in California, which was captured on video.
The SpaceShipTwo is designed to carry tourists into space.
"Today was completely and utterly ridiculous, I've got the biggest grin ever," Virgin founder Richard Branson told The Daily Telegraph after the flight. "We were on the field and it was a fantastic clear view. You could see the spaceship being dropped, and you could see it three seconds later lighting up its rocket."
"It's been eight-and-a-half years hard work to get this far and we really are up, up and away now. This was the key moment."
Virgin officials have said that ticket prices to space will jump 25 percent in the next week, from $200,000 to $250,000.
"In about a week's time, we're going to put the price up to $250,000 until the first 1,000 people have traveled, so that it matches up with inflation since we started," Branson told Space.com this week.
The company's website says that around 580 people have already paid to travel aboard the spacecraft.