Virgin Galactic announced Wednesday that Boeing subsidiary Aurora Flight Sciences will help design and build its next-generation motherships.
The mothership is a dual-fuselage aircraft carrier that takes off and carries the Virgin Galactic spaceship to its release altitude of around 50,000 feet, where the spaceship then launches from atop the mothership into space.
The current generation of mothership is called the VMS Eve, which stands for Virgin Mothership Eve, and was built by American aerospace company Scaled Composites.
"Our next generation motherships are integral to scaling our operations," said Virgin Galactic CEO Michael Colglazier. "They will be faster to produce, easier to maintain, and will allow us to fly substantially more missions each year."
The partnership with Boeing's Aurora allows Virgin Galactic to tap into highly skilled labor pools and new innovation and technology to build two new motherships to support its goals of 400 flights per year at Spaceport America.
Aurora President and CEO Per Beith said the Boeing subsidiary was thrilled to support Virgin Galactic's mission to pioneer space travel.
"This partnership between Aurora and Virgin Galactic brings together teams that share a passion for aerospace, innovation, and exploration," Beith said.
"Aurora's decades of experience in aircraft design, composite manufacturing, and vehicle integration, coupled with our world-class engineers and manufacturing technicians, enables us to provide the unique expertise and capabilities necessary to complete these next generation aircraft."
Access to Innovation
Swami Iyer, president of Virgin Galactic's Aerospace Systems, said Aurora has some of the industry's top engineers and manufacturing facilities.
"With Aurora, we are accessing the best of the nationwide aerospace ecosystem," Iyer said.
By utilizing third-party suppliers as part of its manufacturing strategy, Virgin Galactic also aims to improve efficiency and allow its in-house team to focus on complex and critical elements such as design, engineering, and final assembly, the aerospace and space travel company said in a release.
Aurora is headquartered in Virginia but plans to manufacture the motherships at its Columbus, Mississippi, and West Virginia facilities. Final assembly will be completed at Virgin Galactic's facility in Mojave, California.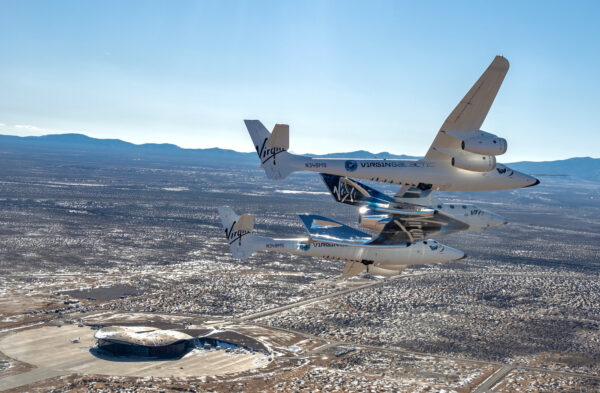 "Boeing is excited to contribute our culture of safety, our operational excellence, and our expertise in aircraft design and manufacturing to help advance human space travel," said Todd Citron, Boeing's chief technology officer.
"Today's announcement expands our collaboration with Virgin Galactic to accelerate transformative aerospace technologies."
Aurora has 30 years of experience designing and building novel and complex aircraft. It is expected to immediately begin development of two motherships.
The first new mothership is expected to begin commercial flights in 2025. Virgin Galactic's first Delta-class spaceship is also expected to begin commercial flights that year.