Surveillance footage shows the heart-stopping moment when law enforcement officers shot dead a mass shooter in Ohio on Aug. 4.
The City of Dayton released a video of Dayton Police Department officers neutralizing Bellbrook resident Connor Betts, 24, who allegedly opened fire outside of Ned Peppers in downtown Dayton—71 miles west of Columbus.
The video begins with a crowd moving at a leisurely pace on the sidewalk when people suddenly start running inside the establishment.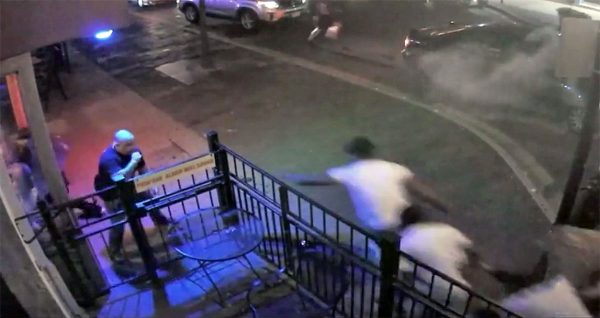 A man who appears to be a security guard moves away from the building and speaks into a portable two-way radio. He quickly moves back towards the building before another crowd of people run past him.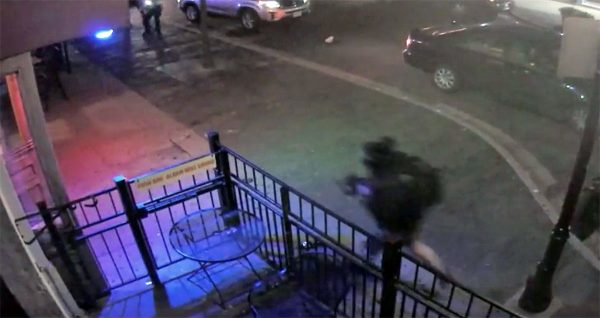 Betts finally appears on the video wearing a bullet-proof vest, mask, and carrying a large rifle that police later identified to be a .223-caliber high-capacity rifle with 100-round drum magazines.
Just before the gunman enters the establishment, a police officer appears behind a stationary car and hits Betts with a fatal shot. Betts appears to squat for a moment before completely slumping to the ground.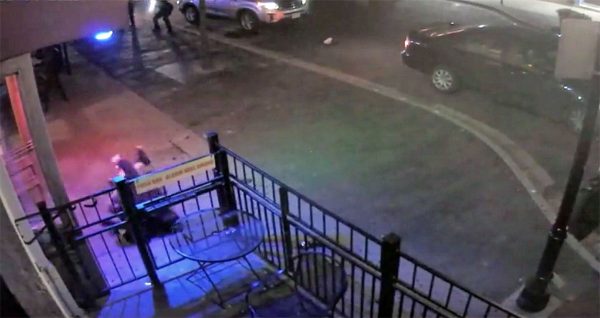 The deadly attack killed nine people, including the shooter's sister Megan Betts, 22. At least 27 people were wounded.
Police Chief Richard Biehl said the siblings had arrived in the same vehicle with a third companion earlier in the evening but separated before the rampage, according to Reuters.
Officers arrived to the scene at around 1 a.m. and the incident was over in less than a minute.
"Officers patrolling the Oregon District during bar closing time heard gunfire erupt and observed a large crowd running away from the gunfire," Biehl told a press conference. "Officers immediately advanced towards the gunfire … they engaged the suspect who was actively firing and attempting to enter a crowded liquor establishment. The threat was neutralized within approximately 30 seconds of the suspect firing his first shots."
#OregonDistrict #Update The presentation given by Chief Biehl this afternoon regarding the shooting in the Oregon District is now on our website: https://t.co/VoSI1M8IeV pic.twitter.com/Y6vPEsWsks

— Dayton Police Dept. (@DaytonPolice) August 4, 2019
Biehl confirmed that the shooter had a criminal history, mostly comprising of traffic violations, speeding, failing to control his vehicle, and not yielding to other drivers with right of way.
The police chief also played a recording of a 911 emergency call with a witness claiming to have seen the shooter outside of the Newcombe Tavern, where several people ran to hide.
"We have an active shooter on 5th Street … one man had a mask, he fired shots right outside of Newcombe Tavern," the anonymous caller was heard saying. "I don't know if he was black or white, he was wearing a mask and firing shots right outside of Newcombe."
The witness had also warned other patrons to stay away from the shooter.
"Stay inside, stay the f**k inside," the caller said. "We ran inside and barricaded the door."
#OregonDistrict #update Chief Payne: Immediately after the first fire crew got on scene they upgraded the response to a mass casualty event.

— Dayton Police Dept. (@DaytonPolice) August 5, 2019
Authorities said that if the officers hadn't responded immediately, there would have likely been a much higher casualty toll, according to Reuters.
"Had this individual made it through the doorway of Ned Peppers with that level of weaponry, there would have been catastrophic injuries and a loss of life," Biehl said.
#OregonDistrict #update Chief Biehl: If the magazines the suspect had were completely full he would have had a max of 250 rounds on him at the time. There were at least 41 spent casings belonging to the suspect.

— Dayton Police Dept. (@DaytonPolice) August 5, 2019
The Federal Bureau of Investigation, Ohio State Patrol, and Montgomery County Sheriff's Office are some of the many law enforcement agencies now involved in searching Betts' family home in Bellbrook in the ongoing investigation, according to CNN.
#OREGONDISTRICT #UPDATE Chief Biehl: We want to thank all the federal, state, and local agencies that have assisted and continue to assist us in this incident and investigation.

— Dayton Police Dept. (@DaytonPolice) August 4, 2019
Authorities discovered written content suggesting the shooter had expressed a desire to kill people. They said that there was no evidence to suggest the attack was politically or racially motivated.
"We are very, very early in this investigation. Any suggestion at this time of motive would be irresponsible," Biehl said according to Reuters. "We do not have sufficient information to answer the question everyone wants to know, 'Why?'"
The shooting came just hours after a mass shooting at a Walmart store in El Paso, Texas, in which 22 people have lost their lives and 26 others wounded. The 21-year-old suspect in that shooting has been arrested.
Biehl said the shooter's parents are mourning the tragic loss of their son.
"This is a nightmare for them and I think they are struggling as I think you can understand," he said according to Reuters.