A Reddit and Imgur user posted a photo of his girlfriend sleeping next to a pile of textbooks, titled "Right in the feels."
You would imagine that most girlfriends (or people in general) would be angry to find that their partner had taken a photo of them sleeping before it was viewed by at least 500,000 people.
But it was captioned:
"My 38 year old girlfriend just started her second quarter of college. She's raised two kids, 15 and 10, on her own, has [expletive] all parents and was the victim in not one but two domestic violence cases. This is how I found her tonight. I'm so proud of this woman I could burst. We went wedding ring shopping earlier today and I think I'm ready to make the best decision of my life."
"FP Edit: Wow! I had no idea Imgur could be so amazing despite the forgotten cat tax! Thanks for all the kind words of support you guys! This woman profoundly inspires me and it sounds like she has many of you. Also, I'm gonna take all of y'alls advice and marry the [expletive] out of her. Send me all your love stories."
The "cat tax" refers to an inside joke on Imgur about posts that are sappy or sad, meaning that one should include cats if it falls into either of those categories.
But in short, people in the comments section said the photo, and more importantly, the caption has restored their faith in humanity and finding a meaningful relationship.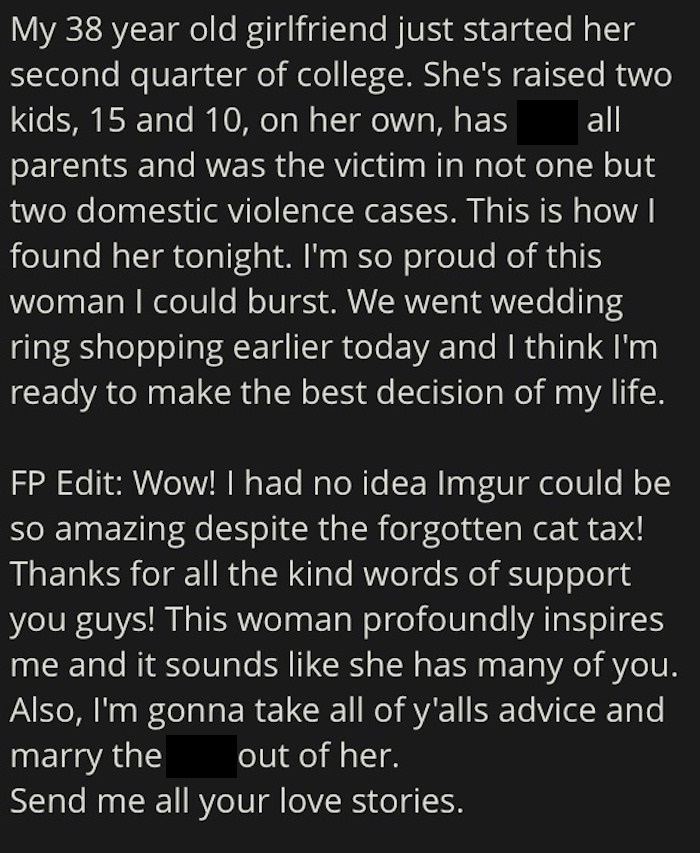 —