An Imgur and Reddit user shared a photo of a note that was left on his hotel bed.
The user wrote that as they were trying to sleep, they "heard something crinkle when I settled in for the night."
The Daily Mail reported that the user stayed at the Courtyard Marriott hotel.
"If you're reading this, then housekeeping did not change your sheets!" read the note, suggesting that the bedsheets were dirty and reused.
Some users commented that they found more disturbing items in their hotel room and bed.
"My husband found a pair of used underwear and a couple bottles of nips [miniature spirit bottles] in the bed side table," said one.
Another added: "I walked into a hotel room once with an unmade bed, a half-drunk case of Busch [beer] under the sink, damp towels everywhere and the TV was on. It wasn't even the wrong room. Housekeeping just didn't even go in that day."
The Redditor's note points to a commonly held notion that hotel rooms aren't as clean as one might think, as maids have to go through dozens of rooms each day and may not be able to clean them properly.
In 2013, a maid gave an interview to the Huffington Post about common practices and the amount of work hotel staff have to do, saying "sometimes it's so busy and management still expects everything to be cleaned just as fast as a day that isn't as busy."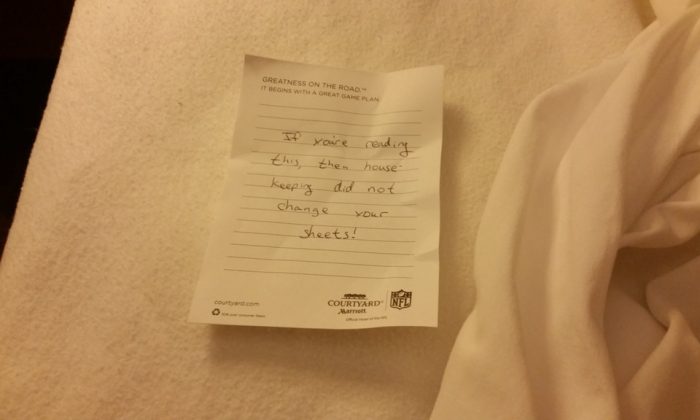 "Where I work now, pillows and bedding are replaced at every check-out. However before when I used to work at a budget hotel we rarely changed them, even when there were sweat stains or marks on the pillow we would just cover it with a new case – some differences between staying in a budget hotel to a luxury hotel," she said.
According to a 2014 report from Today.com, hotel maids don't always do a great job when cleaning rooms.
The report stated:
At a DoubleTree hotel (part of Hilton Worldwide), the cameras recorded a maid stripping the bed while putting the pillows off to one side. She replaced the sheets with fresh ones, but after a quick fluff, the same pillows went right back on the bed.

The maid also scrubbed everything down in the bathroom. Then she used a towel to dry the toilet and the shower, and used the same towel to quickly scrub the counter — the same place a guest would put their toothbrush.
Jacob Tomsky, a former hotel housekeeping supervisor who wrote "Heads in Beds: A Reckless Memoir of Hotels, Hustles, and So-Called Hospitality," told the website that "what really bothered me was that she put the pillowcase on a dirty chair prior to putting it back on the bed. That just gets it even more dirty."