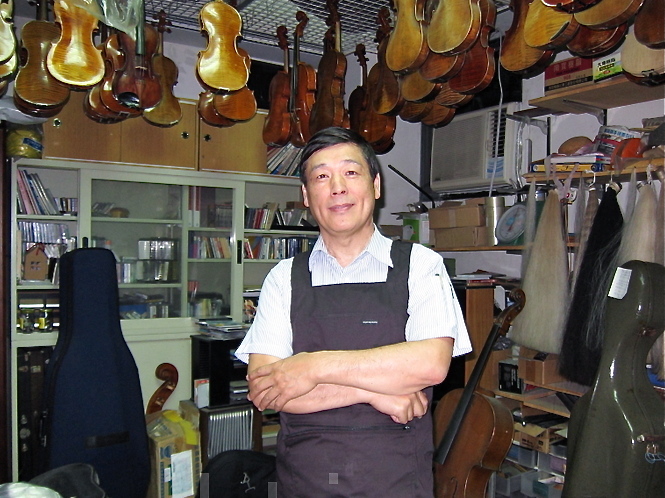 TAICHUNG, Taiwan—On March 29, the Shen Yun Performing Arts New York Company held its third performance at the JhungShan Auditorium in Taichung. Among the famous attending the performance was Mr. Baroque Wang, a renowned violin restoration master who is dubbed the "doctor of the violin." After seeing the performance, he was so moved that he praised Shen Yun with his eyes brimming with tears, "Shen Yun is indeed the best performing arts group in the world."
Mr. Wang used to restore violins for the Taiwan Provincial Symphony Orchestra. He has restored several antique violins for the Chi-Mei Culture Foundation, which is famous for its rich collection of antique violins. Mr. Wang is now a renowned expert of violin restoration in Taiwan's cello and violin circles.
"I was moved to tears and felt sorry for not being able to see the performance earlier," he said. "I was really so deeply touched."
Mr. Wang felt the Shen Yun performers "are really very devoted and very professional … Everyone is willing to devote his or her time and talents to the art, their ideals and justice. So, I feel it really very touching."
He added, "I was deeply moved to the bone marrow, blood, and every cell of my DNA. I feel that I am proud of being a Chinese in terms of Chinese culture," he explained.
Perfect Combination of Chinese and Western Musical Instruments
As a violin expert, Mr. Wang said that he particularly appreciated the live music performed by the Shen Yun Performing Arts Orchestra. He said, "The music is really so marvelous. It is very unique to have the perfect combination of Chinese and Western musical instruments … I think it is really something new."
Marveling at the classical Chinese dance, Mr. Wang said, "I feel their postures are really very beautiful. Their foundation is indeed very good, so that they are able to perform the difficult movements of classical Chinese dance as smoothly as flowing clouds. They are really great.
"It is really beautiful, as their movements are perfect … the female performers' postures are indeed fabulous … I would say it is indeed great."
As an artist who has seen many artistic performances around the world, Mr. Wang said, "[Shen Yun] has brought the techniques of performing arts and stage effects to another higher dimension. Shen Yun is the best performing arts group in the world."
Mr. Wang appreciated the solo vocalists' performances. Upon listening to the tenor's encore song "Plum Blossom," he was once again moved to tears. He explained, "Hearing the song about our national flower [Plum Blossom], I couldn't help shedding tears."
"The colors of the costumes are really very wonderful, they really caught my eye. Instead of being extravagant, they were very graceful and eye-catching. I believe only high class experts are able to come up with the colors."
He added, "[The performance] has included the essence of loyalty, filial piety, kindness and aesthetics. We Chinese are able to appreciate what a foreigner cannot see. A foreigner might only appreciate the beauty of the performance, but we Chinese are able to further identify ourselves with the connotations of kindness and the fate of our nation."
I was so moved that I want to write to Shen Yun to express my appreciation to them.
After seeing the entire performance, Mr. Wang said, "All the complimentary words might have been said by others. But what I felt from the bottom of heart may be different from others. I was really moved and overwhelmed … I think Shen Yun's artistic level is the very best.
"I will write to them and tell them how much I have been moved, and I would like to pay a tribute to them. I think seeing this performance is indeed worthwhile, and I'll see the performance every year from now on."
'I'd like to encourage everyone to see the Shen Yun performance'
Mr. Wang said, "I will tell my friends that it is really worthwhile to see the performance, as it is more valuable than watching 10 concerts, 10 operas, or 10 shows on Broadway."
Mr. Wang is an internationally renowned professional Taiwanese violin restoration master. He learned from violin-and-bow-making master Liu Guozheng in Los Angeles from 1985 to 1990, and worked with Moster Horcio Pineiro, the primary master of making and restoring violin in New York, from 1990 to 2005. He became a full-time violin restorer of the Taiwan Provincial Symphony Orchestra and a part-time lecturer of the National Cheng Kung University in 1989. He was invited by the Chi Mei Cultural Foundation to repair the antique violins collected by the Foundation from 1999 to 2005.
Reporting by Dai Deman, Tang Hao & Billy Shyu
Shen Yun Performing Arts, based in New York, tours the world on a mission to revive traditional Chinese culture. Shen Yun Performing Arts New York Company will perform in seven cities in Taiwan until April 8 and then continue to top venues in Australia and New Zealand.
For more information visit ShenYunPerformingArts.org
Read the original Chinese article