Violence Exists in Thirty Percent of Chinese Families
December 9, 2006 12:00 am Last Updated: December 9, 2006 12:00 am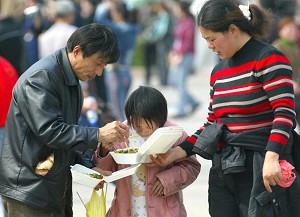 CHINA—Over 30 percent of Chinese families have problems with violence in the family, and domestic violence is the leading cause for female suicides in rural China, said China Women's News editor in chief Xie Lihua in November.
Xie made the those comments at a press conference held by Chinese representatives of the United Nations Theme Group on Gender, according to a Hong Kong China News Agency report.
Xie said that according to a survey, 287,000 people commit suicide every year in China and that, among them, 157,000 are women. The survey shows that the number of female suicides in rural areas is three to five times higher than the number in urban areas.
According to a study of 260 cases of female suicide in rural areas in recent years, 66 percent of those cases involved domestic violence. Other factors contributing to the suicides were pervasive gender inequalities, social indifference towards suicide, and lack of self-esteem among women.
Xie also pointed out that according to one survey done by the All China Women's Federation, about 30 percent of 270 million families in China experience violence in the family, and over 90 percent of violent abusers are males.
Meanwhile, over 40 percent of divorce cases in China are related to domestic violence.
Suicide is still widely considered a taboo subject in China and is thought by many to have not received enough attention by society.