Villagers Tie up Police, Douse with Gasoline, Over Land Conflict
July 25, 2011 2:11 pm Last Updated: October 1, 2015 4:07 pm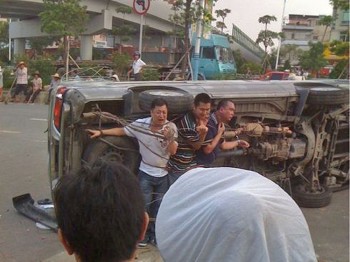 Villagers in Guangdong Province tied three plainclothes policemen to the base of an overturned truck and doused them with gasoline on July 23, before pelting them with rocks in apparent retaliation for land confiscations over a period of years.
It was the latest eruption of raw violence against the authorities in China. Desperate citizens have resorted to force in a string of cases in recent months, attempting to make their feelings known to a system whose formal mechanisms for redress often end up leading to further victimization.
Land confiscations are one of the most acute points of contention between Communist Party officials and ordinary Chinese, as corrupt cadres collude with real-estate developers, and often gangs of thugs, to forcibly evict people from their houses before selling the land. Compensation is promised more often than it is honored.
Photographs of the incident in Shunde, Foshan, Guangdong Province, were uploaded to Sina Weibo, a microblog service, soon after it took place on July 23.
The three men in the photograph appeared to be struggling to free themselves and appealing to onlookers. Witnesses said that angry villagers regarded the men as no better than gangsters and threw stones at them. Elderly villagers cried as gasoline was poured over the three policemen, though they were not set alight.
More than 1,000 riot police later descended on the village, capturing at least 30 villagers and injuring many others.
A resident, Mr. Deng, told The Epoch Times that contrary to state-run media reports, the conflict was about land confiscation and not fishing rights. "We don't have much land left; most of it was taken by the government. Without land for farming, we will not have any food to eat," he said.
"The land was taken for construction, but the government gave very little compensation to the villagers," he added.
Mr. Deng said that the three policemen had first apprehended several villagers before others came to their rescue, subduing the men and lashing them to a truck that had been overturned.
The local Chencun Police Station would not comment on when the villagers arrested after the incident would be released. The operator said that information about the incident goes through Party authorities.
In May and June a series of bomb blasts were orchestrated by citizens against Communist Party buildings, many of them the culmination of years-long protests against land seizures. Premeditated violence of that kind had hardly been seen before in China. Commentators saw it as a turning point in how Chinese people are responding to the injustices of Communist Party rule.
Follow The Epoch Times' China feeds on Twitter @EpochTimesChina