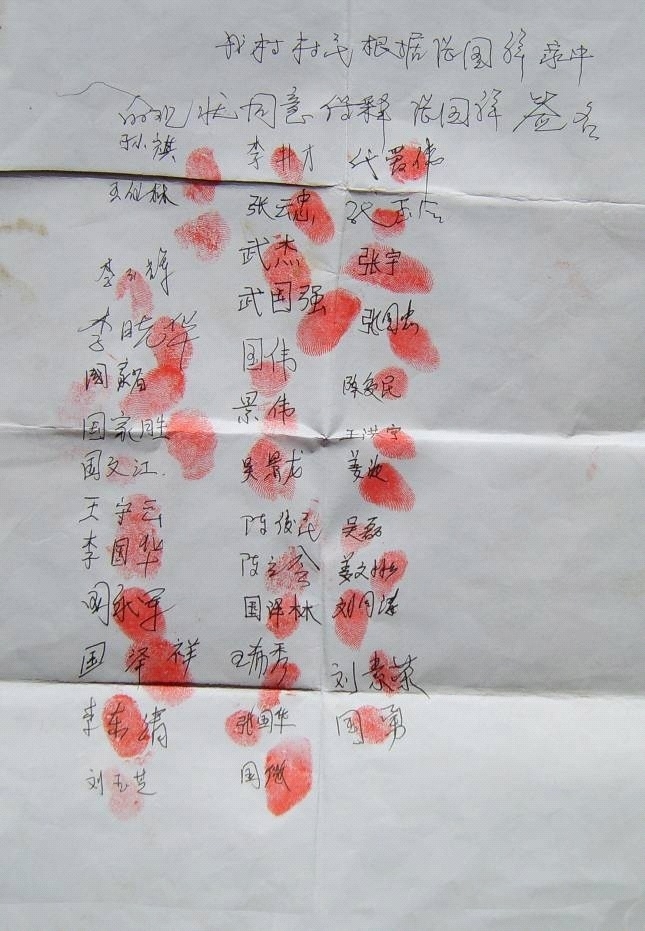 As Zhang Guoxiang languishes in a brainwashing facility while officials attempt to strip him of his spiritual belief, he is probably unaware that a whole village is risking all to free him.
Cases like Zhang's are becoming more frequent in China, as people begin to cast off their fear of the regime and stand up for the oppressed and persecuted.
In a bold example of solidarity against authoritarian oppression, villagers in the Chaoyang area of Liaoning Province signed a petition requesting the release of fellow resident Zhang, a Falun Gong practitioner who was illegally detained by local authorities for his beliefs. 
Zhang was arrested at his workplace in nearby Dalian City on June 29, 2011. He was repeatedly tortured at the local police station and his home ransacked. Plainclothes police took his laptop, bank card, cell phone, and other personal belongings, as well as a sum of 6,000 yuan (US$945).
On October 12, Zhang was transferred to the Fushunluotai Village brainwashing facility in Fushun City, Liaoning Province. He is detained there to this day. 
His elderly mother, who is blind, was left with no one to take care of her. 
Zhang's nephew, Zhang Guobo, wrote a letter to the villagers, appealing for their help: "People who know my uncle all know that he is a good person … I hope all of you who are upright and kindhearted can help us, and help my uncle return home soon."
Almost 40 villagers subsequently signed a petition requesting Zhang to be released and his money returned. The petition said Zhang was the sole provider for his family, so he should be released as soon as possible.
A week later, with the help of villagers, Zhang's mother, nephew, and other relatives traveled to the National Security Brigade in Jinzhou District, Dalian City, to submit the signatures and stamped seals. In a small victory, most of the money was returned to the family. However, Zhang is still detained.
Cases like Zhang's are popping up around the country. This week, The Epoch Times reported that nearly 300 villagers in Zhouguantun Village, Hebei Province, signed their names to demand the release of a Falun Gong practitioner who was arrested for having a Falun Gong compact disk in his home in February.
The significance of this particular appeal is that the villagers signed using their real names, their thumbprints, and a Party village committee stamp being placed on the petition.
Last year, villagers called for the release from jail of their friend, Zhou Xiangyang. Their letter said the guards and inmates who applied the "floor anchor" torture to him in Gangbei Prison should be investigated and dealt with according to the law.
Click www.ept.ms/ccp-crisis to read about the most recent developments in the ongoing crisis within the Chinese communist regime. In this special topic, we provide readers with the necessary context to understand the situation. Get the RSS feed. Get the new interactive Timeline of Events. Who are the Major Players?

This case garnered attention from Amnesty International, which released press releases, Urgent Action alerts, and lobbied for media coverage. 
Catherine Baber, Amnesty International's deputy director for Asia, was quoted in a press release.
"This shows that the Chinese public is aware of and condemns persecution of people for their spiritual beliefs. It's high time that the Chinese authorities heed this call and end their brutal suppression of the Falun Gong group," she said.
When Chongqing's former top cop, Wang Lijun, fled for his life to the U.S. Consulate in Chengdu on Feb. 6, he set in motion a political storm that has not subsided. The battle behind the scenes turns on what stance officials take toward the persecution of Falun Gong. The faction with bloody hands—the officials former CCP head Jiang Zemin promoted in order to carry out the persecution—is seeking to avoid accountability for their crimes and to continue the campaign. Other officials are refusing any longer to participate in the persecution. Events present a clear choice to the officials and citizens of China, as well as people around the world: either support or oppose the persecution of Falun Gong. History will record the choice each person makes. 
Read the original Chinese article.
The Epoch Times publishes in 35 countries and in 19 languages. Subscribe to our e-newsletter.