Chinese Villagers Pitch Tents After Houses Demolished
August 12, 2009 12:57 pm Last Updated: October 1, 2015 9:31 pm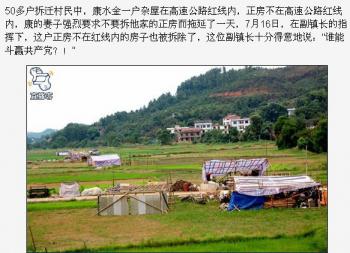 "We talk party nature, not human nature! Demolish it!" the village head yelled as the four bulldozers rumbled into action; the villagers' houses were demolished in minutes. Although many had spent the night trying to move furniture and property, their manpower wasn't as great as the machines, and much of their property was destroyed or buried.
This was the scene as armed forces demolished houses in Dianmen town, Hengyang City, in China's southern province of Hunan on July 14 of this year.
The Hengyang City Government had planned to build a highway from Hengyang City to Nanyue City, which passes directly through where the villagers' homes were.
Chinese media reported that the houses were demolished because they were built too close to the Hengyue Highway, and that the road needed to be cleared.
In late June local officials and villagers had signed an agreement that the farmers would have to move onto their own fields to live. Because they did not want to take up farming space, they hoped to establish themselves on a hill not too far from the highway.
The head of Dianmen Town rejected the villagers' request, saying "The town government would rather destroy 100 mu of farmland than grant your request to build new houses on the hill," according to villagers.
The villagers moved anyway.
Because the move was not approved by town head Zhou Jianguo, on July 14 he led town officials, the local police, armed forces, and four bulldozers to Dianmen, and gave the final command, according to villagers, yelling: "We talk party nature, not human nature, demolish it!" On July 15 all the houses were destroyed, and the owners could only camp out on the open fields.
In late July there were hundreds of mu (one mu is approximately 0.16 acres) of uncultivated farmland, a dozen huts, and hundreds of villagers living out in the open.
The eldest villager is over 80-years-old, and the youngest 2-months-old, according to someone familiar with the scenario. One villager said: "We suffer even worse than those victims of the Wenchuan earthquake did. Nobody is paying attention to us."