Vietnamese Revolution and Reform Party Welcomes Chinese People to Withdraw from CCP
October 30, 2005 12:00 am Last Updated: October 30, 2005 12:00 am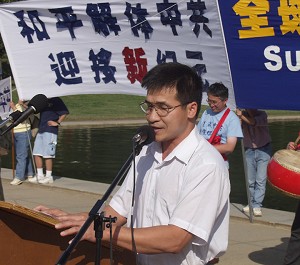 Washington, D.C. – On Oct. 15, more than 300 Chinese and non-Chinese people from the New York, Philadelphia and Washington areas gathered in front of Lincoln Memorial Hall in support and commemoration of the 5 million Chinese people who publicly announced their withdrawals from the Chinese Communist Party and its associated organizations via the Internet.
Representatives from unofficial organizations such as the Service Center for Quitting the CCP and human rights organizations in Washington drew upon their own experiences in encouraging Chinese people to seize the day, clarify their understanding of the CCP, and renounce their lifelong membership in the Party and its affiliated organizations. Ruan Xuantu, the representative of Vietnamese Revolution and Reform Party, delivered the following speech:
Ladies and gentlemen,
We were shocked to know that there have been more than 5 million Chinese people withdrawing from the CCP and other organizations of the CCP, less than one year after the publishing of the "Nine Commentaries on the Communist Party." It is magnificent! It is exciting—but not surprising, because no conscientious person will continue staying in the CCP once they know the violence the CCP has done to the Chinese people, the destruction it has done to the Chinese traditional culture, and the oppression it has done to humanity. The "Nine Commentaries" tears a mask off the CCP. This is why the CCP tries its best to bar the "Nine Commentaries," to forbid its spreading, and to punish the Chinese people who spread it.
Reading the "Nine Commentaries," we connect it with the Vietnamese Communist Party because they have the same ideology, the same inhuman political goal—that is, they both resort to all means to seize political power, regardless of the lives of their people. We are glad to announce that we, Vietnamese Revolution and Reform Party, a party devoted to reform Vietnam, have been spreading the "Nine Commentaries" to the Vietnamese in our country and overseas. We spread the "Nine Commentaries" in their Vietnamese version in our media and Internet.
I believe that we are witnessing the destruction of the CCP and VCP. While millions and millions of Chinese people are quitting the CCP, more and more VCP members are expressing their dissatisfaction to the VCP. They want to join the movement that will bring freedom and democracy to Vietnam. The communist system sustains their rule by threatening its people. To date, the factors of fear toward the communist system are less and less. Tyrants can no longer control the communications between people. When Chinese and Vietnamese people thoroughly realize the evil of the communist party, they will support and communicate with each other. Then, we will see our bright future after long darkness. That will be the time that the tyranny of the CCP and the VCP are thrown out for good.
Let&#039s bless human rights, freedom and democracy for China and Vietnam!
Thank you!