Reports, videos, and photos have begun to surface that expose alleged barbaric behavior of Taliban members, contradicting claims made by the group's top officials that they will respect the rights of the Afghan people and won't commit reprisal killings.
A photographer with the Los Angeles Times captured photos on Aug. 18 around the Kabul airport, where throngs of people have gathered, trying to flee the country and Taliban rule. The photos showed Taliban members beating members of the crowd, including the photographer.
"To those who believe what Taliban spokesman Zabihullah Mujahid claimed yesterday about respecting human rights, watch this is happened [sic] on Wednesday, August 17," journalist and activist Masih Alinejad wrote. "They are attacking people's homes and arresting them. Many people in Afghanistan who worked for [the] government live in fear now."
She posted a video of a man who was kneeling next to a wall on a busy street as purported Taliban members point guns and an RPG-7 rocket-propelled grenade launcher at him. It's not clear what happened after the footage was captured; The Epoch Times wasn't able to verify its authenticity and the context is unclear.
The activist said governments around the world shouldn't "believe the lies of the Taliban," which is designated by many countries as a terrorist organization. During the Taliban's 1996 to 2001 rule of Afghanistan, human rights abuses were rampant, including hand amputations for petty thefts and people being stoned to death for other alleged offenses.
United Nations Secretary-General Antonio Guterres said this week that he received reports of "mounting human rights violations against the women and girls of Afghanistan, who fear a return to the darkest days."
"We are extremely concerned about the Taliban not honoring their commitments. … We've witnessed time and again how Taliban have broken their promises in the past. We have seen gruesome images of Taliban mass executions of military personnel, and targeted killings of civilians in Kandahar and other big cities," he said.
Clarissa Ward, a CNN correspondent on the ground in Kabul who has covered the Taliban takeover, said the situation near the Kabul airport was "mayhem" and "nuts," despite Pentagon and White House assurances that the facility was secured.
"It's definitely chaotic," Ward told CNN's Brianne Keilar on Aug. 18 as gunshots were heard behind her. "It's definitely dangerous." Taliban members were seen firing on crowds of people, she said.
"Two Taliban fighters just came up with their pistols, and they were ready to pistol-whip [our producer]," Ward also said, with more gunshots heard behind her. "We had to intervene and scream. … I've covered all sorts of crazy situations. This was mayhem. This was nuts."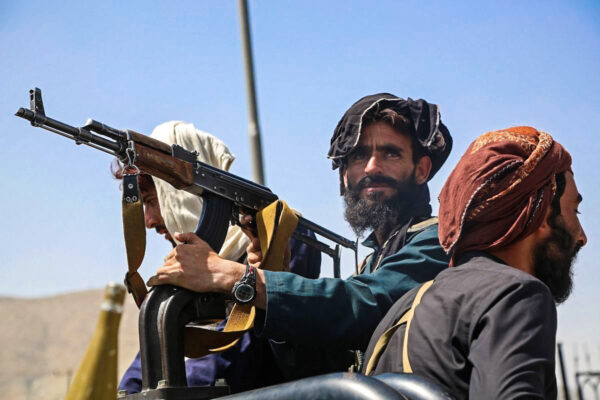 Fox News also published a photo of a woman who was allegedly killed in the northeastern province of Takhar. Locals said she was killed for going outside while not wearing a burqa, although The Epoch Times hasn't been able to verify the authenticity of the claim.
In Jalalabad, another city, Taliban members fired shots at a crowd who put up the Afghanistan government flag. Several people were reportedly killed or injured.
A spokesman for the Taliban said in a news conference on Aug. 17 that the group wants peaceful relations with other countries and would respect women's rights under Islamic law. They also claimed that amnesty would be granted to people who worked with the U.S. government.
State Department spokesperson Ned Price told Fox News that the White House has "received assurances" from the Taliban that the group will allow American civilians to go to the Kabul airport.
"We take it for what it is," he said. "We will of course be looking for one thing and one thing only: follow-through."
The Biden administration has been criticized along bipartisan lines for how it handled the pullout of the country, including not providing a safe haven or passage for American citizens or Afghan government workers out of the country amid Taliban advances.
State Department officials didn't immediately respond to a request by The Epoch Times for comment.