President Donald Trump stressed anti-abortion policies at the annual National Prayer Breakfast gathering.
During the 2016 election, Trump received enthusiastic backing from evangelicals and pro-life voters, and he will keep focus on this issue ahead of his 2020 re-election campaign.
Trump said: "There could be no greater contrast to the beautiful image of a mother holding her infant child than the chilling displays our nation saw in recent days. Lawmakers in New York cheered with delight upon the passage of legislation that would allow a baby to be ripped from the mother's womb. Moments from birth.
"To defend the dignity of every person, I am asking Congress to pass legislation to prohibit the late term abortion of children who can feel pain in the mother's womb."
Trump also praised Karen Pence, the wife of Vice President Mike Pence, as an "incredible second lady" and noted that she recently began teaching art at a Christian school.
"I've gotten to know Karen so well, she is a Marine Corps mom, a tremendous woman, a proud supporter of military families and she just recently went back to teaching art classes at a Christian school. Thank you, Karen."
Melania Speaks at Anti-Drug Coalition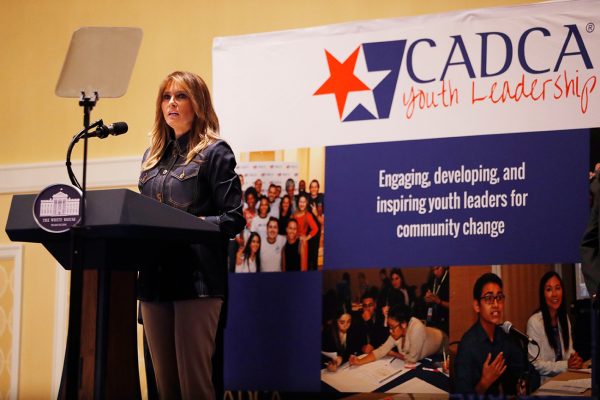 First Lady Melania Trump traveled to Maryland on Feb. 7 to address the Community Anti-Drug Coalitions of America's Annual Youth Leadership Forum.
Her signature "Be Best" campaign focuses on a number of issues, including the opioid crisis.
"As you know, our nation is facing an opioid crisis. Part of my 'Be Best' campaign focuses on understanding the harmful effects of opioid abuse on our children and finding opportunities to help families and young mothers who have been affected by this very real problem."
The First Lady spoke about a former opioid and substance abuse addict, Ashley Evans, who joined her for the State of the Union address on Feb. 5, and how she received treatment. Evans has been in recovery for over a year and looks forward to soon being reunited with her daughter.
Melania said Evans' story showed "recovery is possible" and that community programs can help make a difference.
"Recovery is possible. It is because of programs and organizations like Community Anti-Drug Coalitions of America or Bridges Path that offer care, resources and essential tools that can save lives and teach positive life saving ideas to those in need.
"These programs are so vital to our nation and within our communities."
Over 2,000 Migrants Stay in Mexican Shelter near Texas Border
Authorities were busy monitoring the Texas-Mexico border on Feb. 7 as a wave of migrants arrived.
At least 2,000 migrants are staying in a shelter in the Mexican border town of Piedras Negras near Eagle pass, Texas. They've been moving in since Feb. 4.
Mexican authorities have checked their paperwork to see if any can be processed for humanitarian visas or political asylum in the United States.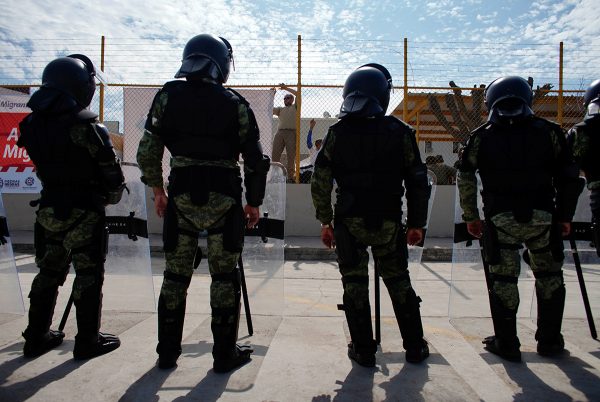 U.S. Homeland Security Secretary Kirstjen Nielsen said they are part of a second wave of the migrant caravan.
Texas governor Greg Abbott ordered an increased law enforcement presence at the southern border to prepare for the migrants' arrival.
Officials say the group is made up of migrants from Guatemala, Honduras, and El Salvador.