More video footage has emerged from after Hurricane Dorian crushed the northwestern Bahamas over the weekend.
The extent of the storm surge and wind damage was revealed in the videos, taken in the devastated Grand Abaco Island and Grand Bahama Island, where Dorian essentially parked for the better part of a day.
Freeport, Grand Bahama #HurricaneDorian #Freeport #Dorian pic.twitter.com/W9mZxUOd7r

— Shavonia Cunningham (@Shavonia) September 2, 2019
Happening now! Usa Coast Guard Helicopter arriving in Abaco,Bahamas to transport Critical injured ppl to the 🇺🇸 as Abaco Clinic is overwhelming crowded with ppl who need assistance and also it's being used as a shelter to house thousands #HurricaneDorain pic.twitter.com/hlZZ072kq1

— MVP (@mvp242) September 2, 2019
In one video, water is seen rising up to the second floor of a home in Freeport on Grand Bahama, the Weather Channel noted.
This video is from Freeport, Bahamas on Monday morning. Water has risen to the second floor of this home.

Keep watching The Weather Channel for LIVE coverage on #Dorian. pic.twitter.com/CS6dvA89Bg

— The Weather Channel (@weatherchannel) September 3, 2019
Nothing left standing on Abaco Island in the Bahamas. pic.twitter.com/DxtAPPGkyH

— Jason Nicholas (@JasonNweather) September 3, 2019
According to the Bahama Free Press, Dorian's floodwaters were seen at the Rand Memorial Hospital emergency room in Freeport. Patients were forced to evacuate the facility.
The Grand Bahama International Airport was also flooded by Dorian's storm surge, more social media footage revealed.
Video of the Grand Bahama International Airport currently being flooded with water #HurricaneDorian #PrayForTheBahamas #Freeport pic.twitter.com/GQl5zlWU9w

— MVP (@mvp242) September 2, 2019
Latest Forecast
According to a statement from the U.S. National Hurricane Center at 9 a.m. on Sept. 3, Dorian has weakened to a Category 2 storm with 105 mph winds. Storm surge is 10 to 15 feet above normal.
It noted that "dangerous winds" and "life-threatening storm surge [is] continuing on Grand Bahama Island," adding that 30 inches of rain is expected to fall.
The storm is moving slowly still at 1 mph to the west and is still 105 miles east-northeast of West Palm Beach, Florida.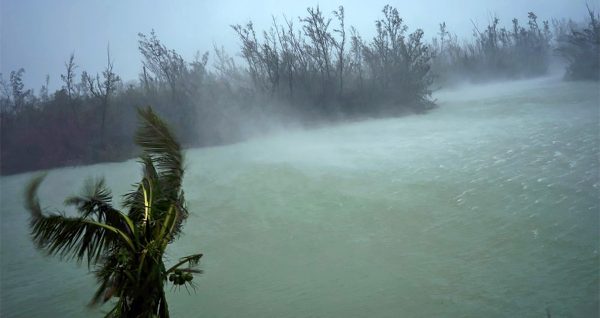 The NHC's current forecast shows Dorian getting precariously close to the coast of Florida by 2 a.m. on Wednesday before the storm moves quickly to the north and out to sea. During that time, forecasters predict that it will impact the coasts of Georgia and the Carolinas.
Hurricane warnings are in effect for Grand Bahama and the Abacos Islands in the northwestern Bahamas as well as Jupiter Inlet to Ponte Vedra Beach in Florida.
"Dorian is beginning to move northwestward at about 1 mph (2 km/h), and a slightly faster motion toward the northwest or north-northwest is expected later today and tonight. A turn toward the north is forecast by Wednesday evening, followed by a turn to the north-northeast Thursday morning," the agency said in an 8 a.m. update.