Maritza Castillo and her husband went out to pick up her brother who was flooded in, but ended up saving a stranger.
The couple could not get to Maritza's brother because the roads were flooded, so they had to turn around.
As they stood at a traffic light on their way back on Interstate 10 in Houston they witnessed a chilling scene. The surging floodwater picked up a large SUV with an elderly driver inside and began to sweep the vehicle away.
"My heart started beating fast," Castillo told CNN.
Maritza and her husband rushed out of their car to help. So did about two dozen other drivers on the road. The water was shoulder-deep at some points, so someone suggested that they form a human chain to stay safe.
People began to link their arms and eventually, the chain reached the man's car. After some initial trouble with the door, the good Samaritans pulled the man out of the car.
Castillo said that the man was taken to a hospital and reunited with his son.
Trump Visits Harvey Victims in Houston
U.S. President Donald Trump flew to Houston on Saturday, Sept. 2, to meet with victims of Hurricane Harvey and see the effects of the record-setting storm while he presses for a multibillion-dollar aid package.
Trump, facing the first natural disaster of his administration, was joined by his wife, Melania, as he passed out food and hugged, kissed, and played with children at Houston's NRG Center, a 700,000-square-foot facility that is now the city's largest emergency shelter.
Trump, who is making his second trip to the stricken state this week, asked Congress late on Friday for an initial $7.85 billion for hurricane recovery efforts. The request comes as Washington faces tough budget negotiations.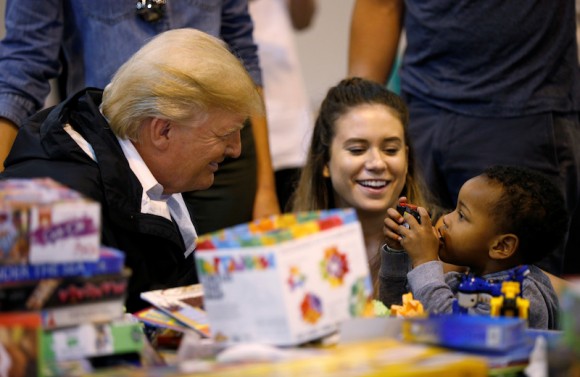 Trump told reporters at the center that his administration was moving fast to provide the financing for aid to the devastated region.
"We are signing a lot of documents to get money," he said.
Trump, alongside Texas Gov. Greg Abbott, appeared relaxed as he posed for photographs with volunteers and chatted with those relocated to the shelter.
Melania, the sleeves of her blue denim shirt rolled up, hugged a woman and chatted with a child.
"It has been a wonderful thing," Trump said of his meetings with the children as he helped serve food to evacuees amid shouts of "Thank you, sir."
Reuters contributed to this report.