A woman was spotted floating on a surfboard near Santa Cruz, California.
However, according to a viral video, she almost ended up on the lunch menu after two humpback whales emerged next to her.
The large sea animals were just feet away from the woman and two other people sitting in a small yellow boat.
According to the Marine Mammal Center, "Northern Hemisphere humpbacks reach an average length of 49 to 52 feet (15-16 m), and southern humpbacks reach 60 feet (18 m). Females are generally larger than the males. The average weight for a mature adult is 35 to 50 tons."
Some humpback whales regularly breach the water.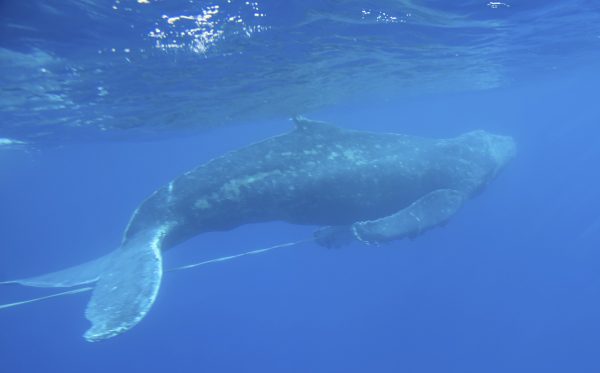 Along with slapping the water, "scientists believe these activities are forms of communication because they create a great deal of noise, which can be heard at long distances underwater," the center says.
They are best known for their "singing."

"They have a rich repertoire that covers many octaves and includes frequencies beyond the threshold of human hearing. These songs, apparently sung by males, last as long as 20 minutes, after which they are repeated, often with slight changes. Each year, the song undergoes changes from the year before, but all males sing the same song. When a whale is singing, it floats suspended in the water, head down and relatively motionless. Behavior such as dominance, aggression, and mate attraction may be related to singing," says the center.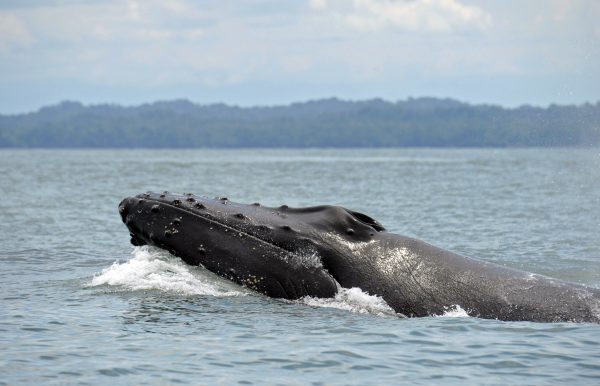 Drone Captures Whales, Dolphins
Dave Anderson, a whale watcher, is known to fly camera-mounted drones over Dana Point, California.
He captures whales, dolphins, and other marine life. According to Dolphin Safari, his website, Anderson launched his whale-watching tours in 1995.
"In 1995 Capt. Dave Anderson was living aboard his sailboat in Dana Point, California and bringing people out to see whales and dolphins for his business, 'Capt. Dave's Dolphin Safari'. When he told the other boaters what he saw out there, they were amazed. 'That's when it hit me,' said Capt. Dave, 'If they don't know what is out there, then who does?'" according to his website.
Meanwhile, he mounted a camera to his boat to record what was down there.
In recent years, he's used drones to capture blue whales (the largest species of whale), gray whales, and dolphins near Dana Point.
"Beautiful, rare, and endangered blue whales have arrived in Dana Point, California. And for the first time, drone footage of blue whales is being made publicly available. Also, amazing first ever footage from the air of gray whale moms and babies playing in surf and kelp off Orange County. And lastly, watch a huge megapod of several thousand dolphins tightly concentrated and swimming next to our whale watching boat from the air," Anderson wrote on YouTube.
On his YouTube channel, Anderson also consistently posts new videos of drone footage.