Warning: Footage might be disturbing to some readers. Viewer discretion is advised.
A terrifying video posted on Facebook shows what appears to be family members hiding as they tried to shield themselves and others during the deadly shooting rampage in western Texas on Saturday, Aug. 30.
The video, which is less than 1 minute long, and has the title: "Dios por favor mío protegénos," which is translated as, "my God, please protect us," reported the Dallas Morning News.
What sounds like gunshots are heard in the distance while a man shouts, "Get down! Get down!"
A boy is heard saying, "Who's shooting? Who's shooting Dad?"
"It's OK, it's OK. You're going to be OK," the man then says before asking other people if they are OK. The video then ends abruptly, but it doesn't appear that anyone was injured.
The fates of those appearing in the footage are unclear.
The death toll as of Sept. 1, has risen to seven, according to the Morning News. Police had earlier said that five people, including the suspect, died in the incident.
Reports said that it was sparked by a traffic stop, leading to more than 20 people being shot. A a state trooper, an Odessa police officer, and a Midland police officer were among those shot, the paper reported, adding that they were in stable condition.
At one point, the suspect abandoned the car he was driving before hijacking a mail truck. He then went along Interstate 20 and Highway 191 and randomly shot at people, police said.
The gunman, whose identity hasn't been released, was fatally shot by responding officers.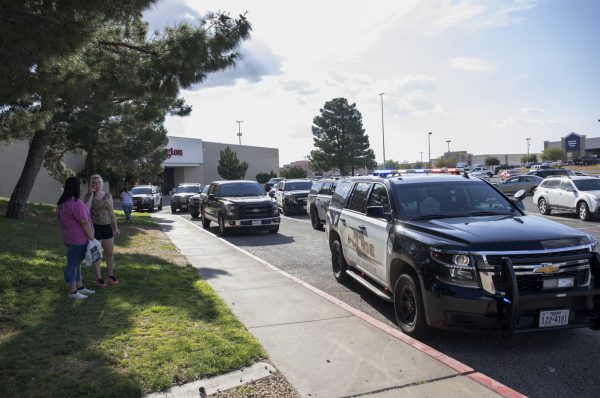 Meztli Sanchez told ABC News that she was playing laser-tag with her son when people started screaming about a shooter.
"I grabbed my son and put him behind me and held him against the wall until the shooting stopped," Sanchez told ABC News.
Texas Gov. Greg Abbott issued a statement about the shooting.
"The state of Texas and the Department of Public Safety are working closely with local law enforcement to provide resources as needed and deliver justice for this heinous attack," he said, ABC reported. "We will not allow the Lone Star State to be overrun by hatred and violence. We will unite, as Texans always do, to respond to this tragedy," he added. "We offer our unwavering support to the victims, their families, and all the people of Midland and Odessa."
Odessa Police Chief Michael Gerke, meanwhile, told reporters that the suspect was known to him. He didn't elaborate on a motive in the shootings, Reuters reported.