Video Shows 'Black Lives Matter' Protesters Yelling At Students in Dartmouth Library
November 17, 2015 Last Updated: November 17, 2015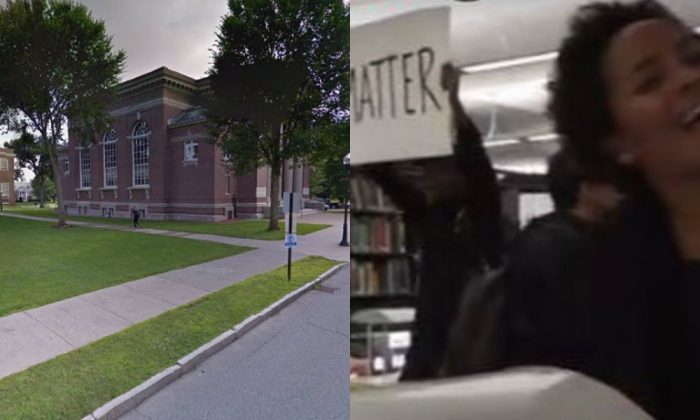 A group of Black Lives Matter protesters took part in a "Blackout" demonstration at Dartmouth University. However, after the official protest ended, a student newspaper reported that some protesters went to the school's library, calling out students for "not standing up and joining the protest or not wearing black."
There were some reports and rumors of violence in the library, but the college NAACP organization denied them.

Student newspaper The Dartmouth reported that the students chanted, "we shall overcome" and "Black Lives Matter" on campus. More than 150 students, faculty, staff, and community members dressed in black. However, after that protest, some went to the library on their own.
The protest was recorded and uploaded on YouTube (WARNING: this video might be offensive to some viewers). The video was obtained by Campus Reform.
VIDEO: 'Black Lives Matter' Protesting Gets Violent In Dartmouth Library >> https://t.co/PODZVyWiYu pic.twitter.com/xXLevJHxuW

— Total Frat Move (@totalfratmove) November 17, 2015
'Slurs' shouted
An editorial piece from the Dartmouth Review, an independent campus paper, the protesters shouted curse words and racial slurs.
"These shouted epithets were the first indication that many students had of the coming storm. The sign-wielding, obscenity-shouting protesters proceeded through the usually quiet backwaters of the library. They surged first through first-floor Berry, then up the stairs to the normally undisturbed floors of the building, before coming back down to the ground floor of Novack," the newspaper wrote in the piece.
A student, Charlie Lundquist, also wrote of his experience in The Tab, saying, "I was proud to be part of last night's protest – until it turned ugly."
Things get Heated during #BlackLivesMatter Protest at Dartmouth College https://t.co/5jXGhAzBwX pic.twitter.com/Rvb9BQ1AMY

— Blavity (@Blavity) November 17, 2015
"They kept shouting and started banging on tables. They demanded that people stand up to show their solidarity. Those who did not stand were targeted and questioned," one student wrote on The Tab. "At one point the protesters crowded around a guy sitting on his laptop and stared at him screaming at him 'If we cant study, you can't study,'" the student added.
Now, many people on Facebook are asking for the students in the video to be punished or expelled, according to USA Today.
College NAACP vice president Tsion Abera said there is no truth to the allegations of violence.

"These allegations of physical assault are lies to make white students look like the victims and students of color to look like the perpetrators," Abera said, according to The Dartmouth in a later report.
Abera denied that there were any physical assaults carried out by the demonstrators, but She said confirmed that some of the students used profanity.
And some students not involved in the protest said it was necessary.
"While I don't think the protest should happen again to the extent where people are being yelled at and making people cry, I think the invasion of space needed to be done," David Tramonte said.