Newly released bodycam footage shows a police officer shooting an ISIS terrorist who was approaching him while holding a knife.
The shooting happened on Jan. 7 outside a Maricopa County Sheriff's Office substation in Fountain Hills, Arizona.
Sgt. Brandon Wells shot Ismail Hamed, 18, shortly after Hamed called 911 and said he was part of ISIS, the notorious Islamic terror group.
"My name is Ismail Hamed," the man told an operator, according to one of the 911 call recordings. "I live in Fountain Hills, and I'm owing my allegiance to the Islamic State of Iraq and Syria. I just want a cop to come real quick and I want to deal with them."
Warning: Viewers may find the following footage disturbing
During the call, he also said: "I'd like to do something in protest for the people suffering in Palestine and in the Middle East."
Asked what he wanted to do, he added: "I'd like to talk to them face to face and see what solution they will come up with."
Wells responded and approached Hamed, asking for his identification. Instead, Hamed hurled rocks at Wells.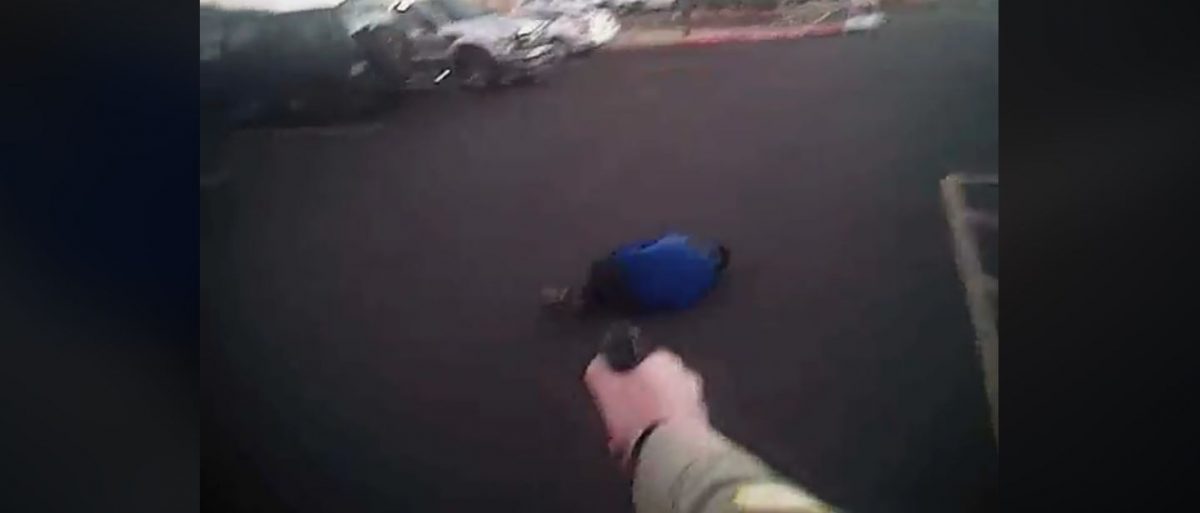 Wells took out his firearm and ordered Hamed to back off but, instead, the teenager pulled out a knife and walked toward the deputy.
Wells told Hamed he would shoot if Hamed kept coming towards him. "Shoot me," Hamed said, continuing to advance.
Wells shot him twice. Hamed survived and is currently in custody in a Maricopa County jail.
Video Release
The video was released after a county judge ruled that the video and other records, including the 911 call, should be released to the public.
Sheriff Paul Penzone said during a press conference on Thursday that he wanted to hold off on the release because it could have affected the case against Hamed.
"If I were premature and released information relative to this or any other case to the detriment of our law enforcement operations or the possibility of prosecution, I can't undo that," said Sheriff Penzone, reported Fox 10.
HAPPENING NOW: @mcsoaz speaking about, 18-year-old, Ismail Hamed who arrested and charged with terrorism.

Authorities say he was not known to FBI prior to Incident.

"He's home grown." pic.twitter.com/UHyapPyXSU

— Jennifer Martinez (@Jennifer_Fox10) January 17, 2019
According to an indictment filed against Hamed, he "intentionally or knowingly did provide advice, assistance, direction or management" to the terrorist organizations ISIS of Iraq and al-Sham, reported the Arizona Republic.
Authorities haven't made public any details about how Hamed is linked to the terror groups or whether he had plans to carry out a terror attack.
Hamed pleaded not guilty to terrorism charges after a police complaint alleged he provided "advice, assistance, direction or management" to ISIS. https://t.co/vtYPraByFw

— azcentral (@azcentral) January 24, 2019
FBI Special Agent in Charge Michael DeLeon said "Hamed was not known to the FBI beforehand…and they have not found any additional threats." pic.twitter.com/KhYIsRUifD

— Zach Crenshaw (@ZachCrenshaw) January 17, 2019
According to the FBI, Hamed was born in the United States.
During the press conference, authorities declined to answer questions about Hamed's alleged terror links. He's been charged with aggravated assault and terrorism.
Hamed on Jan. 24 pleaded not guilty. He made no statements during the hearing and his attorney had no comment, reported the Republic.
He was scheduled to appear in court next on March 8 and again on April 8.
From NTD News