Singer Olivia Newton-John has taken to social media to console worried fans after a U.S. tabloid publication reported that she was believed to have just weeks left to live.
In a video titled: "Happy New Year! Here's to a wonderful 2019! Love and light, Olivia," a radiant Newton-John told fans the "rumors of my death have been greatly exaggerated."
"I'm doing great and I want to wish all of you the happiest, healthiest 2019 as possible," she said.
Happy New Year!! Here's to a wonderful 2019!!! Love & light, Olivia

由 Olivia Newton-John 发布于 2019年1月2日周三
"Thank you all for your wonderful love and support for me and my Olivia Newton-John Cancer Wellness Centre in Melbourne, Australia."
Reports said the message was filmed from Newton-John's Santa Barbara ranch in California where she lives with her husband, John Easterling.
Presiding Officers welcomed Olivia Newton-John and John Easterling to Parlt House where they spoke about work of @ONJCancerCentre #springst pic.twitter.com/DNBA20vTCB

— Parliament of Victoria (@VicParliament) May 8, 2018
U.S. tabloid site Radar Online claimed on Dec. 26 in an 'exclusive scoop' the 70-year-old was "clinging on to life" amid her latest cancer battle and hoping she could live long enough to see her only daughter, Chloe Lattanzi, wed fiancé James Driskill in 2019.
The website Now To Love also claimed people close to Newton-John confirmed her prognosis is "weeks, not months."
Newton-John's daughter, Lattanzi, is reportedly engaged to martial arts expert James Driskill. However, rumors they were already secretly married in 2017 have surrounded the couple since Lattanzi called herself a "wife" in her Instagram bio. Her Instagram page has since been made private.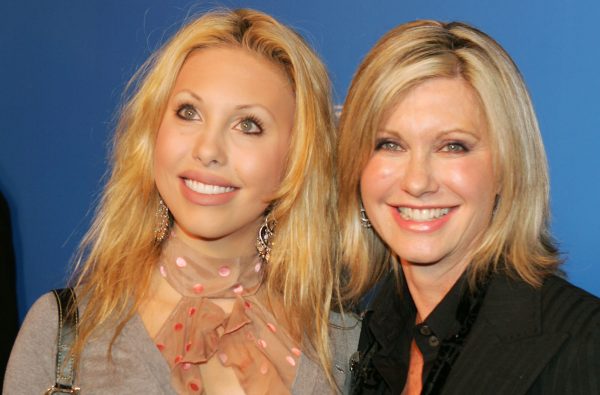 Newton-John was diagnosed with cancer for the third time in three decades in 2017, according to the Associated Press.
The singer told an Australian news program earlier this year that doctors had found a new tumor in her lower back. She said she underwent radiation therapy and was supplementing with natural treatments and eating well.
"I believe I will win over it," she said.
On Dec. 17, Lattanzi opened up about her relationship with her mother and her cancer diagnosis in an article for Woman's Day.
"I felt like my whole world was collapsing in on me. After going through a denial phase, I was angry that such a wonderful, kind, amazing, generous woman had to go through hell again," said Lattanzi. "But my mum has taught me the power of positive thinking and enjoying every moment. We both try to protect each other."
Since the rumors emerged Newton-John's niece, Tottie Goldsmith, 56, has also taken to social media to quell the fake news, posting a photo with the four-time Grammy winner on Instagram and urging the public to not believe the media reports.
"Just giving you the heads up that Livvy is in good health, so let's leave that distressing rumor where it belongs," Goldsmith said in an Instagram post.
"You can rest assured she is going nowhere and in really good health. A sick rumor," she said.
Newton-John was first diagnosed with breast cancer in 1992, and had a partial mastectomy and reconstruction operation. The same cancer is believed to have recurred twice, with the latest diagnosis being stage-four breast cancer that metastasized to her spine, according to the BBC.
The American Cancer Society reports that patients with stage four breast cancer have a "five-year relative survival rate of about 22 percent," according to the website.
Newton-John is best known for her iconic role in the 1978 musical movie "Grease," and also featured in a number of 1980s films, such as "Xanadu" and "Two of a Kind." She has released a large number of studio albums, with five songs peaking at number one on the Billboard Hot 100 chart. She also had 15 top 10 hits, with a total of 38 songs making it in the top 100.
Watch Next:
How They Brainwash You: Government, Media, and Special Interest Group Tactics
A false reality is being painted by news outlets, governments, activists, and special interest groups that is warping psychology and concepts.