A video that surfaced earlier this month shows an NYPD officer punching a teen suspect who was accused of trying to steal a bicycle.
The NYPD's internal affairs division was investigating the incident after it went viral, CBS reported.
But now, Deputy Inspector Terence O'Toole, commanding officer of the Bronx's 50th Precinct, responded to a press inquiry about the video.
"You saw police work in action," O'Toole said, according to the Riverdale Press's reporting this week.
In the clip, one officer can be seen pinned down by Alfred Burns, 16, who was being punched in the head by another officer on West 225th Street in Marble Hill at around 9 a.m. on Oct. 6. Some claimed that the officer was using excessive force.
The clip can be seen here (WARNING: The content might be disturbing to some viewers):
O'Toole said the incident doesn't show the altercation that led to the arrest.
"There's video of him taking the bike, then the store owner comes out to confront him and waves down the police officers," he told the Press. "As soon as the officers tell him, 'You're under arrest,' he pushed the officer down and puts his hand over his throat."
As a crowd gathered, a spectator started filming the scene. Burns released his hand from the unnamed officer's neck and the other officer started raining down punches on the teen. In under 1 1/2 minutes, the officer threw 13 punches at Burns before a third officer handcuffed the teen.
"People fail to realize that police are allowed to use physical force," O'Toole told the newspaper. "It looks awful, but it's lawful. If you are placed under arrest then you comply."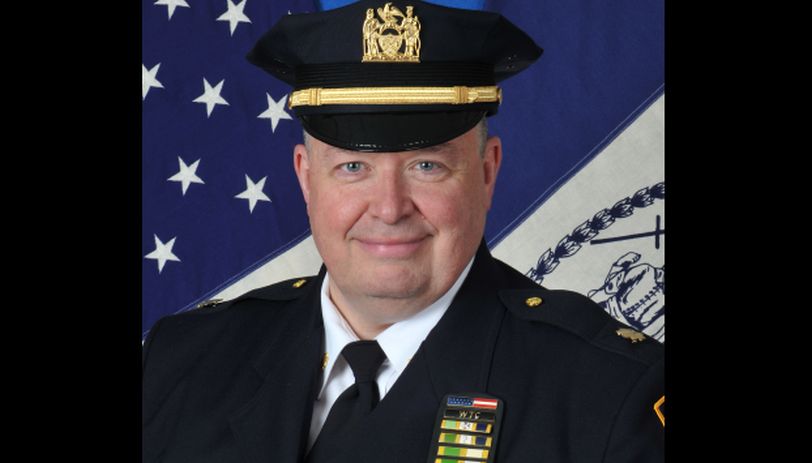 The inspector said that none of the officers involved were placed on leave.
"Both officers are out sick, three officers were injured in the melee," he said. "Just bruises, contusions, some minor stuff."
O'Toole explained the situation further.
"He's a scourge on the Bronx as it is at 16 years old," O'Toole said of the suspect.
"This guy has his hands around an officer's neck. Last time I checked, that is pretty dangerous. And he admits he stole the bike," he said.
"He is going to fight with police for the rest of his life, guaranteed," O'Toole said. "And the next cop that he encounters may have to shoot him because he is going to fail to comply. Because that is going to be his lifestyle forever."
And the voice in the clip? O'Toole says that it was Burns' girlfriend.
"The voice that is screaming the most is his girlfriend, who showed up here and she may be getting arrested, too," the inspector added.
CBS New York reported that Burns is suspected in a series of armed robberies and attempted robberies since last summer.
He was arrested on charges of assault and resisting arrest.