Chicago's civilian police oversight agency on Thursday released a video of the fatal police shooting of 13-year-old Adam Toledo, which has been described as "incredibly difficult to watch" by Lori Lightfoot, the city's mayor.
Toledo died of a gunshot wound to his chest early on March 29, the Cook County Medical Examiner's Office said on April 1. The Chicago Police had reported that an officer was responding to a scene where gunfire had been detected when the officer shot the suspect.
A series of videos released Thursday by the Civilian Office of Police Accountability (CAPO), tasked by the city council to investigate police shootings in Chicago, shows Toledo evading a police officer down an alley in Little Village, a neighborhood on the city's West Side, before being shot.
Officers had been dispatched to the area shortly after 2 a.m. after what is called ShotSpotter technology detected the sound of gunfire in the area. There, police found two subjects trying to flee the scene.
Bodycam footage shows one officer knocking down one subject and then running after another—Toledo—who was further away down the alley. As the officer gained ground in several seconds, he is heard shouting to Toledo to stop running.
"Police! Stop! Stop right [expletive] now!" the officer yells. Toledo stops as the officer shouts "Hands, hands, show me your [expletive] hands!"
Toledo proceeds to turn around toward the officer and proceeds to put up his hands. Almost simultaneously, the officer yells, "Stop, drop it!" and fires a single round at Toledo, the video shows. The boy collapses, holding his chest. The officer immediately calls dispatch to alert that shots had been fired and ask for an ambulance. He then turns to perform CPR on Toledo.
The officer in the video is identified as Eric Stillman in a police report (pdf). The report said that Stillman's reason for having fired his gun was for "defense of self," "defense of department member," to "overcome resistance or aggression," and "suspect armed with gun."
Stillman was placed on administrative duty for 30 days—a routine protocol in circumstances where officers fire their weapons.
COPA is continuing its investigation into the situation. "We ask for calm and peace following today's release and ask for patience as COPA continues to bring this investigation to conclusion," the agency said in a statement.
"COPA is committed to completing a full, thorough and objective investigation of the entire incident which includes not only the officer's use of deadly force but also the actions of other involved officers leading up to and following the deadly shooting to determine whether each officers' actions complied with Department policy directives and training."
Toledo was pronounced dead at the scene. Police said that a handgun was recovered at the scene. They noted that the other individual who tried to flee from the officers was 21-year-old Ruben Roman Jr., who was arrested on a misdemeanor count of resisting arrest.
According to Fox News, Roman Jr. had fired the gun before police arrived, and had passed off the weapon to Toledo.
"Do you see a gun in his hands? I don't see a gun in his hands," Adeena Weiss-Ortiz, the attorney for the Toledo family, said on CNN on Friday morning.
"But let's assume, for the moment, the worst, that he had a gun in his hands. The officer gave him a directive. The officer told him 'show me your hands.' The child complied. He surrendered. He lifted his hands. They were empty and the child was shot."
CAPO initially said it couldn't release the video because it involved the shooting of a minor but it decided to do so after Mayor Lightfoot and David O. Brown, the police superintendent, called for the video's release.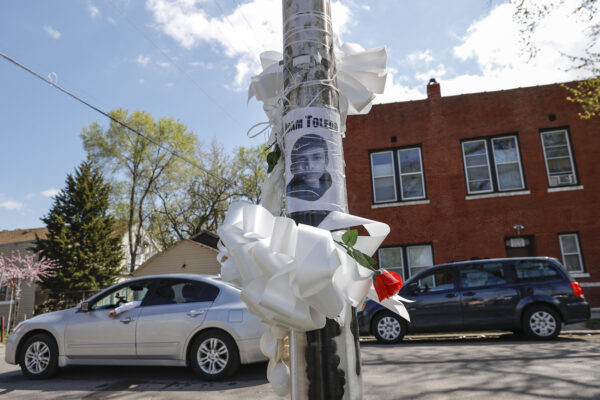 At a news conference prior to the release of the footage, Lightfoot said what the videos showed was "excruciating."
"It was excruciating. There are several videos that start at the beginning of the episode. But watching the body cam footage, which shows young Adam, after he's shot," she said. "It's extremely difficult. And I would just say, and I've said this to a number of people on my staff or cabinet, as a mom, this is not something you want children to see."
She called on the public to give Toledo's family "space to breathe."
"No parent should ever have a video broadcast widely of their child's last moments, much less be placed in the terrible situation of losing their child in the first place," she said. "Even as our understanding of this incident continues to evolve, this remains a complicated and nuanced story, and we all must proceed with deep empathy and calm and importantly, peace."
Lightfoot said that assertions were "correct" that Toledo had a gun in his hand. She added, "I see no evidence whatsoever that Adam Toledo shot at police."
Last week, Lightfoot appeared to suggest that Toledo may have been involved in gangs before the night of his death, and that a gang member gave him the gun.
"Gangs are preying on our most vulnerable, corrupting these young minds with promises of familia and lucre," she said during a news conference on April 5. "None of us should accept that we have adults here and across Chicago preying upon vulnerable teenage boys."
"That's how we lessen the allure of gang life," she added.
The Associated Press contributed to this report.