UPDATE: 12:11 p.m. EST: 
At least 19 houses have collapsed and victims are trapped inside, Japan's National Police Agency told CNN. 

Japanese Red Cross Kumamoto Hospital said it has admitted or treated 45 people, five of them with serious injuries.

"There was a ka-boom and the whole house shook violently sideways," Takahiko Morita, a resident of Mashiki, a hard-hit town near the epicenter, told Japanese broadcaster NHK.

"Furniture and bookshelves fell down, and books were all over the floor," said Morita.

Morita said some houses and walls collapsed in the area, and the water supply had been shut off.
UPDATE 11:21 a.m. EST:
Reports of up to 50 people injured, collapsed houses. Strong aftershocks have been recorded by Japan Meteorological Society.
A 6.4 magnitude earthquake hit southern Japan on April 14. There have also been reports of aftershocks. 
Japan's Meteorological Agency said the tremor originated in the Mashiki area of Kumamoto at 9:26 p.m. local time. The area is in southern Japan and nowhere near Fukushima (where a massive earthquake and tsunami struck five years ago on March 12).
The U.S. Geological Survey said the tremor was 23 kilometers (14 miles) deep. The agency said there's a low probability of fatalities but some damage is possible.
"We intend to do the utmost to grasp the situation," Prime Minister Shinzo Abe said, according to Reuters. "I'm now planning to hear what we have gathered on the situation."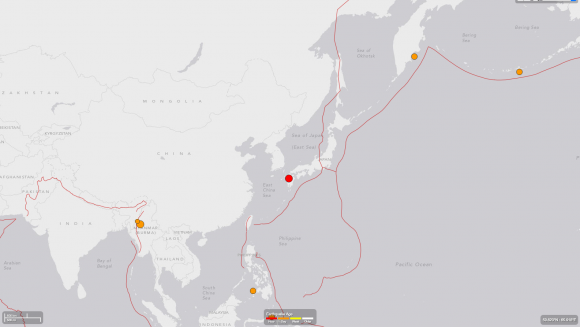 No tsunami warnings due to the earthquake have been announced. 
Massive 6.4 Earthquake Strucks Kumamoto #Japan Update coming on https://t.co/VwFtVtsYFD pic.twitter.com/kCnsqIeSTj

— Mikado Shimbun (@MikadoShimbun) April 14, 2016
Kasumi Nakamura, an official in the village of Nishihara, said the earthquake started slowly and grew violent, lasting about 30 seconds.
"Papers, files, flower vases and everything fell on the floor," he told NHK.
The Japan Meteorological Agency said there were multiple aftershocks following the quake. The largest one one measuring magnitude 5.7 about 40 minutes after the initial earthquake. 
Related Coverage
NHK: Reports of people trapped in collapsed homes in Kumamoto, #Japan following M6.4 #quake. Emergency declared. pic.twitter.com/gFPlUgSC1Z
— Steven L Herman (@W7VOA) April 14, 2016
This tweet shows how a store was destroyed after the quake. 
熊本県のスーパーがヤバイ pic.twitter.com/AcGXqSiNZQ

— アリエッティ@EARTH.福岡3日5日 (@m_s_k_h) April 14, 2016
The Japan bureau chief of Channel News Asia said on Twitter after the earthquake that nuclear facilities were being checked. Officials later said they found no abnormalities at nearby nuclear facilities.
Thankfully no tsunami warning after the M6.4 quake in Kyushu. JR Kyushu stops all trains. Nuclear facilities are being checked

— michiyo ishida (@MichiyoCNA) April 14, 2016
Japan East coast hit by M6.6 Earthquake Mw6.1
Realtime Shaking at 11:43:04 JST #JapanEarthquake
No tsunami Warning pic.twitter.com/1Fk4qBiYPH

— Seismoblogs (@seismoblogs) April 1, 2016
Japan is part of the Ring of Fire in the Pacific basin, where most of the world's earthquakes and volcanic eruptions occur. 
On April 13, a magnitude 6.8 earthquake hit Burma (also known as Myanmar), but no deaths have been reported thus far. Both Japan and Burma experience earthquakes on a somewhat regular basis.
Related Coverage
The Associated Press contributed to this report.