Hurricane Florence began to inundate Frisco in North Carolina's Outer Banks on Sept. 13.
The clip shows water pouring down a street in the Outer Banks, leading to a damaged pier.
Jenni Koontz, a photographer who shot the clip, wrote on Instagram at 12 p.m. Sept 13 that "the guy in the front end loader told me there is a hole in the road somewhere between the pier and Hatteras so I turned around. I believe an inlet may form between Hatteras and Frisco this weekend."
Florence Updates
Florence's hurricane-force winds extend up to 80 miles from the center, and tropical storm-force winds extend up to 195 miles. Overall, Florence is approximately400 miles in diameter, according to The Associated Press in a report on Sept. 13.
The National Hurricane Center said that Florence is a Category 2 hurricane with 105 mph winds.
"The subtropical ridge to the northeast and east of Florence is now well-established between Bermuda and the U.S. mid-Atlantic region and extends westward into Virginia and the central Appalachians. This large-scale feature is expected to keep the hurricane moving northwestward today, followed by a turn toward the west at a much slower speed on Friday as the ridge to the north of Florence weakens due to a weak shortwave trough dropping slowly southward from the Ohio Valley," said the NHC in its 11 a.m. forecast discussion.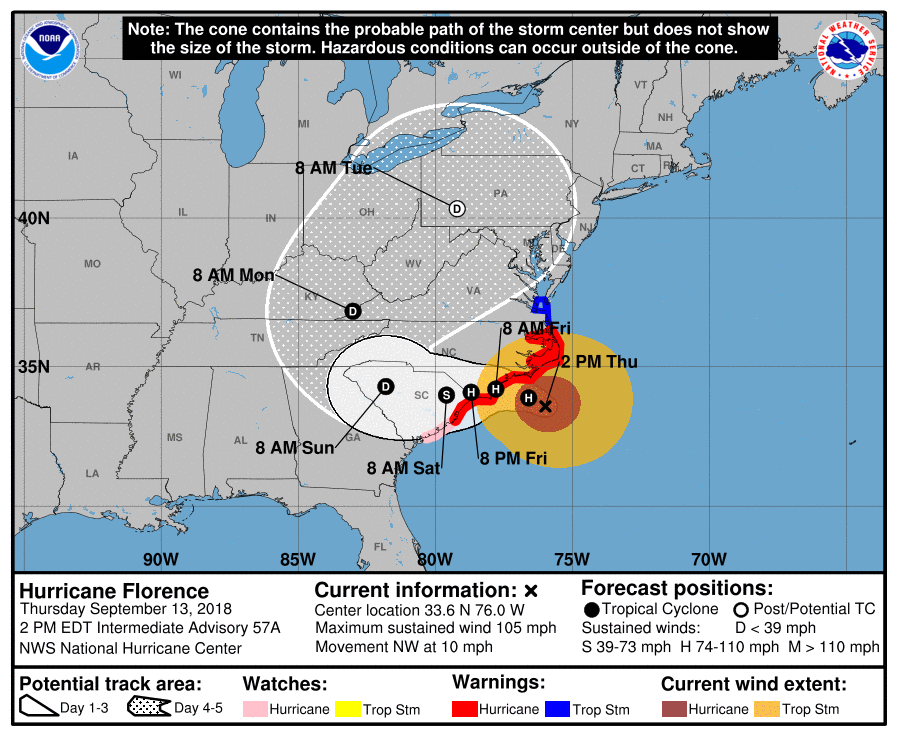 In its 2 p.m. Sept. 13 update, the NHC the storm is getting hit by the Outer Banks and southeastern North Carolina. Florence is currently about 110 east-southeast of Wilmington, North Carolina, and east of Myrtle Beach, South Carolina. The storm's overall movement has slowed to 10 mph.
Hurricane and storm surge warnings are in effect for most of the North and South Carolina coastline.
Parts of the Carolinas could see as many 20 inches to 30 inches of rain, and isolated areas could receive 40 inches, over a week, AP noted. Up to 13 feet of ocean water could push inland about 2 miles, which depends on how long the storm stays put.
AP reported that as many as 1.7 million people are under mandatory or voluntary evacuation in the region. As many as 10 million people live in areas that might be directly impacted by the storm.
Meanwhile, 1,200 flights have been grounded, AP noted.
Alex Sosnowski, AccuWeather's senior meteorologist, wrote on Sept. 13 that "some communities in the Carolinas may be under water for days and possibly a week or more."
North Carolina, South Carolina, Virginia, Maryland, and Georgia have declared states of emergency over the storm.
"As the rain pours down during the storm, inland evacuations may become necessary and the time for completing such tasks will come to an end as travel becomes increasing difficult and dangerous," Sosnowski said.
Storm chaser Jeff Piotrowski tweeted at around 1:30 p.m. that storm surge slammed North Topsail beach. He said, "Sand dunes gone storm surge 4' into house knocking down walls first floor."