Former President George W. Bush was seen giving what appears to be a piece of candy to former first lady Michelle Obama during his father's funeral on Dec. 5.
Video footage showed Bush giving Obama something at the National Cathedral in Washington, during the funeral to former President George H.W. Bush, who died at age 94 over the weekend.
President Donald Trump, First Lady Melania Trump, Barack Obama, Michelle Obama, Bill Clinton, Hillary Clinton, Jimmy Carter, and Rosalynn Carter attended the funeral.
Bush and Obama shared a similar moment during the funeral for Sen. John McCain in September.
"I didn't realize at the time that anybody noticed what we were doing. President Bush and I… we are forever seat mates because of protocol, that's how we sit at all the official functions so he is my partner in crime at every major thing where all the formers gather," Michelle Obama said to the Today show. "So we're together all the time, and I love him to death. He's a wonderful man. He's a funny man."
The younger Bush eulogized his father during the funeral.
"Let us know the blessings of knowing and loving you," Bush said before breaking down in tears. "A great and noble man. The best father a son or daughter could have. And in our grief, let us know dad is hugging Robin and holding mom's hand again."
Robin, Bush's younger sister, died of leukemia at age 3. His mother, Barbara Bush, died earlier this year at age 92.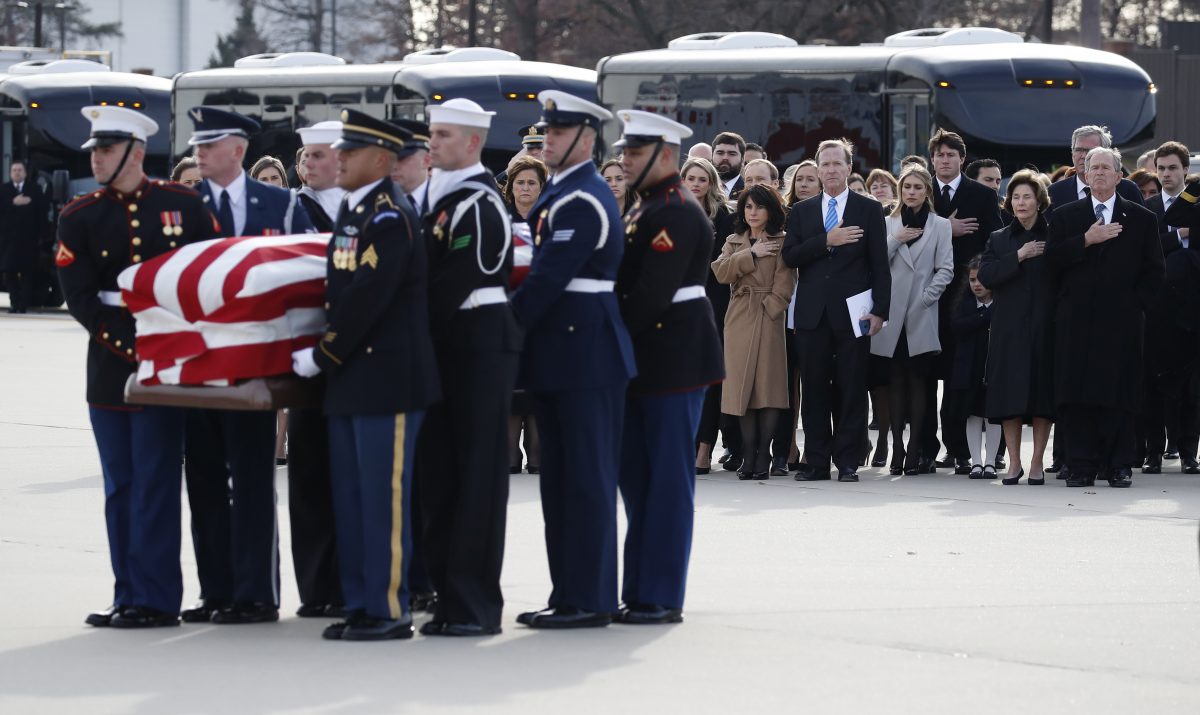 Bush kept the speech light, joking about his father's golf game, fishing, and hatred of broccoli.
He also thanked his father for teaching him how to be a leader. "Of course, dad taught me another special lesson," said Bush. "He showed me what it means to be a president who serves with integrity, leads with courage, and acts with love in his heart for the citizens of our country."
"To his very last days, dad's life was instructive. He taught us how to grow with dignity, humor and kindness. And when the good Lord finally called—how to meet him with courage and with the joy of the promise of what lies ahead," he also stated.
"George H.W. Bush was America's last great soldier-statesman," Jon Meacham, who was the late Bush's presidential biographer, said in the eulogy. "He stood in the breach in the Cold War against totalitarianism. He stood in the breach in Washington against unthinking partisanship," he added.
Bush will lie in repose at St. Martin's Episcopal Church before burial at his family plot on the presidential library grounds at Texas A&M University in College Station.
His final resting place will be alongside Barbara Bush and Robin Bush, according to The Associated Press.
On Wednesday morning, a military band played "Hail to the Chief" as Bush's casket was carried down the steps of the U.S. Capitol, where he had lain in state. Family members looked on as servicemen fired off a cannon salute. His hearse was then driven in a motorcade to the cathedral ceremony, slowing in front of the White House. Bush's route was lined with people much of the way, bundled in winter hats and taking photos.
The Associated Press contributed to this report