The Humane Society International Australia said that endangered scalloped hammerhead sharks were found dead on Queensland government-operated drum lines in the Great Barrier Reef Marine Park on Aug. 8.
Video footage uploaded by the Humane Society showed one of the dead sharks hooked to the line. It was recorded at Radical Bay, Magnetic Island.
In a press release on Sept. 4, the Humane Society and Australian Marine Conservation Society said they "stand united in recrimination of the QLD Government's approach to shark control, and its use of out-dated, cruel and ineffective measures."
"Lethal drumlines are an old and ineffective method of bather protection. They catch and kill hundreds of non-target marine animals in the Great Barrier Reef, as these new shocking images show. Our sharks and our Reef deserve so much better than this. Lethal drumlines provide nothing more than a completely false sense of security, at the expense of the lives of threatened species that are crucial to our Great Barrier Reef ecosystem," said Nicola Beynon, Head of Campaigns at Humane Society International, in the press release.
A drum line is an aquatic trap that is used to lure and capture large sharks with baited hooks. They're usually placed near popular swimming beaches, and they're designed to reduce the number of shark attacks on swimmers.
Drum lines have been long criticized by animal rights groups, saying they killed endangered species.
"This footage highlights the outdated and myopic attitudes towards sharks by successive Queensland Governments. They have been using the same, ineffective, lethal methods since the 1960s. It is past time for a change in our views of sharks and a change in policy to reflect that," said Tooni Mahto, who is Fisheries and Threatened Species Campaign Manager at Australian Marine Conservation Society, in the press release.
According to Queensland Shark Control Program statistics, approximately 10,480 sharks have been caught on lethal drumlines since 2001.
"Most of these sharks were harmless, and this number does not take account of the significant numbers of rays, turtles, fish, and dolphins that are also caught and killed on drumlines in Queensland," the release stated.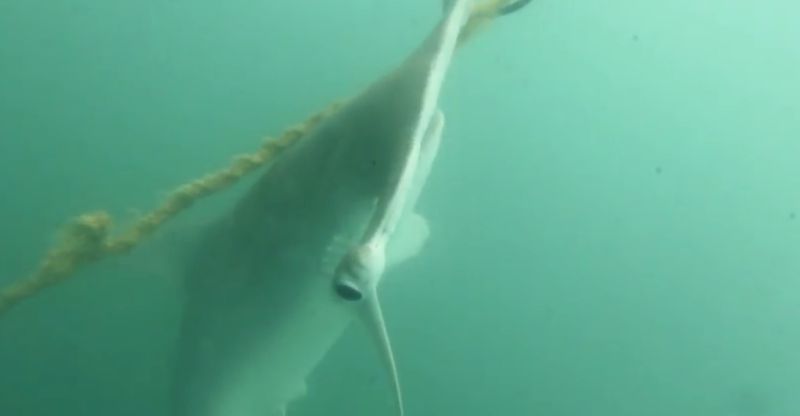 Endangered Species
Scalloped hammerhead sharks are listed on the International Union for Conservation of Nature Red List of Threatened Species.
Griffith University shark researcher Johan Gustafson told the Australia Broadcasting Corporation that these sharks "should not be fished, especially commercially … we literally don't know enough about them in Australian waters."
"We need to do more research and actually measure population numbers," he added. "They generally don't respond very well to fishing pressures, and for the Great Barrier Reef they are quite an icon for divers and tourists to see, and a good indicator of reef health."
The ABC noted that scalloped hammerheads have comparatively small mouths and teeth and there have been only three incidents of hammerhead sharks biting people who were diving. It added that there have been no fatal attacks.
Video Credit: HSI Australia/Australian Marine Conservation Society via Storyful