A car slammed into a crowd of people standing near a nightclub in Los Angeles, according to dramatic video footage. Officials said that no one was seriously hurt.
The suspected DUI driver was speeding on San Vicente Boulevard before crashing into a pole outside the Sunset Strip nightclub Whisky a Go Go in West Hollywood, NBC Los Angeles reported on Oct. 3.
Lt. Hector Mancinas of the Los Angeles County Sheriff's Department said the victims suffered minor injuries, and two of those who were injured were hospitalized, according to the NBC affiliate report.
"He was going way too fast," Shane Hunter, who suffered a leg injury, told the outlet. "They ended up coming onto the sidewalk. It was like 'Death Race 3000.' They were going to mow us down."
The footage shows the car, a Volkswagen, jumping the curb before crashing into a pole as the crowd tries to disperse.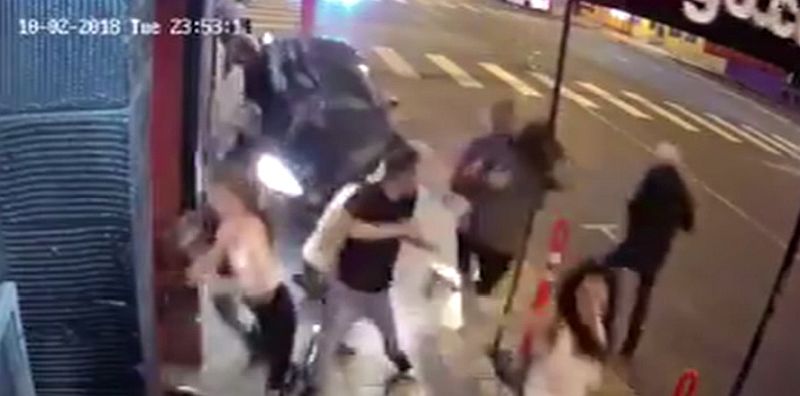 "All of a sudden I just saw people running and I was able to slip back inside," said witness Richard Wood in the report. "This thing (the metal pole) was bent and it looked like this thing (the awning) was going to come down, but it didn't come down."
The NBC report said the driver, who was not identified, was arrested for a DUI.
Reports said that there was a Lyft sticker on his car. Sheriff's officials couldn't confirm whether he drove for the company, the Los Angeles Times reported.
Lyft said the person was driving for the company at the time of the crash.
The firm told NBC LA: "Although this individual was not driving on the Lyft platform at the time of the incident, the safety of the community is our top priority. We have permanently removed this individual from the Lyft platform, and stand ready to assist in any law enforcement investigation."