Victoria police are considering shutting down Melbourne's public transport system to prevent future protests following an anti-lockdown protest that drew thousands of demonstrators.
"To shut down the transport network to prevent people coming in … that's a huge call, but it's one that we're now going to seriously entertain on the next occasion because I'm not going to tolerate this occurring again," Victoria Police Commissioner Shane Patton said on Aug. 22.
"They're not entitled to put their views above the law. I just hope it doesn't result in any mass spread of COVID-19."
The comments by the commissioner come after what was billed as a "Freedom Rally" in Melbourne on Aug. 21 saw more than 4000 demonstrators take to the streets to protest against lockdown restrictions.
However, the rally turned violent as police officers and demonstrators clashed at various points, such as outside State Parliament and Flinders Street Station, with police utilising non-lethal munitions as protestors threw lit flares, bottles and marbles at police officers.
"What we saw yesterday [Aug. 21] … was probably one of the most violent protests we've seen in nearly 20 years," Patton told reporters.
"This wasn't a group that had a specific leader. It seemed that it was angry men … between 25 and 40, who were intent on causing this mayhem, intent on being involved in this criminal activity.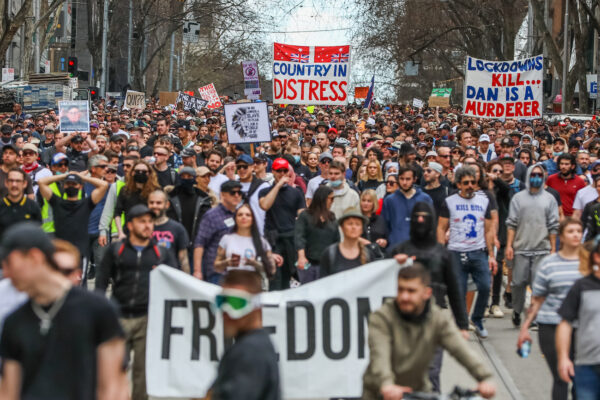 During the protest, chants of freedom" and "[expletive] Dan Andrews" could be heard occasionally from the crowds, a live video of the event showed. The footage also showed crowds, including women and children, proceeding along the major streets of Melbourne CBD.
In a separate video, a small crowd could be seen charging at a group of police officers while one officer was seen knocked down to the ground.
Another video showed one officer firing rubber bullets at protesters, while another officer targeted the protesters with pepper spray.
Patton justified the use of rubbers bullets, pepper pellets and "non-lethal munition" against protestors as part of the state government's new anti-riot measures.
"These type of things thrown at police who were going about their duty, and from the escalation of violence from the protesters involved—it was absolutely disgraceful," Patton told 3AW host Neil Mitchell.
However, the use of such rifles could cause serious injuries to people's necks, heads, and torso, including exposure to chemical contamination, according to the Watchdog group—the Police Accountability Project, reported The Age.
Additionally, there are legitimate concerns about police misconduct given the history of Victoria Police use of force at all types of protests, police misconduct solicitor Jeremy King told The Age.
"These circumstances are quite different given that we are in a pandemic, but I would be very concerned long term about the ever-increasing militarization of Victoria Police and its use of these tactics and weapons in peaceful protests post-pandemic."
A total of 21 officers were injured in the protest, Patton said. However, it is unclear how many protestors were injured.
Police also noted they arrested 218 people and issued 236 fines. In addition, the arrested people face fines of $5452 each for breaching public health orders.
Currently, Victoria is in a statewide lockdown until at least Sept. 2, with curfews applied in metropolitan Melbourne.
Other arrests were made in relation to planned protests in other states, with NSW police arresting 47 people and fining more than 260 people on Aug. 21. Five people were also charged after a small anti-lockdown protest in Albury on the NSW-Victoria border.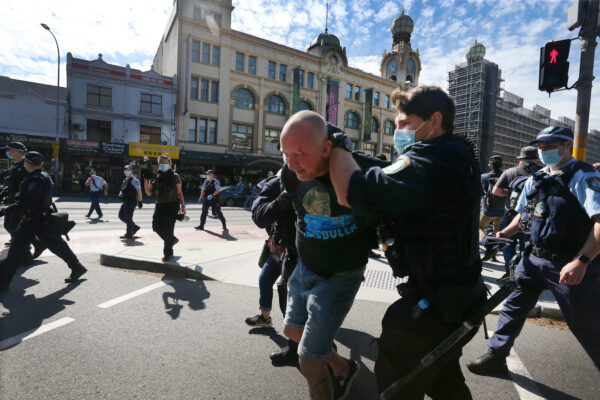 More than 2000 people also gathered in Brisbane City Botanic Gardens on Aug. 21 to rally against the lockdown and vaccine measures.
While on Aug. 22, an estimated 1000 people rallied in Tweed Heads against the hard NSW-Queensland border, with video footage showing police officers dragging protesters away.
Mimi Nguyen-Ly contributed to this report.