Police have arrested the organisers of a planned protest against the government's COVID-19 restrictions that was scheduled for Aug. 9 in Melbourne's CBD.
Victoria police charged two men in their 40s with "incitement" for their connection to the scheduled rally at Melbourne's Parliament House that would have potentially seen hundreds of people breach the Chief Health Officer's directions to keep physical distancing and stay at home.
A Victoria Police statement confirmed that "two search warrants were executed" on Aug. 6, during which mobile phones and a computer were confiscated at properties in Mooroolbark and Chirnside Park, media officer Creina O'Grady told The Epoch Times by email.
"As a result, a 41-year-old male from Mooroolbark was charged with incitement. He was bailed and is due to appear at the Melbourne Magistrates Court on 21 January 2021," and "a 41-year-old male from Chirnside Park was also arrested last night."
Victoria police have issued a firm warning to anyone planning to attend the protest this weekend, stating that "selfish behaviour will absolutely not be tolerated … will be responding and will take appropriate action."
"We will have no hesitation in issuing $1,652 (US$1,185) fines or making arrests on the day, if necessary," said a Victoria police statement.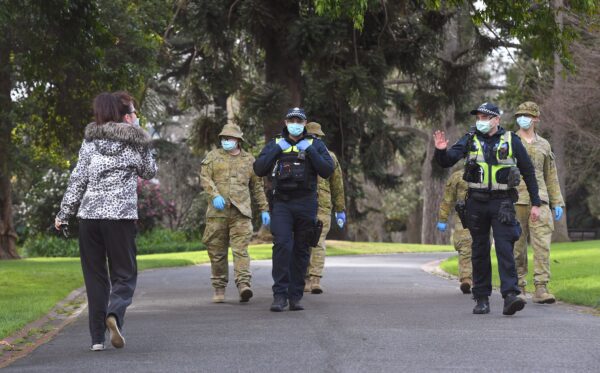 Since Aug. 4, penalties for breaching COVID-19 social distancing orders increased to $4,957 as part of a wider crackdown on citizens breaching stage four restrictions.
Police and Australian Defence Force presence on the streets of Melbourne has also increased.
As Victoria entered a state of disaster status on Aug. 2, stage four restrictions started to come into place across Greater Melbourne in response to growing community transmissions of COVID-19, the disease caused by the CCP (Chinese Communist Party) virus, commonly known as novel coronavirus.
Melbournians Live Under Strict Controls
Melburnians have been put under a curfew between 8 p.m. and 5 a.m. for the next several weeks of the hard lockdown. Exercising outdoors has been limited to a maximum of one hour a day and people have been told to stay within 5 km (3.1 miles) of their homes unless its for work or care-giving.
It is understood the protest, which has been circulated online, is called "Freedom Day."
The organisers listed on the social media event are called Make Australia Healthy Again (MAHA). They are known for circulating content online claiming "Covid-19 is not a scientifically defined disease" and theories about the effects on 5G on the human body.
The description for the event reads: "The only thing necessary for the triumph of evil is for Good People to do nothing." A quote by politician and philosopher, Edmund Burke.
Related Coverage
MAHA's website calls for the end of social distancing restrictions, continued care of the elderly, using Hydroxychloriquine for treatment, and independent double-blind tests to prove the scientific validity of the science behind the virus treatment.
Premier Daniel Andrews has said in a press conference on Aug. 7, that by people "making better choices" and being compliant, it will keep the community safe and Victoria will reach a point of lifting restrictions.
"The alternative of course, is these restrictions lasting for much longer than they should."