The Victorian state Labor government has rejected a plan by energy giant AGL to build a liquefied natural gas (LNG) import terminal along Melbourne's Western Port due to "unacceptable" environmental effects.
This comes just weeks after an ACCC report found that new sources of gas supply and related infrastructure were needed if Australia was to counter a potential gas shortfall, along with the eastern and southern states from 2024.
In a statement on March 30, Victoria's Minister for Planning Richard Wynne said the decision to quash the Crib Point facility proposal was based on 6,000 public submissions and a report conducted by the Inquiry and Advisory Committee (IAC).
"It's very clear to me that this project would cause unacceptable impacts on the Western Port environment and the Ramsar wetlands—it's important that these areas are protected," Wynne said.
"This has been an exhaustive, open, and transparent process and this is the right outcome for the local community, the environment and Victoria as a whole," he said.
But AGL maintains the Crib Point facility is necessary to meet the potential gas scarcity facing Victoria, which federal Energy Minister Angus Taylor described as "at risk."
While Taylor acknowledged that proposals need to meet community acceptance and operate in a responsible manner, he added that a gas shortage "would be damaging to all gas consumers," the Australian Financial Review reported.
"The (federal) Morrison government has long called for the Victorian (state) government to remove bans on gas developments that deny Australians access to local, affordable gas and investment in regional communities," he said.
AGL has spent $130 million on this project to date and has proposal to build a gas import terminal at Crib Point jetty in Western Port. In addition, the proposal included an associated pipeline to be built by APA Group that would run from the terminal in the Mornington Peninsula to Pakenham—spanning 57 kilometres.
Gas would arrive at the moored terminal as liquefied natural gas (LNG) and then be progressively "regasified" utilising seawater depending on gas demand. Gas would then be transferred via marine loading arms and gas pipes on the jetty to the connection point with the Victorian transmission network.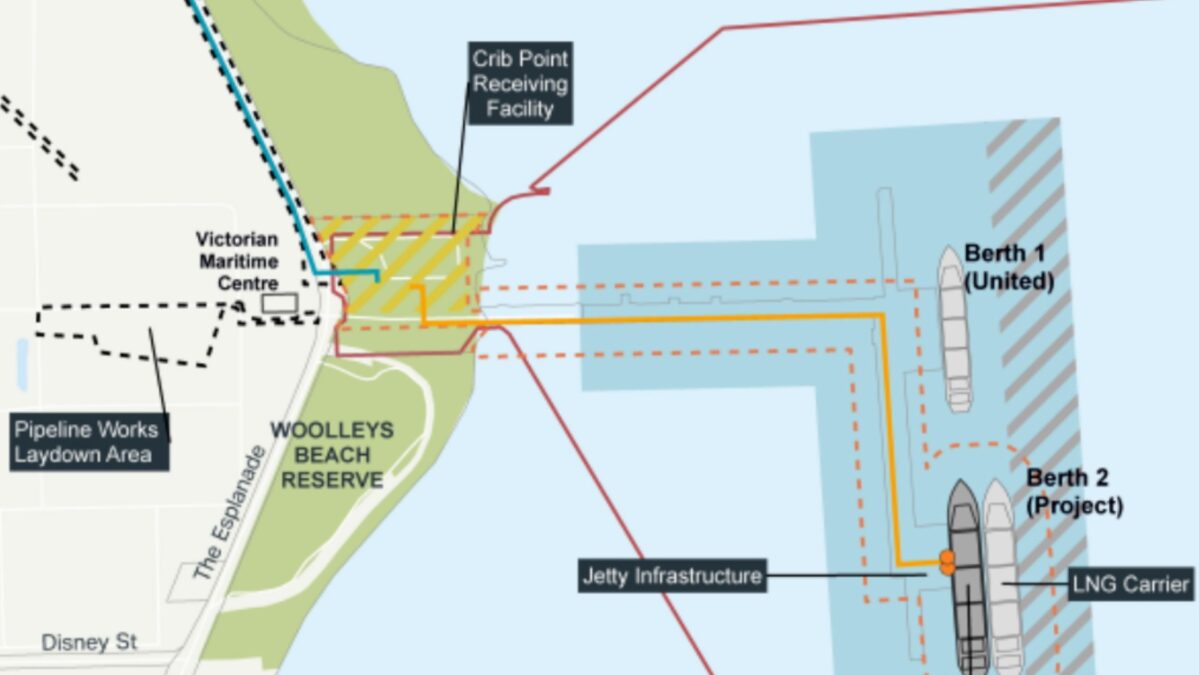 According to the planning minister's assessment, chilled seawater discharged by the floating storage and regasification unit (FSRU) could harm sea life and hurt tourism.
Meanwhile, Westernport and Peninsula Protection Council secretary Karri Giles told The Age that the facility was "not appropriate for the area."
"There is a place for the right sort of industry. It just has to be at the right scale with minimal damage to the environment," Giles said.
While AGL said in a statement that it would be considering the Victorian government's decision, the company's chief executive said he was open to deals with other companies to build gas import terminals in south-eastern Australia. These include Andrew Forrest's Port Kembla plant or Viva's Energy's proposal at Geelong oil refinery.
"We have been in, and I expect we will continue to be in, active discussion with every potential project if they have good volume and good price," AGL chief executive Brett Redman said. "Nothing has changed in that we are a big and great gas trader."
According to the Australian Energy Market Operator (AEMO), Andrew Forrest's Port Kembla LNG import terminal will avert Australia's gas shortfall by two years to 2026 if the project proceeds.